This blog post covers all the news and leaks about DJI Air 3 release date, specifications, and more. Last update: May 28, 2023.
DJI is the uncrowned king of the consumer and prosumer drone market. Since 2015, it has released newer drone models each year with consistency to keep its market share.
In the consumer drone category, DJI now has three distinct product lines.
The Mavic series (Latest model: Mavic 3)
The Air series (Latest model: Air 2s)
The Mini series (Latest model: Mini 3 Pro)
The Air series sits somewhere between the more expensive Mavic series and the beginner-friendly Mini series.
Its latest model, the DJI Air 2s, which was released in April 2021, is already about 2 years old now.
Are there any news and rumors of an upcoming DJI Air 3? Well, yes, we already have unofficial leaked videos of DJI testing the new Air 3.
Let's discuss what we know so far about the new DJI Air 3 release date, specifications and price.
DJI Air 3 release date – Speculations
The current facelifted model – the DJI Air 2s – was released on April 15, 2021, almost a year after the previous model (DJI Air 2).
Judging by this schedule, the newer version should have hit the market in 2022. But unfortunately, that didn't happen.
The reasons were obvious.
DJI released their flagship Mavic 3 and Mavic 3 Cine in the fall of 2021, and that buzz went on for a while.
The Mavic 3 is DJI's most advanced offering, and they didn't want a new product to steal the thunder.
Then, in May 2022, DJI released a new drone in the Mini series – the DJI Mini 3 Pro – that was aimed at the beginner end of the market.
The company also released a budget-friendly version of the Mavic 3 i-e. Mavic 3 Classic in November 2022.
With one flagship line that is still going strong and a new mini-series drone that needed focused marketing in the face of fierce competition, 2022 was not the best time for the new DJI Air 3.
But DJI has no plans for any major product update in 2023. Recently, DJI Insider @DealsDrone posted what could be a possible DJI 2023 product release schedule (check below)
According to this schedule, the DJI Air 3 was scheduled to be released in May 2023 but May almost ended as I am updating this article and we don't have the product.
But we have our first unofficial leak of DJI testing the new Air 3 unit.
Long-time DJI insider @DealsDrone posted a video to their twitter feed showing DJI testing what is suggested to be the new Air 3 unit.
Soon after, a few other notable people in the DJI sphere posted pictures of the test unit.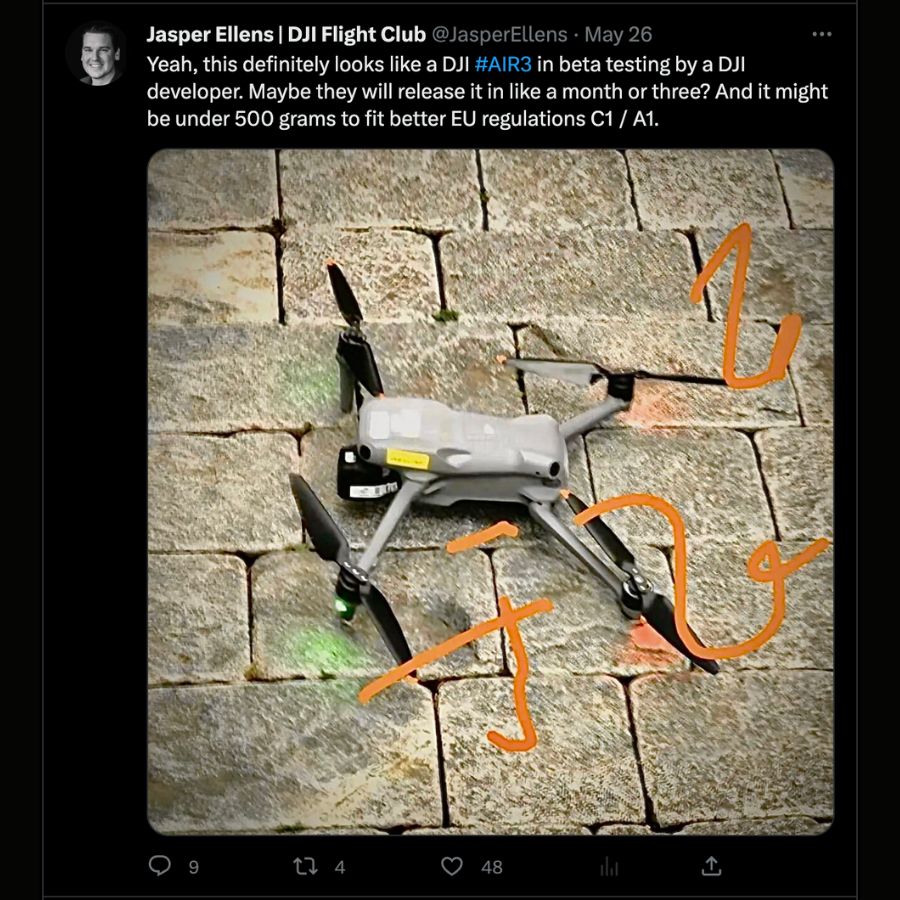 Jasper even suggested we might see the new DJI Air 3 in June or July 2023, and it might weigh less than 500 grams.
Along with the new Air 3, we might also see the Mavic 3s in July 2023 according to the leaked product timeline.
Can both drones be released at the same time? It's unlike DJI, but we will see.
Expected DJI Air 3 Specs
DJI Air 2s was a hot-selling product and still is. It is cheaper than the flagship Mavic line and has better specifications (specially camera-wise) than the lightweight Mini line.
With the hefty price tag of the Mavic 3, the Air 2s is a great choice for people to get their hands on a decent drone without taking out a new mortgage on their house or selling their left kidney.
With recent product releases, we have seen that DJI is further separating the consumer market segments with distinct product lines (Mini, Air & Mavic).
So, it's certain that the new DJI Air 3 will come with improved Air 2s specs to keep its market share intact.
Before we speculate about the DJI Air 3 specifications, remember the market segment DJI targets with the Air 3.
It is for mid-tier users, mostly hobbyists and travelers, who want a decent enough drone (not necessarily cutting edge like the Mavic 3) at a reasonable price.
The Mini series falls short on many necessary features like follow me or a decent-sized camera. It is primarily for beginners.
On the other hand, the Mavic line is a more expensive solution for those who have deeper pockets and won't mind paying for cutting-edge features.
That's why the DJI Air 3 will not surpass the Mavic line in features and price. Keeping that in mind, here are my predictions for the new DJI Air 3.
Design
I see no reason for a major design change. The current foldable design is pretty compact and works great.
Apart from a few aesthetic changes to make the body sleeker, I don't think we will see a major overhaul.
However, we have seen Omni-directional obstacle sensing in the Mavic 3 and might see the same tech in the new Air 3.
To accommodate the additional sensors, we might see a slight change in body shape.
The new Mini 3 Pro saw low-noise propellers, which are more aerodynamic and efficient. This might be the new normal with newer drones, and Air 3 might also see the new low-noise props.
The leaked images suggest a foldable design much like its predecessor, with the more rounded aerodynamic arms we have seen in the DJI Mini 3 Pro.
And possibly a dual camera that can rotate vertically.
Colors
This is more of a wish than a prediction. With Apple giving users a taste of new pastel colors, I wish DJI would do the same and let people choose from various cool colors.
I can see why DJI has avoided more colors so far (more colors, more inventory headache), but DJI is getting big, and we are bound to see more buying options sooner than later.
Even Autel has offered four distinct color options to choose from in its latest Autel Nano series. So fingers crossed.
Size & Weight
With evolving regulations in both the US and the EU, a smaller drone with a lower weight is always the goal as they are less prone to strict regulations in the future.
DJI designs drones considering their 4-5 years lifespan and any regulatory changes during that time.
We might see a sub-500-gram design that falls under the EU 'open category'.
The current take-off weight of Air 2s is 595g, and with electronics getting smaller and smaller, it is quite possible to bring the Air 3 weight down to 500g or less.
It might not be the goal, but if DJI does it, it will be more 'future safe'.
With all the regulations coming up in US and EU, you never know when your latest product will go out of favor with the regulators.
Camera
For now, we don't know much about the Mavic 3s sensor, but if DJI uses a bigger sensor in the next Mavic 3s, we might also see a bigger lens in Air 3.
Perhaps a 4/3 CMOS with a physical aperture?
A 5.4K at 60 fps or even 5.7K at 60 fps is quite possible for video recording is entirely possible. A better nighttime recording will be a plus as well.
New transmission system
The Mavic 3 and Mini 3 Pro upgraded the Ocusync 3 transmission system. The new O3+ transmission has more range and can transmit at 1080p/60fps.
Although we see some range issues in the Mini 3 Pro, I am sure by the time Air 3 is ready for release; we will see the bugs ironed out in the O3+.
We might also see other improved software features we saw in the Mavic series, like the ActiveTrack 5.0 and APAS 5.0.
I will keep updating this page with more news, leaks, and speculations when I know more.
For now, keep flying your DJI Air 2s, as it's still the best for now.
Latest DJI Air Model
【1-INCH IMAGE SENSOR】Equipped with a 1-inch image sensor and large 2.4μm pixels, DJI Air 2S is capable of 5.4K/30fps and 4K/60fps video.
【MASTERSHOTS】The next evolution of QuickShots, MasterShots is an advanced intelligent feature that gives users the best shots in any location with just a tap.
【THE CENTER OF ATTENTION】FocusTrack features Spotlight 2.0, ActiveTrack 4.0, and Point of Interest 3.0, making it a breeze for DJI Air 2S to follow or circle your subject.
【ONE BILLION COLORS】The 10-bit Dlog-M color profile can record up to one billion colors while retaining all the little details that make footage pop.
【7.5 MILES MAX VIDEO TRANSMISSION】DJI Air 2S features DJI's most advanced O3 (OcuSync 3.0) image transmission technology, giving you an ultra-smooth, clear, and reliable image feed every time you fly.
【ENVIRONMENT SENSING】DJI Air 2S has the ability to perceive its environment in four directions: up, down, forward, and backward, allowing it to actively avoid obstacles, even in complex scenarios and at high speeds.