DJI realised an entirely new market when it saw an opportunity back in fall 2019. FAA drone registration was annoying but had a weight limit of 250g. Most drones under the 250g weight limit were just cheap toy drones with no features. DJI seized the moment by introducing a decent drone that weighs less than 250g with medium to high-end features, and it was an instant hit.
There was absolutely no competition. A year later, they upgraded it with an even better product – the Mini 2 – and it sold like crazy. Now we are in 2022, and there are rumours of another upgrade to the Mini series. Let's discuss the DJI Mini 3 release date, what we know about rumoured specifications, price etc.
PS: I will keep this page updated till the Mini 3 hits the market. [Last Update: 29 December 2021]
DJI Mini 3 Release Date
The DJI Mini 3 has a release date of April 2022. This is not a confirmed date from the official DJI but from a leaked product roadmap that has been doing rounds on Twitter. According to the leaked road map, the Mavic Mini 3 has a release date in April 2022.
In the Q4 of 2021, DJI released their flagship Mavic 3 for the high-end drone market along with a bunch of other products. But the Mavic 3 and Mavic mini has an entirely different market segment, and hence we can speculate a parallel team is working tirelessly on the release of yet another sub 250g drone that can improve on their previous hot seller and retain their market leadership for yet another year.
Another reason that reaffirms the leaked release date for the Mini 3 is competitor activities in the market. When DJI first came up with the Mavic series, they had no competition. It was a smooth sale. They made a lot of money even with their first Mini, although its specs were questionable compared to their usual high-end drones.
But things changed. Other manufacturers are catching up. They have realised that a lot of people want a smaller drone with high-end features that they can fly out of the box without going through the mandatory FAA registration.
Competitor drones in sub 250g market
I recently received an e-mail from an Autel PR agency informing me that Autel is releasing a new sub 250g drone called Nano+. This is interesting because the only US manufacturer that can truly rival DJI in consumer drones is Autel. An announcement from Autel about a mini drone at this point should get DJI's attention.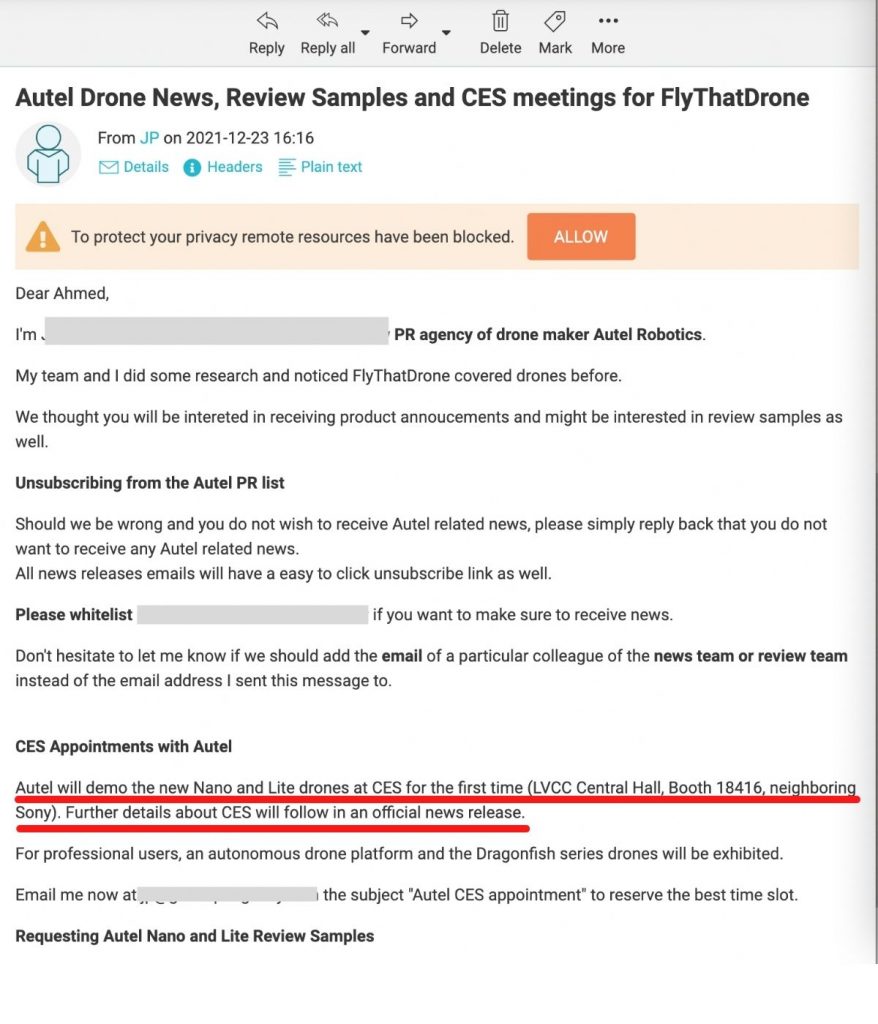 Also, if you check my Autel Nano vs DJI Mini 2 comparison, you will see that the Autel is a bit superior to the DJI's Mini 2 that is currently on market and has the potential to disrupt the Mini 2. It has all the features that you might find missing in the Mini 2 like active track and obstacle avoidance. The Autel Nano is going to be shipped right after CES 2022 in the first week of January.
Apart from Autel, there is another sub 250g newer drone in the market that people are considering i-e the Hubsan Zino Mini Pro. It was announced in June 2021 and has some dashing features of its own including better flight time, 3 direction obstacle avoidance and follow me.
With the competition heating up in the sub 250g market, DJI cannot be late to the party with an updated Mini release that can counter Hubsan and Autel. If you ask me, the lack of some basic features in DJI Mini 2 is turning quite a few people towards Zino and Autel when it comes out in a week from now.
Mini 3 Rumored specifications
At this point, there are no confirmed reports of DJI specifications. However, based on the specifications on Mini 2 and what the competition is doing, it's not hard to speculate as to what to expect in the new DJI Mini 3.
There are 3 major areas where we might see drastic improvements if the Mini 3 is going to retain its leadership in the mini drones market – camera, sensors & flight features. Let's look at each of them in detail.
Camera
The current camera on Mavic Mini 2 is great but compared to the immediate competition, it has a smaller sensor size. The Mini comes with a 1/2.3″ CMOS sensor that can capture 12MP resolution images. The video recording is capped at 2.7K 60 fps or 4K 30 fps.
Compared to this, the Autel Nano comes with a 1/2″ 48MP sensor, and the Zino Mini Pro has an even larger 1/1.3″ CMOS sensor. Both can theoretically outperform the smaller Mavic Mini 2 sensor. A larger sensor means more stable colors and better photography in low lights and during cloudy flight sessions. Both Zino Mini Pro and Autel Nano can record 4K30 fps videos.
For the new Mavic Mini 3, we can expect a better camera sensor and maybe just maybe a 4K60 fps video encoding. I know I am being a little over-optimistic here but let's see.
Obstacle Avoidance
The current Mini 2 has only bottom sensors. Due to the lack of front or back sensors, it lacks the very critical obstacle avoidance feature during flight. Since it is a beginner level drone, this feature is far more important, maybe even more important, than a better camera.
In comparison, both the Zino and Autel have front and back sensors and have obstacle avoidance.
We can expect the new Mavic Mini 3 to come with additional sensors to enable obstacle avoidance. The Mini 2 is just 237g due to its LiPo battery pack thus has additional room to carry on a few more sensors.
Follow me feature
There is no Mavic Mini 2 follow me feature. The reason is obvious. It requires additional sensors and active obstacle avoidance to work properly (imagine running in the woods with follow me enable and crashing into the first tree).
In comparison, both the Autel Nano and Hubsan Mini Pro has follow me features that makes them a better choice if one needs to pick a mini drone.
If DJI decides to slap additional sensors on the front and back, maybe we will also get the follow me feature. Even if it is not GPS based tracking like in their high-end drones, we can expect image-based tracking (like an active track).
Other expected improvements
Apart from the above 3 features that are clearly lacking compared to other drones in this category, we can expect a few other improvements in the new DJI Mini 3.
The flight time on Mini 2 is impressive 31 minutes but can futher be improved in Mini 3. Competitors are offering 40+ minutes of flight time.
Obtical or digital zoom can be increased for better photography. The mini 2 only offers up to 4x zoom.
The Hubsan Zino Mini has a larger f/1.85 aperture compared to the f/2.8 of the DJI Mini 2. Larger aperture means better photography in low light conditions. Maybe Mini 3 can improve on its current camera aperture to meet the competition.
A better camera resolution on Mini 3 can be an incentive to updgrade. The current Mini 2 only offers 12 MP which is sometimes insufficient in post production if you want to zoom in and crop images.
All in all, the Mavic Mini 3 has a lot of expectations to meet if it wants to retain its position as the king of mini drones. I will keep this article updated as more information is available via official or unofficial sources.