The DJI Mini 3 Pro is the latest model in the DJI mini-series that is less than 250g (0.5lb) and doesn't need registration. You can just buy and fly it out of the box.
DJI realized an entirely new market when it saw an opportunity back in fall 2019. FAA drone registration was annoying but had a weight limit of 250g.
Most drones under the 250g weight limit were just cheap toy drones with no features.
DJI seized the moment by introducing a decent drone that weighs less than 250g with medium to high-end features, and it was an instant hit.
A year later, they upgraded it with an even better product – the DJI Mini 2 – and it sold like crazy. And now we are in 2022, and the new DJI Mini 3 Pro just hit the market.
Latest Release
Weighing less than 249 g, Mini 3 Pro doesn't require registration.

Capture your world in remarkable detail with 4K/60fps video and 48MP photos.

The redesigned DJI Mini 3 Pro offers True Vertical Shooting for portrait shots.

Sweet Air Time with an extended flight time of up to 34 minutes.

Fly with Confidence with tri-directional obstacle sensing and APAS 4.0.

Create and Share On the Go with intelligent flight features
DJI Mini 3 Pro Release Date
The DJI Mini 3 Pro was released on May 10, 2022. Initially, the drone was scheduled to be released at the end of April, but it got delayed for a week or two due to the Chinese holiday sales that will run before the release date.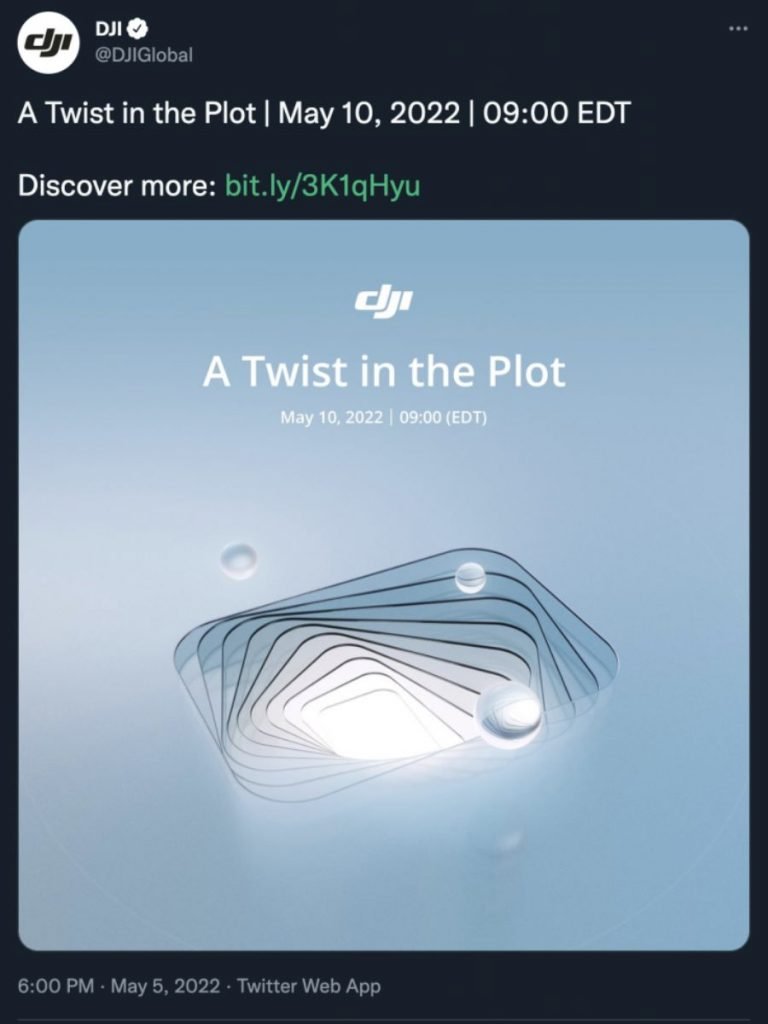 DJI Mini 3 Pro shipping date
Although the Mini 3 Pro was released on May 10, DJI could not fulfill most of the orders immediately as it was supposed to.
This might be due to production or supply chain constraints in China due to Covid.
As of now, you can pre-order the Mini 3 on both the DJI official website and their Amazon store.
If you are in the US, below are estimated shipping dates:
Shipping on Amazon [link]
| Drone Version | Expected Delivery |
| --- | --- |
| DJI Mini 3 Pro + DJI RC | June 29, 2022. |
| DJI Mini 3 Pro + RC N1 | August 1, 2022. |
DJI Official site [link]
| Drone Version | Expected Delivery |
| --- | --- |
| DJI Mini 3 Pro + DJI RC | July 31, 2022. |
| DJI Mini 3 Pro + RC N1 | July 31, 2022. |
| DJI Mini 3 Pro (no remote) | August 1, 2022. |
If you are reading this blog from a place other than the US, you might be able to get an earlier delivery date.
Just go to their Amazon page [link] and see what delivery date you see in the right-hand panel.
Also, due to limited new product availability, you can only purchase 3 units for now.
More Read: DJI Air 3 Release Date
DJI Mini 3 Pro Specifications
The DJI Mini 3 Pro is the latest in the line of Mini drones that DJI pioneered. The much-hyped Mini 3 Pro has some cutting-edge features that were not present in the previous models.
First of all, it's not a budget drone anymore. With a hefty price tag, great camera, and advanced sensors, it has joined the high-end models like the Air and Mavic series.
However, despite all the advanced features, it is still below 250 grams, and you still don't have to register it with FAA or other agencies.
So, with the new DJI Mini 3 Pro, you are not getting a beginner's drone but a full-fledged aerial photography drone that can shoot 4K @ 60fps.
Let's look at the main specifications before we dive into the details:
Weight
8.78oz / 249g
Size
Folded 145x90x62mm
Unfolded 171x245x62mm
Camera sensor
12.1MP
1/1.3 inch sensor
Camera Frame Rate (fps)
4K up to 60fps
2.7K up to 60fps
FHD up to 120fps
Video transmission range
7.5 miles / 12km
Flight time
Standard battery(2453 mAh) – 31 mins
Plus battery (3850 mAh) – 47 mins
Altitude ceiling
4,000 m (13,000 ft) above sea level
Obstacle avoidance
Yes (front, back, down)
ActiveTrack
Yes (ActiveTrack 4.0)
DJI Mini 3 Pro Detailed Review
Design
People have been calling the Mini 3 Pro a "flying frog" and for a good reason. With its two front sensors sticking out, it does resemble a frog.
As the name suggests, it's really tiny and would easily sit on your palm. The foldable wing design makes it very portable. When the arms are unfolded, it measures 171x245x62mm.
The rotor arms have a more smooth profile compared to the predecessor. The one thing you will notice is the quieter propellers.
The Mini 2 came with 4.7 × 2.6 in (dia x pitch) propellers, but the Mini 3 Pro has larger 6.0 x 3.0-inch props. Large propellers have lower noise.
The size of the Mini 3 Pro is slightly larger than its predecessor, the Mini 2 and Mavic Mini.
The overall build quality is the same as you would see on Mini 2 – not like the high-end Mavic series but not bad at all.
The large gimble mount and the additional sensors on the front certainly take up a good area, making the overall design a bit less aerodynamic compared to the sleek design of the Mini 2.
Another significant change from the previous models is the design of the landing gears or legs.
On the Mini 2, we had two front landing gears below the motors, replaced with a slightly angled-up face.
It might freak out some people, but it seems quite safe to take off and land.
Another thing you will notice is the design of the battery compartment. In previous models, you had to lift a compartment door on the back side to put in and take out the battery.
But in Mini 3 Pro, the battery is just pulled out directly – no door. I think that's a much cleaner design choice.
Also, the power button and status LEDs are on top of the drone body instead of the battery.
Camera
Despite its small size and feather-light weight, the Mini 3 Pro comes with a high-end camera that puts the other drone in that price category to shame.
The camera received an upgrade with a larger 1 / 1.3 (0.769) inch lens and a 48 MP sensor resolution. It has a ƒ/1.7 fixed aperture and a better ISO range of 100-6400 for improved nighttime photography.
On the video front, the camera can shoot 4K @ 60fps, just like the Mini 2, but it also has a slow-mo mode with 1080P @ 120fps.
It also allows shooting in D-Cinelike for those who wish to grade their color in post-production.
Overall, the camera received a considerable upgrade over the Mini 2 camera, and for people who currently own Mini 2, the bigger lens and sensor of Mini 3 should be enough reason for an upgrade.
The new gimbal design is particularly noticeable. It has a 3-axis gyro stabilization but with more room for movements compared to the previous Mini 2.
The below table compares both gimbals to show how the reimagined gimbal provides a versatile shooting experience.
| | DJI Mini 2 | DJI Mini 3 |
| --- | --- | --- |
| Tilt | -110˚ to 35˚ | -135˚ to 80˚ |
| Pan | -20 to 20˚ | -30˚ to 30˚ |
| Roll | -35˚ to 35˚ | -135˚ to 45˚ |
The increased roll movement enables it to turn the camera vertically for portrait photos and videos for social media.
Since the drone is geared toward more hobby pilots and recreational flyers, the vertical mode is a great addition.
Controller
DJI has introduced two versions of Mini 3 Pro – one with the standard RC-N1 remote and one with the new DJI RC, which has a built-in screen.
The RC-N1 remote is the standard remote we have seen previously with the Mini 2 as well.
It has an extendable phone holder that holds your smartphone to display the real-time camera view and control the drone functions.
The new DJI RC has a built-in 5.5-inch screen that is very handy for people who want to keep things minimalist.
The screen is bright enough to use in sunlight and has a brightness of 700 nits (slightly lower than the DJI RC Pro we have seen with the Mavic 3).
It weighs almost the same as the RC-N1 and is pretty good to handle and operate.
Flight time
Flight time is an important metric to look at while buying any drone. DJI has been very innovative with its battery technology over the years, and we see the same with the Mini 3 Pro.
The DJI Mini 3 Pro has two battery versions – the normal Intelligent Flight Battery and the Intelligent Flight Battery Plus.
The Plus version is – as the name indicates – a larger pack with more storage capacity and a better time in the air.
The below table summarises the drone performance on both batteries.
| Battery version | Capacity | Weight | Flight time |
| --- | --- | --- | --- |
| Normal battery | 2453mAh | 80.5g | 34 mins |
| Plus battery | 3850mAh | 121g | 47 mins |
As you can see, there is a considerable difference in the weight of both batteries.
In fact, the Plus battery puts your drone take-off weight in >250g category; hence, you cannot fly it without FAA registration.
DJI Mavic Mini 3 Pro – Final thoughts
DJI Mini 3 Pro is an excellent drone for beginners and hobby flyers. It has a great camera and intelligent features to make it worth your investment.
The previous models had some core features missing, like the follow me and active track, which have been included in this version.
Overall, it is a solid buy for someone who wants to get his hands on aerial photography and doesn't want to spend too much on more expensive drones like the Air or Mavic series.
And, of course, you don't have to register it with the authorities in most countries (FAA included), so it's less hassle, less money, and more fun right out of the box.