DJI realized an entirely new market when it saw an opportunity back in fall 2019. FAA drone registration was annoying but had a weight limit of 250g. Most drones under the 250g weight limit were just cheap toy drones with no features. DJI seized the moment by introducing a decent drone that weighs less than 250g with medium to high-end features, and it was an instant hit.
There was absolutely no competition. A year later, they upgraded it with an even better product – the DJI Mini 2 – and it sold like crazy. Now we are in 2022, and there are rumors of another upgrade to the Mini series. Let's discuss the DJI Mini 3 release date, what we know about rumored specifications, price, etc.
PS: I will keep this page updated till the Mini 3 hits the market. [Last Update: May, 6 2022]
DJI Mini 3 Pro Release Date [Confirmed]
We finally have an officially confirmed release date for the new drone. The DJI Mini 3 Pro will be released on May 10, 2022, at 9:00 EDT.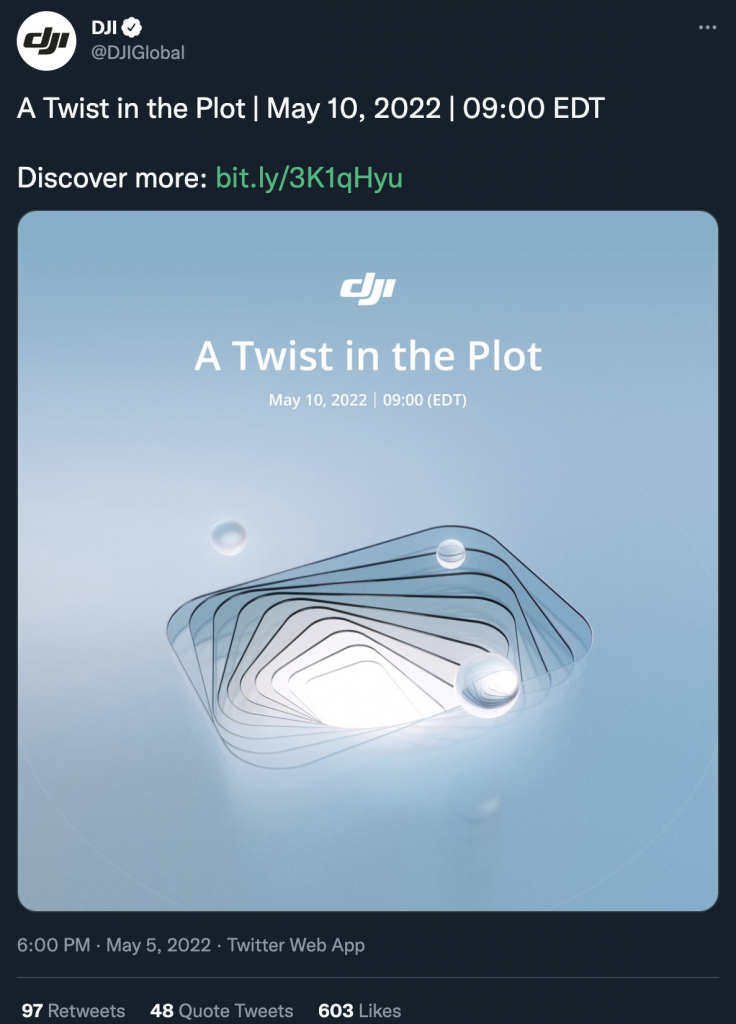 The DJI Mini 3 Pro was supposed to hit the market on the 28th of April but as we were nearing the release date, DJI pushed the release date to May 10 due to the Chinese holiday sales that will run prior to the release date.
DJI Insider Jasper Ellen first suggested that DJI is planning Chinese holiday sales from 23rd April to 9th May and will never release a new product during the sales season. He went further and suggested that the new DJI Mini 3 Pro will be released on May 10.
Another famous DJI insider OsitaLV also posed a few days ago that the Mini 3 launch on April 28 has been postponed and hinted at the nearing release of the upcoming DJI Inspire 3.
Recently leaked images on April 2, 2022, show that DJI is currently testing the new Mini 3 Pro since early March. Famous DJI insider @DealsDrone has posted images on their Twitter handle showing a test unit activated in early March 2022.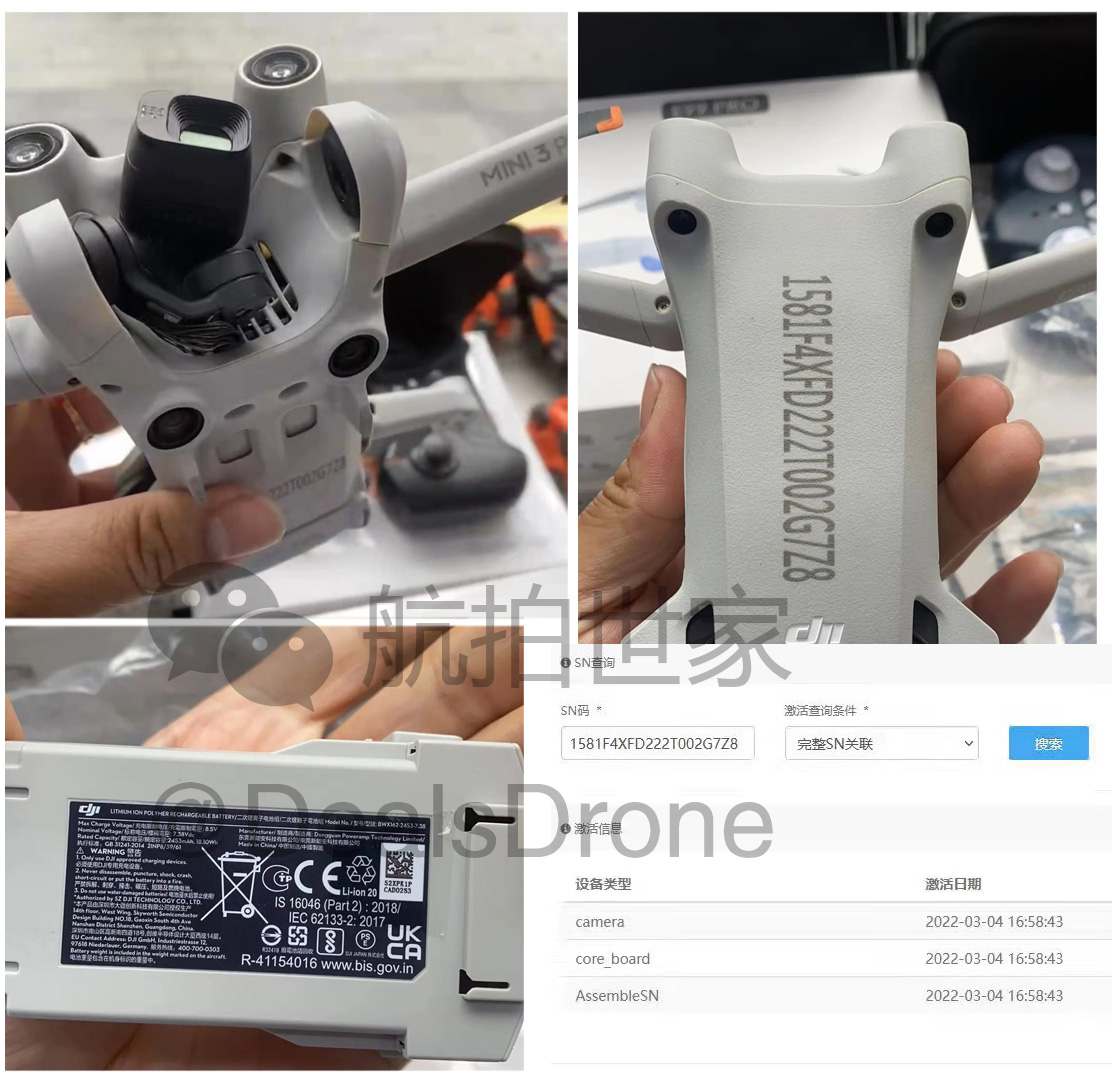 Third-party vendors have already started promoting accessories that will go with the new Mini 3. For example, we are seeing drone cases for the Mini 3 already on pre-order with a shipping date at end of April.

These leaked images and thrid party accessory launches only reaffirm our previous projection of the April 2022 release which is now pushed to early May. So far, everything seems to be on track, and if things go smoothly, we might see key opinion leaders (KOLs) and influencers trying their hands on the Mini 3 Pro soon.
Earlier leaks have suggested April as the month we might see the new DJI Mini 3 Pro. A leaked product roadmap by @dealsdrone on Twitter reveals several products in line for the 2022 release including the DJI Mini 3. According to the leaked road map, the Mavic Mini 3 release date is in April 2022.
The leaked product roadmap also speculates a few other products that will be coming in 2022 including the much-awaited DJI inspire 3 and a new DJI pocket 3 coming in fall 2022.
Mini 3 Pro rumored & leaked specifications
At this point, there are no confirmed reports of DJI specifications. However, based on competitor products in the market right now and on a few leaked images and videos, we can speculate what we can expect in the new DJI Mini 3 (or Mini 3 Pro)
There are 3 major areas where we might see drastic improvements if the Mini 3 is going to retain its leadership in the mini drones market – camera, sensors & flight features. Let's look at each of them in detail.
Camera
The current camera on Mavic Mini 2 is great but compared to the immediate competition, it has a smaller sensor size. The Mini comes with a 1/2.3″ CMOS sensor that can capture 12MP resolution images. The video recording is capped at 2.7K 60 fps or 4K 30 fps.
Compared to this, the Autel Nano comes with a 1/2″ 48MP sensor, and the Zino Mini Pro has an even larger 1/1.3″ CMOS sensor. Both can theoretically outperform the smaller Mavic Mini 2 sensor. A larger sensor means more stable colors and better photography in low lights and during cloudy flight sessions. Both Zino Mini Pro and Autel Nano can record 4K30 fps videos.
For the new Mavic Mini 3, we can expect a better camera sensor. The recently leaked video posted by @dealsdrone shows a newer camera system with a 3-axis gamble for additional stabilization.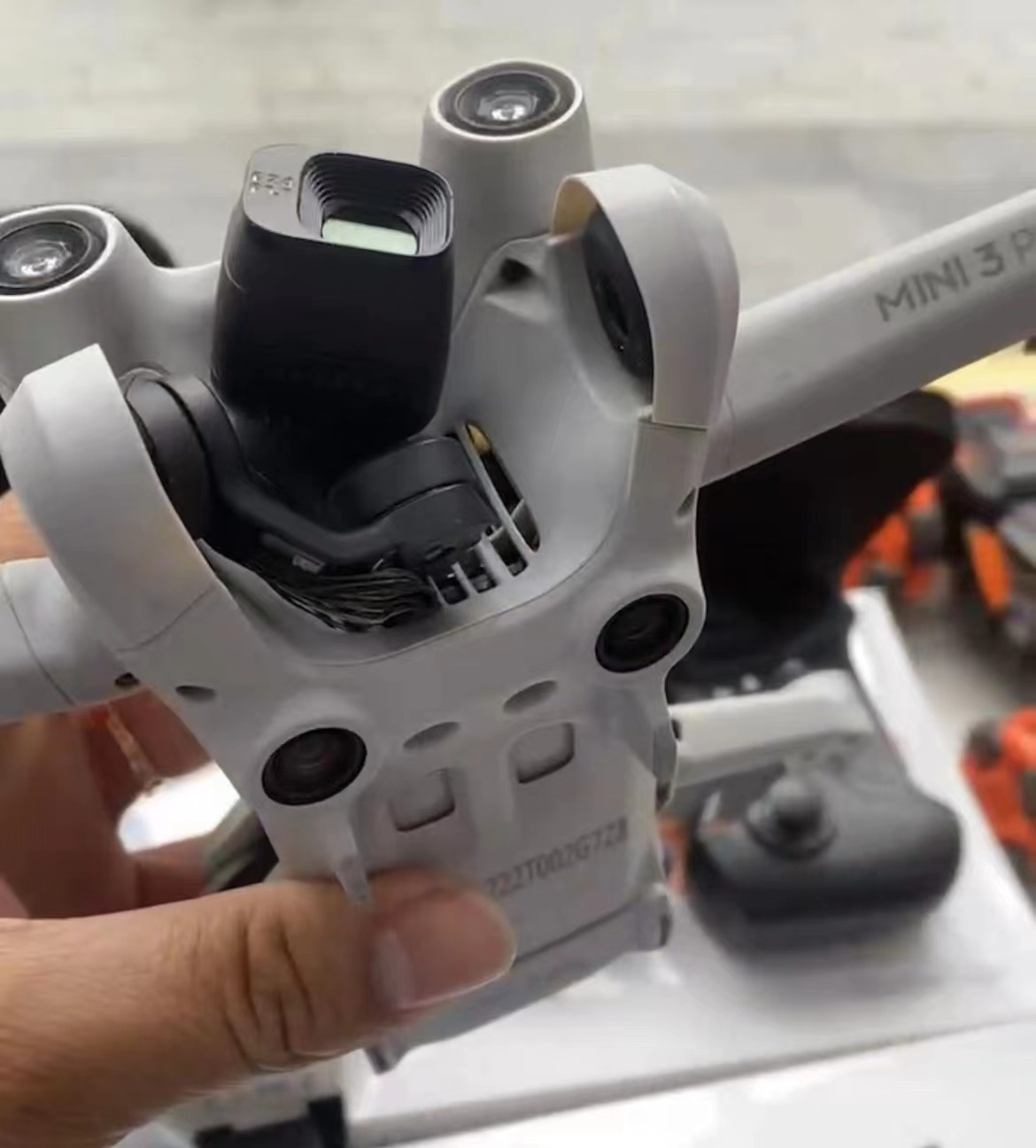 From the video, it's hard to guess the exact specs of the camera but it is rumored to be a 1/1.3 CMOS chip with an f/1.7 aperture and a 24mm focal length. If that turns out to be true, it will be a big improvement and at par with what is currently offered by the competitors.
Obstacle Avoidance
This is perhaps the most important feature users have been looking forward to in the new Mini 3 and DJI hasn't disappointed. The leaked Mini 3 video and images show two front-facing obstacle avoidance sensors.
Due to restrictions on weight (less than 250 g), DJI avoided adding these sensors in Mini 1 & Mini 2 but the competition went ahead and found a way around integrating them in Autel Nano & Hubsan Zino Mini.
With the new Mini 3 Pro, DJI found a way to make room for the new sensors. These will not only improve the flying experience and safety of the drone, but they will also enable some nice features like follow me and active track.
Bigger battery
The Mini 2 came with a 2250 mAh battery pack which provided up to 31 minutes of flight time under ideal conditions. The leaked images of the upcoming Mini 3 indicates that it will be equipped with a slightly larger battery capacity of 2453 mAh.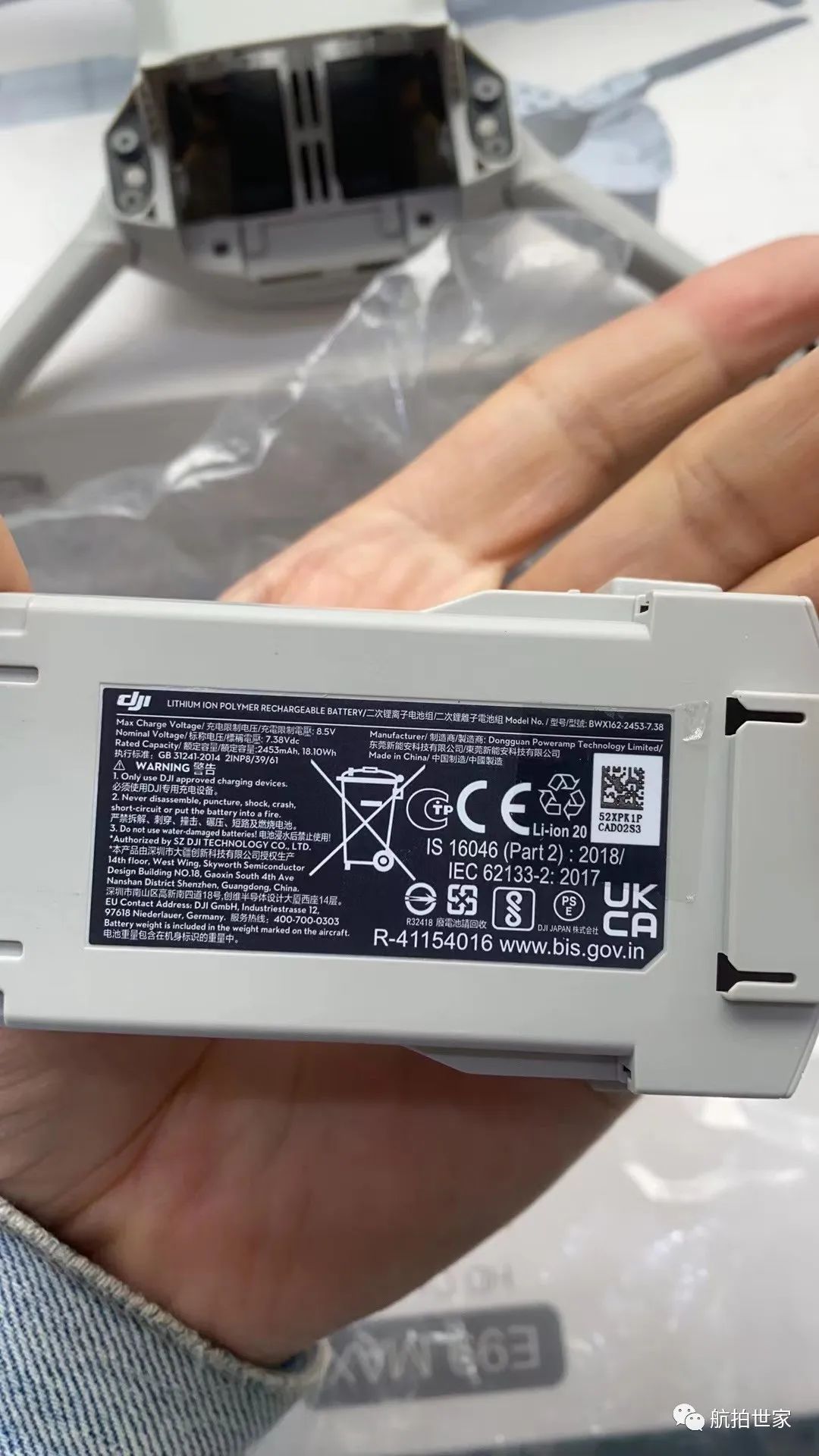 The bigger battery may provide a few more minutes of flight time ideally pushing it to 35 minutes in lab conditions but this is speculative for now till we get lab results.
Ideally, the bigger battery should provide better flight performance but the addition of new sensors will increase the take-off weight as well. Also, the aerodynamic designs of the arm (similar to Mavic 3) will also have a positive effect. It is hard to predict how all these positives and negatives end up affecting flight time.
Follow me feature
There is no Mavic Mini 2 follow me feature. The reason is obvious. It requires additional sensors and active obstacle avoidance to work properly (imagine running in the woods with follow me enable and crashing into the first tree).
In comparison, both the Autel Nano and Hubsan Mini Pro has follow me features that make them a better choice if one needs to pick a mini drone.
If DJI decides to slap additional sensors on the front and back, maybe we will also get the follow me feature. Even if it is not GPS-based tracking like in their high-end drones, we can expect image-based tracking (like an active track).
Other expected improvements
Apart from the above 3 features that are clearly lacking compared to other drones in this category, we can expect a few other improvements in the new DJI Mini 3.
A better camera resolution on Mini 3 can be an incentive to upgrade. The current Mini 2 only offers 12 MP which is sometimes insufficient in post-production if you want to zoom in and crop images.
The Mini 2 doesn't come with integrated storage so you have to buy a compatible SD for Mini 2. The Mini 3 can have a fast onboard storage option like other high-end drones.
Since the Mini 2 does not have remote ID, maybe DJI considers putting the feature in Mini 3 for any future regulatory compliance.
Famous DJI pilot and insider, @ositaLV shared his own concept of Mini 3 specs which illustrate what's possibly in store for the new release. See the below image ositaLV shared on Twitter.
Competitor drones in sub 250g market
I recently received an e-mail from an Autel PR agency informing me that Autel is releasing a new sub 250g drone called Nano+. This is interesting because the only US manufacturer that can truly rival DJI in consumer drones is Autel. An announcement from Autel about a mini drone at this point should get DJI's attention.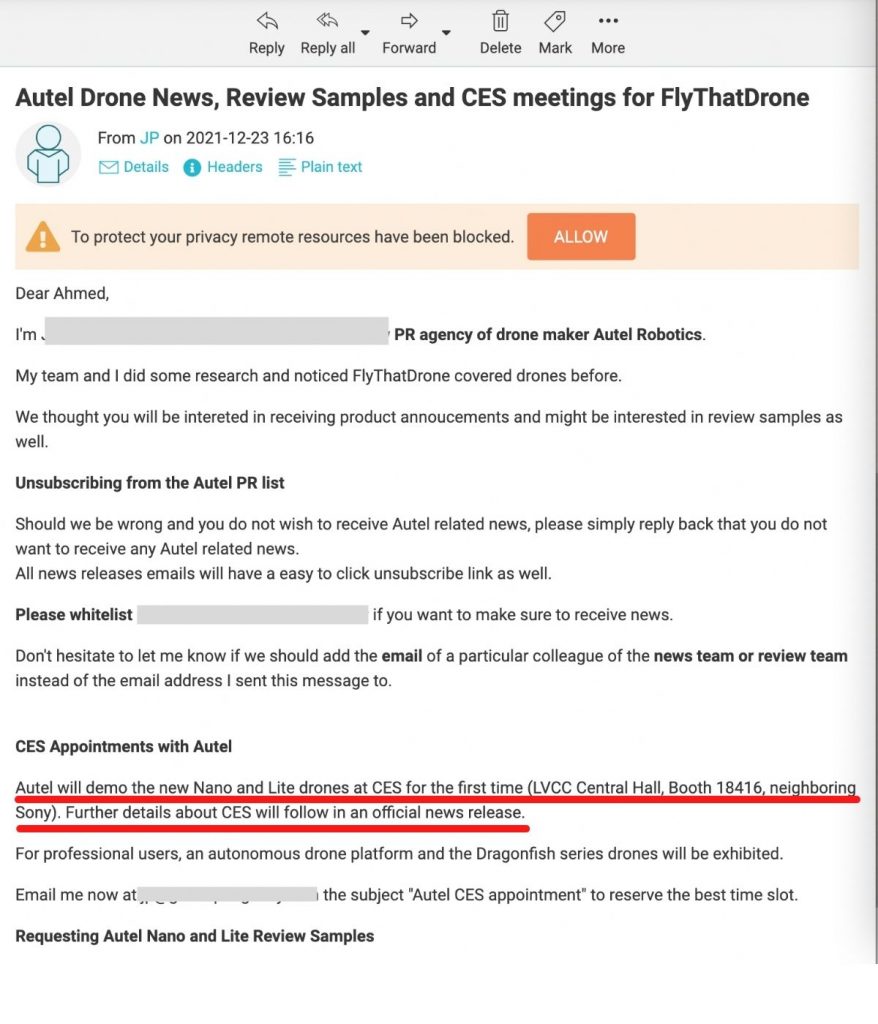 Also, if you check my Autel Nano vs DJI Mini 2 comparison, you will see that the Autel is a bit superior to the DJI's Mini 2 that is currently on market and has the potential to disrupt the Mini 2. It has all the features that you might find missing in the Mini 2 like active track and obstacle avoidance. The Autel Nano is going to be shipped right after CES 2022 in the first week of January.
Apart from Autel, there is another sub 250g newer drone in the market that people are considering i-e the Hubsan Zino Mini Pro. It was announced in June 2021 and has some dashing features of its own including better flight time, 3 direction obstacle avoidance, and follow me.
With the competition heating up in the sub 250g market, DJI cannot be late to the party with an updated Mini release that can counter Hubsan and Autel.
If you ask me, the lack of some basic features in DJI Mini 2 is turning quite a few people towards Zino and Autel when it comes out in a week from now. In such a situation, the DJI Mini 3 release date cannot come any sooner.
DJI Mavic Mini 3 release date – Conclusion
With the newer lightweight drones coming into the market, the pressure is on DJI to come up with an upgraded DJI mini 3 soon. The new Mini 3 Pro will hit the market on May 10, 2022, with all its glory.
All in all, the Mavic Mini 3 has a lot of expectations to meet if it wants to retain its position as the king of mini-drones. I will keep this article updated as more information is available via official or unofficial sources.