The DJI flagship Mavic 3 was released less than a year ago, and there are already rumors circulating in the market about the next upgrade i.e. the DJI Mavic 3S release date, and specs.
The rumors first surfaced when long-time DJI insider @Dealsdrone posted about it last November. Here is what he revealed.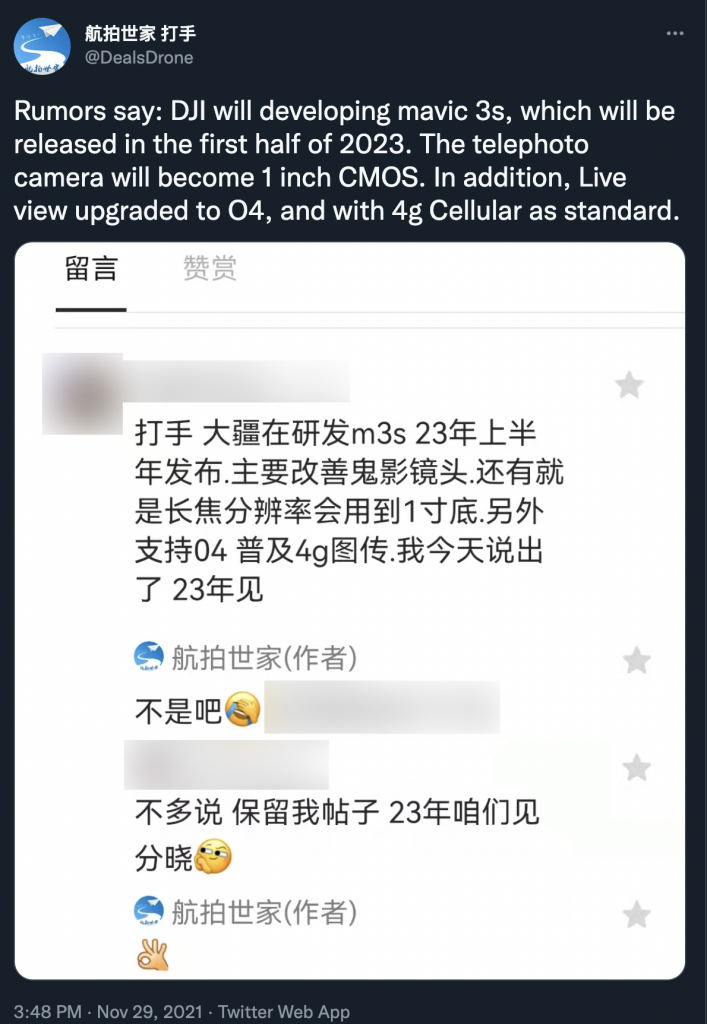 As per the leaked conversation, the upgraded Mavic 3s will hit the market in the first half of 2023.
However, recently @DealsDrone posted another possible DJI release schedule, which puts the Mavic 3S release date in July 2023.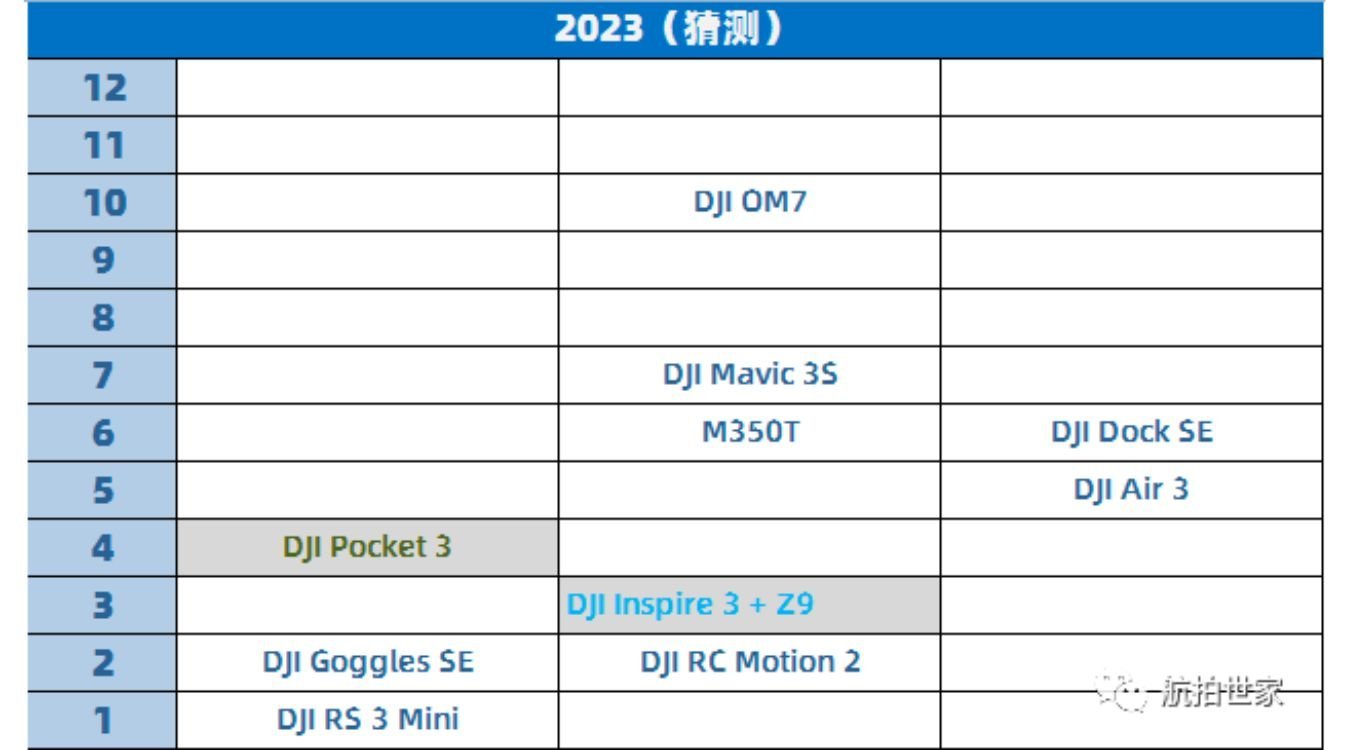 So from speculations, we can assume that the Mavic 3S will hit the market in early or mid-2023.
Although it's almost half a year away, people have started talking about possible improvements they would expect in the upgrade.
If you have been paying attention to the user market, people have complained about the Mavic 3 glitches and issues, including Mavic 3 GPS delay issue.
DJI promised a firmware fix, but it hasn't come yet, and a lot of people believe it's instead a hardware issue stemming from faulty GPS chips.
Whatever the reason is, the Mavic 3, with its hefty price tag, was not a smooth launch, and it only makes sense if DJI can go back to the drawing board, fix the issues, and release an upgraded version with some feature improvements.
DJI Mavic 3s Features (rumored)
Right now, anything we are going to discuss is strictly speculative and based on rumors and leaks.
It's too early to predict anything with certainty, but if you have been into tech, you would know that leakers are usually right about many things.
The "s" continuation is not a complete overhaul of any flagship line but a slight improvement over the previous release. For a completely new drone, we will have to wait for the Mavic 4 to arrive.
The Mavic 3s will mostly fix things that were overlooked and makes the new iteration a more attractive option for those who haven't yet upgraded to Mavic 3 for some reason.
Having said that, let's have a speculative look at what the Mavic 3s would have.
Big Telephoto Lens
Without an update to the camera capabilities, is it even an update?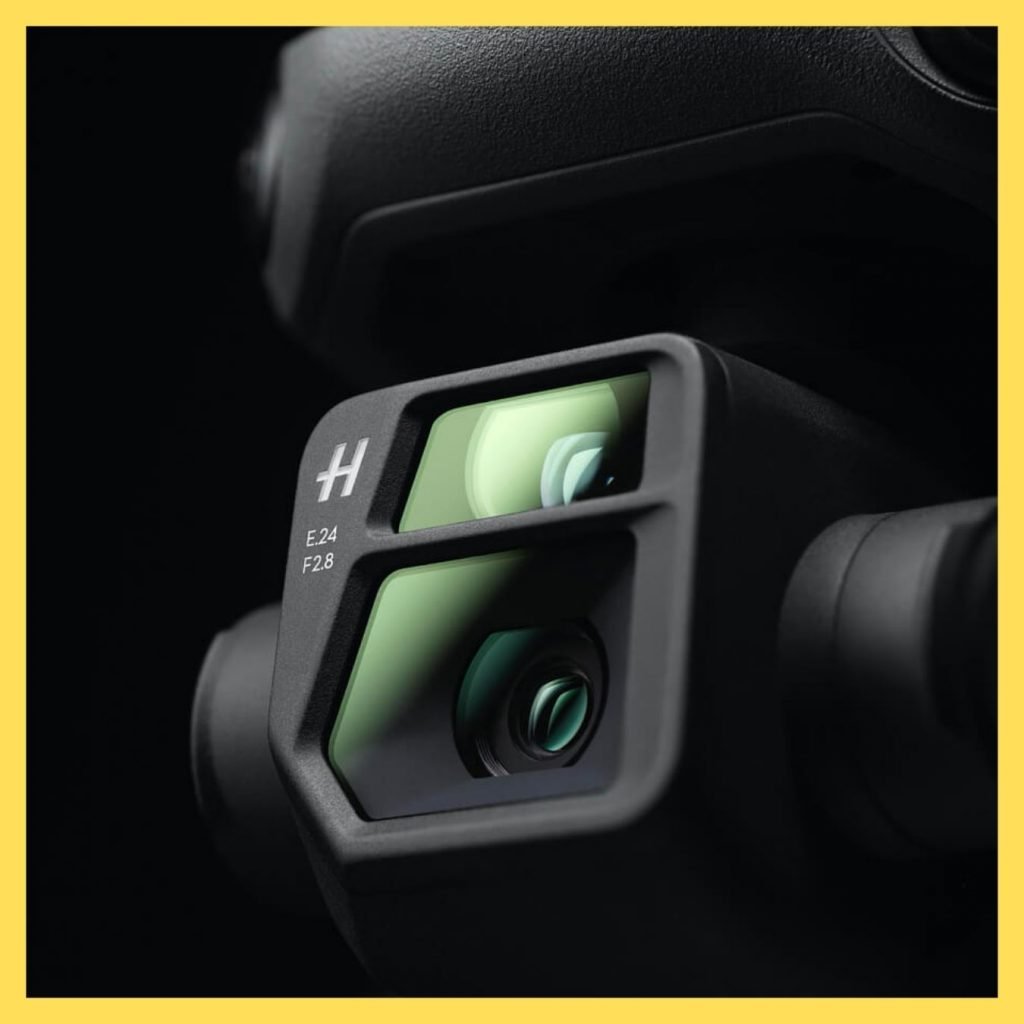 We can expect some changes to the camera system, mainly to the Telephoto lens.
The current Mavic 3 has a 1/2″ CMOS sensor for its secondary Telephoto camera. With the Mavic 3s; we can expect a bigger 1″ sensor and a bigger lens.
The primary camera will most probably remain the same if the cost is to be kept in check.
Better Battery life
As a pilot, the first thing I see in any new consumer drone is how much it can stay in the air. A better battery life overshadows any other improvement (except maybe the camera).
The new Mavic 3s version will bump up the battery capacity by 15% to give it a better flight time. The current Mavic 3 can fly for 46 minutes in ideal lab conditions.
The new Mavic 3s might be able to go over the 50 minutes mark and will be the first consumer drone to fly that long.
GPS Fix
One of the problems Mavic 3 faced was a buggy GPS. The Mavic 3 is notoriously slow to get a fix on GPS satellites. For some users, it takes up to 10 minutes to get a home point lock and take off.
For a drone you paid upwards of $2000, this is annoying and utterly unacceptable to users. Forums are filled with angry users complaining about the issue.
The faulty GPS not only annoys users but also eats into 10 minutes of your 46-minutes battery life. Flight time is something pilots deeply care about, and every minute in the air matters.
So a slow GPS means you cannot take off for up to 10 minutes, and your battery is discharging away on the ground.
If this is indeed a hardware issue, DJI will definitely fix this in the next version.
Multiple Colors
DJI has shied away from releasing products in multiple colors and has usually restricted itself to silver or dark grey colors only.
The reason behind this is complicated logistics. More color option means more inventory types in warehouses around the world. This will eventually add up in the cost of production and fulfillment.
However, things are changing in the tech industry. With Apple releasing its iMac line in 7 vibrant colors, people are more receptive to bright colors now. Even Autel is offering bright colors on its different drones.
DJI might jump on the color bandwagon and release the Mavic 3s flagship in different colors. So, fingers crossed.
DJI Mavic 3s release date – Conclusion
As I said, nothing is official or final yet. The leaks suggest that DJI is working on the Mavic 3s line, and we might have a release date in Q1 of 2023.
Based on the leaks from industry insiders, the new DJI Mavic 3s will come to market in mind of 2023.
I will keep this page updated with new information as and when it becomes available. If you are waiting for the new Mavic 3s, be sure to bookmark this page and check it periodically.