DJI Fly is the official app that lets you fly all the latest DJI drones in the Mavic, Mini, and Air series. It's free, very stable, and has all the features you might need.
But sometimes, the official app is not enough, and you might look for third-party apps to avail features of your drone that are otherwise locked.
Today, we will discuss 5 DJI Fly app alternatives that you can use to fly your DJI drone and do much more than your official Fly app allows you to do.
At the end of the article, I have also discussed if flying third-party apps can affect your drone's warranty, so make sure you read that part before opting for any DJI Fly App alternative.
5 Best DJI Fly App Alternatives
Before you feel adventurous and download a third-party app to fly your DJI drone, keep in mind that it might void your warranty and care refresh terms.
Here is what the DJI Care Refresh Terms & Conditions document says.
Damage caused by using your DJI product together with a non-DJI product or third-party accessory/software that is not authorized by DJI.DJI Care Refresh Program

TOS (Clause 2.4.2 (3))
There is more detail on this at the end of the article, but let's look at the DJI Fly app alternatives instead of the official app to fly our DJI drones.
1. Litchi App
Price: $24.99
Availability: Android | iOS
Official website: https://flylitchi.com
Litchi is by far the most famous app among DJI drone owners. It is developed by a group of DJI enthusiasts who were not happy with the limited features of the official DJI apps.
It truly unlocks the potential for what your DJI drone can do.
Since it supports additional functionalities, it is a little more complex than DJI Fly and DJI Go, but people who sign up for Litchi are no beginners.
It is available for Android and iOS and works on almost all newer and older smartphones. Unlike the official DJI Fly app, which only works on phones with 64-bit architecture, Litchi supports both 32 & 64-bit architecture.
Key Features
Waypoint mode: With Litchi, you can create and execute waypoint missions even on Drones like Mini 2, for which waypoints are unavailable on official apps. You can use PC & Mac to create waypoints and sync with your app on your phone.
ActiveTrack & Follow Me: Litchi adds active track & follow me mode to all drones, including Mini, Mini SE, and Mini 2, for which these features are not available in the official apps. This is something that really makes Litchi great.
VR mode: If you have VR goggles, you can use the VR mode to bring your flights to reality with an immersive virtual reality FPV experience.
Other Standard Features: Apart from these differentiating features, you will get all the standard features that you might also find in the official apps like:
Panorama mode
Focus mode
Orbit & Helix flight
Livestream to Facebook & RTMP server
Casting to nearby devices using Vue
Overall, it's not only a replacement app for the official DJI app but also enhances your flight experience with all the additional functionalities it unlocks.
Currently, it supports Mini 2, Mini SE, Mavic Mini 1, Mavic Air, Mavic Air 2, Air 2S, Mavic 2 (Zoom & Pro), Phantom 4 (all versions), Phantom 3 (all versions), Inspire 1 (all versions), Inspire 2 and DJI Spark.
I have written a more detailed guide about Litchi and its support for Mini 2 if you want to go into more detail.
2. Dronelink
Price: $24.99 – $99.99
Availability: Android | iOS
Official website: https://www.dronelink.com/
Dronelink is another alternative to the official DJI Fly app that offers a lot of functionalities that you might miss in the Fly app.
Like the Litchi app, it is not free, and with the additional functionalities, the learning curve to use the app is quite steep.
You will have to spend quite some time watching tutorials to get the hang of it, but it's worth it. The app can add so much to your DJI drone that you will not be disappointed in investing time & money in the app.
The main focus of Dronelink is to create a fully automated mission where you can pre-plan every single aspect of your mission. You can pre-set your waypoints along with camera settings at each point.
You can also combine multiple components like Orbits, 360 modes, Waypoints, etc, all in one mission and save your missions as reusable templates for the future.
While Litchi and DJI Fly are more geared toward hobbyists, the Dronelink is for more advanced users who want to do more than take pretty pictures from above.
Support: Like the Litchi app, Dronelink is also built atop the official DJI SDK, supporting all those models for which DJI has released the SDK. You can find a complete list of supported modes here
3. Airmap for Drones
Price: Free
Availability: Android | iOS
Website: https://www.airmap.com/
AirMap is a company that provides aeronautical data and services to UAV pilots, including traffic alerts and situational awareness data, and enables them to request authorizations from LAANC, etc.
But the app can also be used to fly supported DJI drones. It has all the standard features you might find in the official app.
But the thing that sets it apart is its superior vector maps and integrations they have with different airports, authorization bodies, and other stakeholders in the sky.
You can share your flight plans with participating airports around the US, get real-time traffic alerts from nearby aircraft, and view publicly shared flights in your vicinity.
I would say Airmap is more suitable for professional flyers who need these kinds of integrations and real-time data.
For hobby flyers, it lacks certain features like orbit or follow me that a hobby would really appreciate.
So, this will make the Airmap a complimentary app rather than a full replacement, but it's nice to have on your phone.
4. DJI Go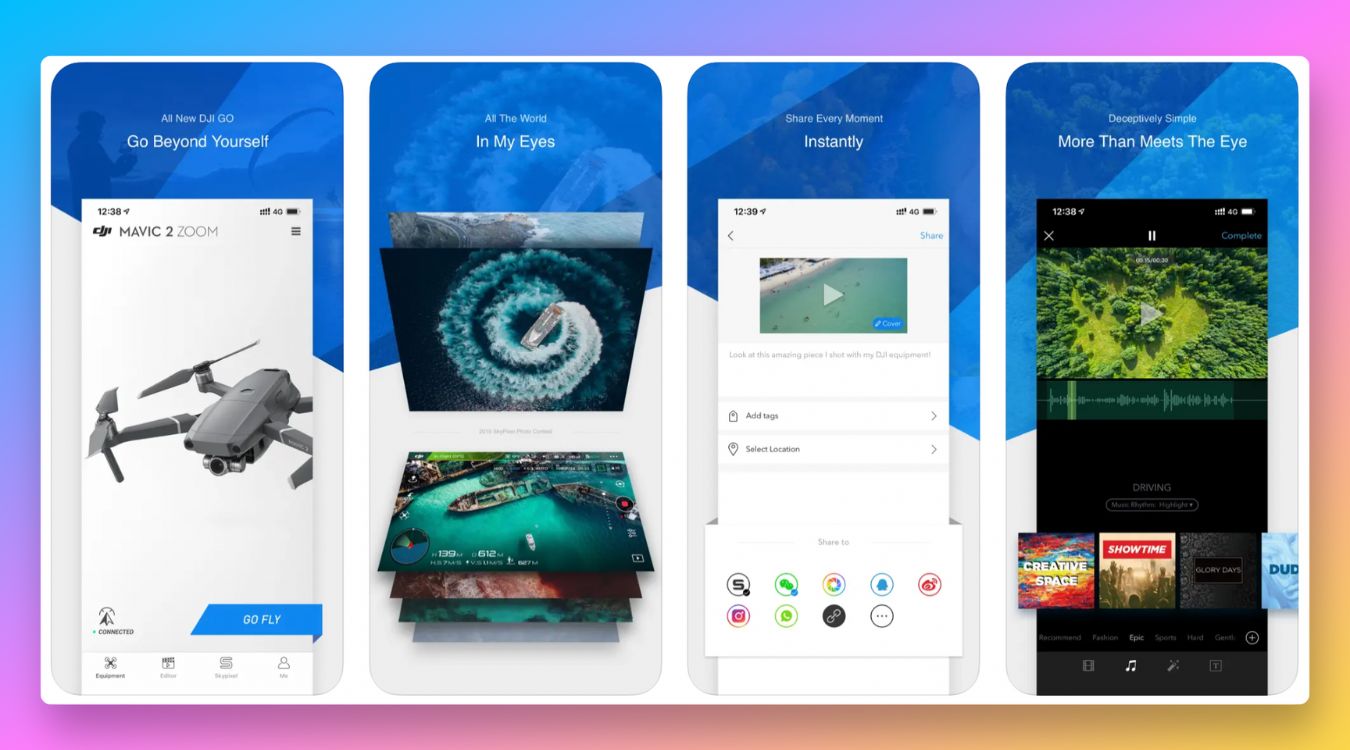 Price: Free
Availability: Android | iOS
Official website: https://www.dji.com/goapp
DJI Go is an official DJI app compatible with the older Mavic, Air, and Phantom series models.
With Mavic Air 2 onward, DJI shifted to a much simpler version of the Go and called it DJI Fly.
A lot of options were left out in the DJI Fly app compared to the DJI Go to make it simpler and more intuitive for new users. But this simplification came at the cost of some functionalities.
You can still download the DJI Go app from both Appstore and Google Playstore and use it to fly DJI Mavic, Inspire & Phantom series (except for Phantom 4)
It has all the features of your DJI Fly app and some.
Some DJI users still consider it a superior app compared to the newer DJI Fly app and would stick with it for their daily flying sessions.
5. Maven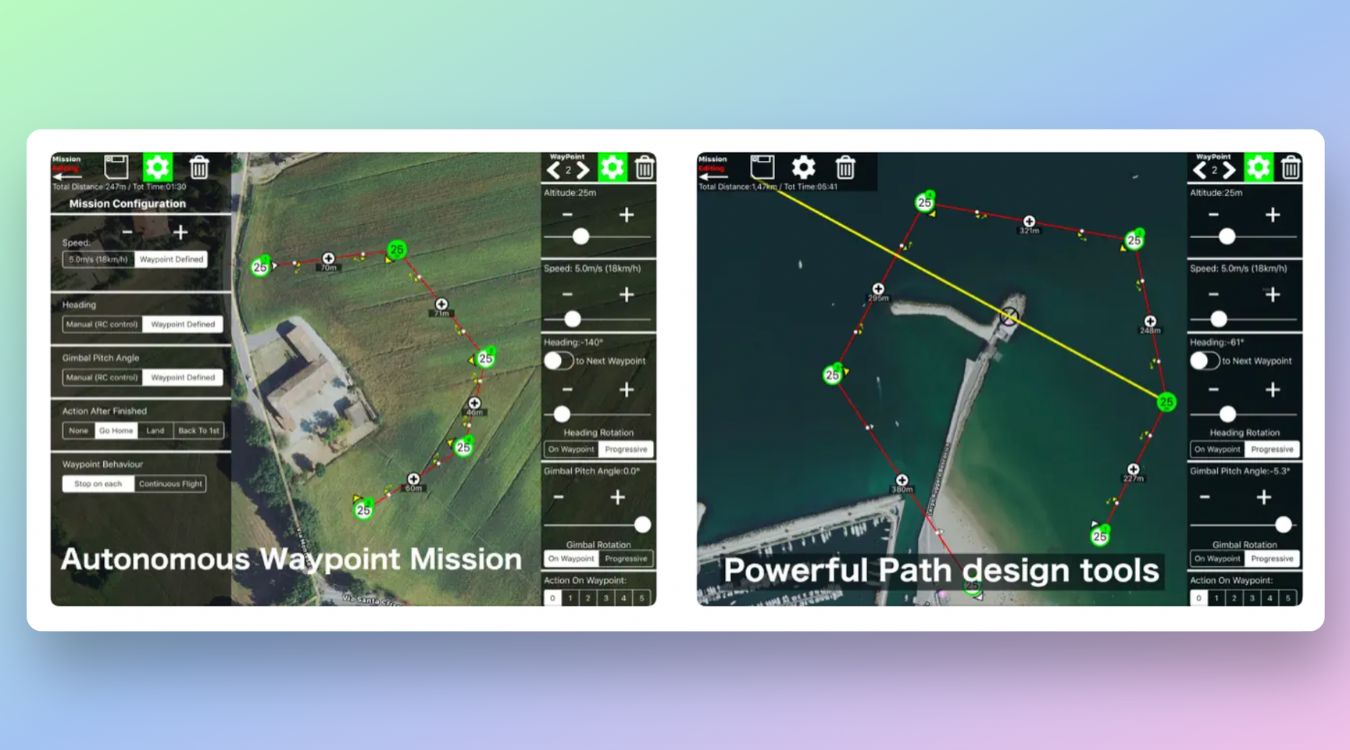 Price: $17.99
Availability: iOS
Website: https://www.mavenpilot.com/
Maven is another good replacement app for the official DJI Fly. It is designed with beginners and hobbyists in mind, and unlike professional apps like AirMap, Maven has all the aerial photography and videography features built-in.
It has automated waypoint missions, GPS-based follow me mode (even for Mini series), VR head tracking, which is great for FPV flying, and a headless mode for beginners.
Other features include Cable cam, automatic orbit flights, and polygonal geofence.
The app is compatible with all major DJI drones for which the SDK is available, including Mavic Air, Mavic Air 2, Mavic Air 2s, Mini series (except Mini 3), Mavic series (except Mavic 3), and DJI Spark.
You can plan autonomous waypoint missions with intuitive UI. Many advanced features include POI, corner radius, altitude option, etc.
You can control the camera and gimble either manually or program it to operate autonomously.
You can even use VR functionality during autonomous waypoint missions.
With the virtual polygon geofence feature, you can define your own virtual geofenced area to confine the drone flight in certain areas only.
Very useful if you are flying near sensitive areas not excluded in the drone firmware.
One of my favorite features is the co-pilot, where you can manually fly the drone while the yaw rotation and camera control are with your copilot to take aerial shots with more accuracy.
The copilot feature is a game changer for new flyers who struggle to take aerial shots while also trying not to crash the drone.
The only major downside of Maven is that it is available for iOS devices only so if you have an android, you can't use it. Hopefully, the devs will roll out the Android version soon.
Will using a third-party app void the DJI warranty?
If you read the terms & conditions of the DJI warranty and care refresh program, it seems that using any third-party app. But the clause says that the policy is void if an unauthorized DJI program is used.
Is the Litchi app authorized since it is built on the official DJI SDK? If it is unauthorized, DJI can easily stop such apps by not releasing their SDK.
So I contacted the DJI customer support team via chat to get more clarity. Here is how our short conversation went.
That was a pretty clear answer from Fiona DJI. But I have my own experiences with customer support guys. Sometimes, they don't know and make things up.
So if you use a third-party flying app, keep in mind that you might risk losing your warranty and care refresh in case it crashes.
DJI Fly Alternatives – Final word
DJI Fly is the official app from the manufacturer that supports all newer drones released by DJI. It is great for beginners and advanced users alike but sometimes lacks certain features the users need.
In such a case, third-party apps can supercharge your flight sessions. They give you additional features and let you access your drone's functions hidden away in the official fly app.
Using these third-party apps comes with a risk of voiding your warranty, so caution is advised.