In this article, I will document the upcoming DJI Inspire 3 release date, specifications, leaked pictures, etc. Last updated: April 06, 2023.
The much-loved DJI Inspire 2 was released almost seven years ago in 2016. Since then, a lot has changed in the field of consumer & professional drones.
Initially, the Inspire 3 was rumored to be released in late 2022, but that didn't happen. But it seems like 2023 is the perfect year for an upgraded Inspire line.
Today, we are talking about the DJI Inspire 3 release date and rumored specifications.
DJI announced the release date of the new Inspire drone Today. The new DJI Inspire 3 will be released on April 13, 2023
I will keep track of the latest news, leaks, and rumors on this page regarding the upcoming DJI Inspire 3 on this page.
So, if you are a professional cinematographer awaiting the new drone, bookmark this page.
DJI Inspire 3 release date officially announced
The release date for DJI Inspire 3 has been in the news since early last year. We have seen a lot of leaked photos and videos coming out, further fueling the speculations.
Due to a tight product release schedule in 2022, we didn't see the Inspire 3 despite much anticipation.
Famous DJI insider @DealsDrone posted a product timeline leak for the year 2023, according to which the new DJI Inspire 3 was scheduled to be released in March 2023 (see below image)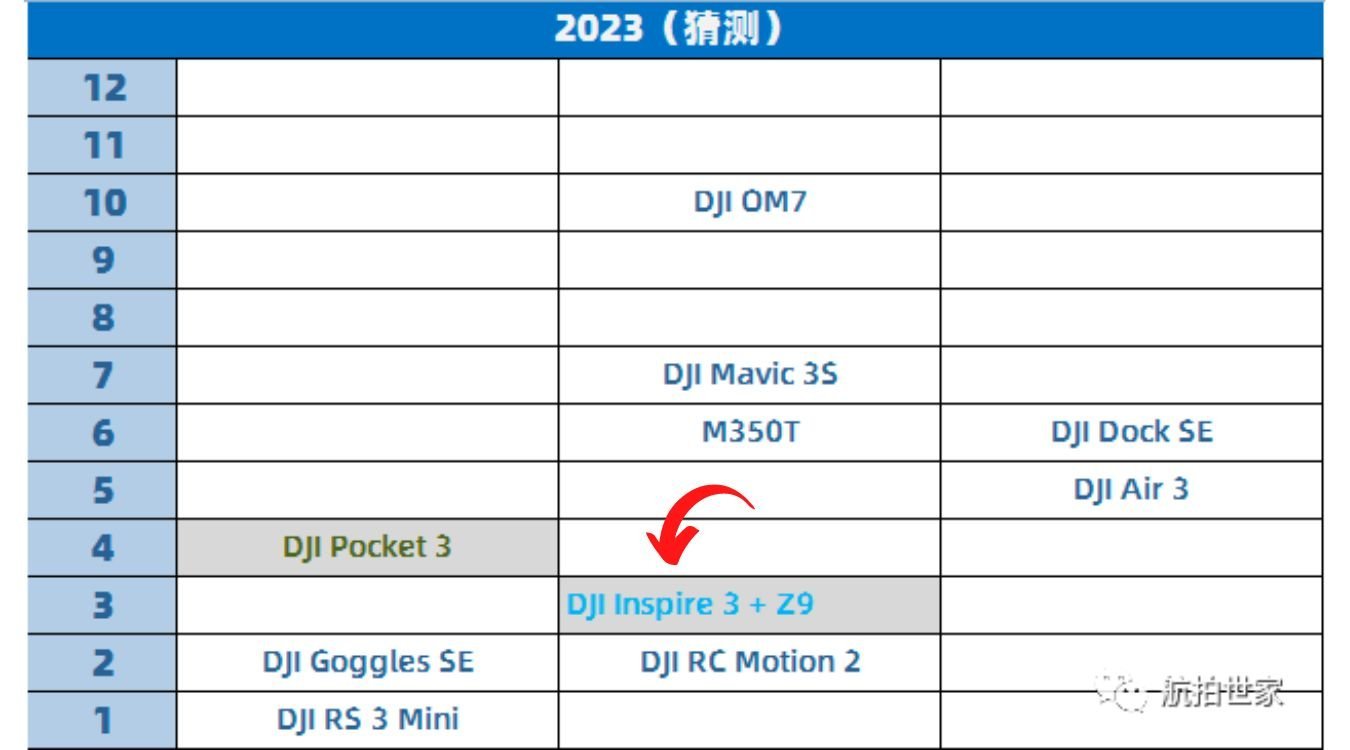 But March ended and we didn't see the new drone. However, on April 6, DJI finally announced the official date of DJI Inspire 3, according to which the new Inspire 3 will be released on 13th April 2023 at 9 AM EDT.
DJI Inspire 3 Leaked Video & Images
So far, we already have some leaked images and flight test videos that confirm the imminent release of DJI Inspire 3, albeit unofficially.
DJI insider @OsitaLV tweeted a leaked video of someone (probably the DJI QA team) flying a new drone that seems to fit the description of the upcoming DJI Inspire 3.
Here is the video I downloaded from OsitaLV (special thanks to OsitaLV for always being the best)
More recently, @ositaLV and other DJI insiders posted several crashed Inspire 3 images that confirm a few speculated features.
The below image shows Zenmuse P1 payload compatibility.
Here is another image showing a partial frame of the Inspire 3 with retractable landing gears.
Here is a video showing the full frame (posted by @DealsDrone)
DJI Inspire 2 is discontinued
In January 2022, DJI notified its Chinese retailers about DJI's plans to discontinue the Inspire 2 line in February 2022 once the running stock is sold.
The notification (originally in Chinese but I have translated the image below) further says that "switching plans will be notified after confirmation".
After discontinuing the Inspire 2, there are plans to replace it with a new professional drone, i.e., the Inspire 3.
DJI Inspired 3 rumored specs
Now that we know a little background about the Inspire 2 discontinuation and a possible replacement in the form of Inspire 3, let's briefly look at what specifications it will have.
Remember that there is no official document or statement that can confirm these specs but look at what we already have in the market in the prosumer category, we can have some solid speculations.
Camera
The Inspire 3 is designed to be similar in size to its predecessor, the Inspire 2.
But hold on to your hats, because it comes with a significant upgrade – a Zenmuse X9 full-frame camera!
This amazing camera features Panasonic LUMIX lenses and a Leica L mount. If that wasn't enough, it's the same camera used in DJI's first film camera, the Ronin 4D, allowing the Inspire 3 to record jaw-dropping 8K video at maximum resolution.
Get ready for some seriously stunning images!
Battery & Flight time
The Inspire 2 was really big, with a take-off weight reaching 4KG with a camera attached.
To support this, the Inspire 2 gets power from 2 Li-ion batteries but has a less-than-average 23 minutes of flight time (with an X7 camera).
While this might be great in 2016, it was not so much in 2023.
The new Mavic 3 has an impressive 41 minutes run in the air. Even with the heavyweight of Inspire 3, we can expect some great flying time, hopefully above 35 minutes, with the heaviest camera module attached.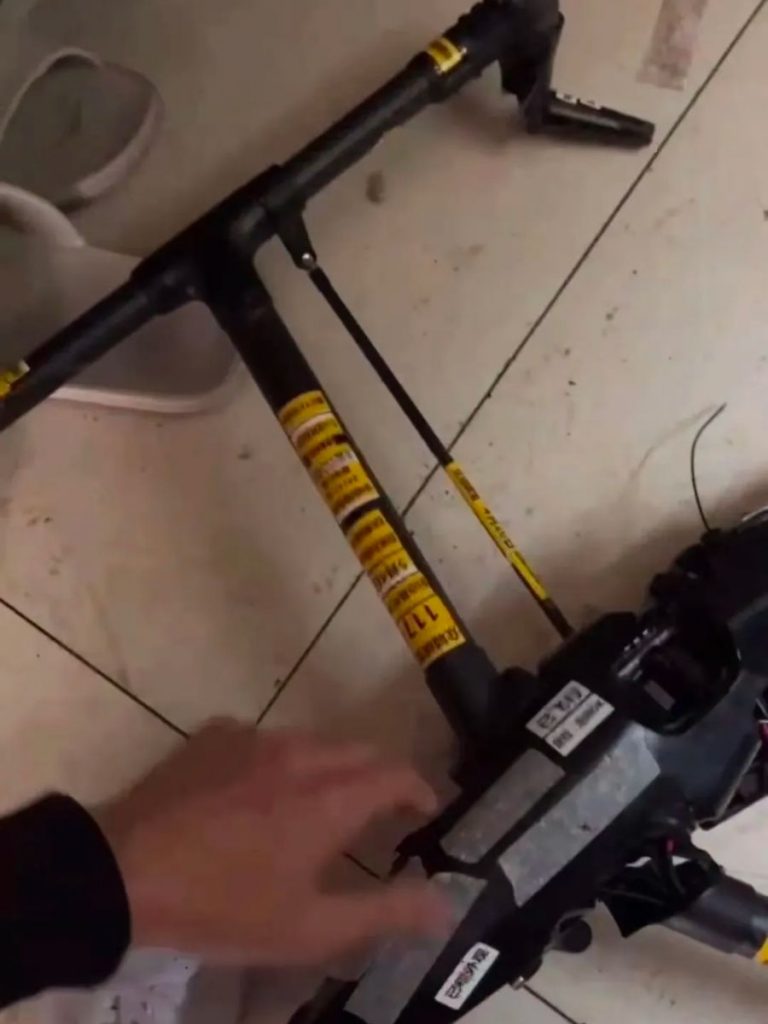 The above leaked image suggests it will only take a single battery. The exact specifications of the battery are yet to be known.
Design
We've got the scoop on some leaked patent information, and it looks like the DJI Inspire 3 is going to be packed with advanced features:
FPV on Top: The first-person view (FPV) system has been relocated to the top of the drone for a better vantage point.
Advanced Obstacle Avoidance: Each arm is equipped with front, rear, left, and right dual obstacle avoidance sensors, utilizing fisheye lenses.
Adjustable Arm Width: Fold down the arms and adjust their width for a custom gimbal space.
Flexible Arm Positioning: Choose between parallel or "X" shape arm positions.
Folding Propellers: The Inspire 3 will use folding propellers for easy storage and transportation.
Transmission System
The Inspire 2 uses a Lightbridge transmission system that has a transmission range of 7 kilometers (4.3 miles) and can transmit 1080p live feed.
This was again great in 2016, but by 2023 standards, it's old tech.
The new Ocysync 3+ deployed in Mavic 3 line is a top-of-the-line cutting-edge transmission protocol with a 1080p 60fps transmission range of 15 kilometers (10 miles).
That's already twice the range of the old Inspire 2.
With the Inspire 3, we can expect either OS3+ or a dedicated transmission system with an even better range and transmission bandwidth.
New Remote Controller
We first saw the new DJI RC Plus with the Matrice 30 series drone released this year. The below DJI filing shows that the Inspire 3 will come with the same DJI RC Plus.
Do note that DJI has historically used the "WM" as a codeword for the Inspire series so the underlined WM630 is the upcoming DJI Inspire 3.
The new DJI RC Plus has a stunning 7-inch widescreen that provides dual control for enterprise use.
The remote controller is specifically designed for harsh operating conditions with IP154 dust & waterproof.
It has a temperature operation range between -20°C to 50°C, ideal for rescue operations in tough environments.
DJI Inspire 3 release date & specs – Summary
Here is the summary of the article:
Official confirmation of the release date of April 13, 2023.
First look at some important features, including Zenmuse X9 camera system and LUMIX lenses, and a Leica L mount.
DJI notified its Chinese retailer about the discontinuation of Inspire 2 in early 2022.
Check back on April 13 for more updates on the availability and price of the new Inspire 3 drone.