The much-loved DJI Inspire 2 was released almost six years ago in 2016. Since then, a lot has changed in the field of consumer & professional drones, and it seems like 2022 is the perfect year for an upgraded professional cinematography drone – the much-rumored DJI Inspire 3. Today, we are talking about the DJI Inspire 3 release date and rumored specifications.
According to a leaked product timeline from within DJI, the new DJI Inspire 3 will be released in September 2022. DJI is also discontinuing the current Inspire 2 line so it further fuels the speculation of an upgraded Inspire 3.
On this page, I will keep track of the latest news, leaks, and rumors regarding the upcoming DJI Inspire 3. So, if you are a professional cinematographer awaiting the new drone, bookmark this page [Last updated: April-22,2022]
DJI Inspire 3 release date
Back in December 2021, DJI insider @DroneDeals posted a leaked product timeline on Twitter that lists the possible release date of new DJI products in 2022. We see the much anticipated DJI Mini 3 to be released in April 2022 and the upgraded DJI Inspire 3 to be released in September 2022 along with a new DJI Pocket 3 to be released in fall 2022.
DJI Inspire 3 Leaked Video & Images
So here we are in April 2022 and we already have some leaked images and flight test videos that confirm the existence of DJI Inspire 3 albeit unofficially.
DJI insider @OsitaLV tweeted a leaked video of someone (probably DJI QA team) flying a new drone that seems to fit the description of the upcoming DJI Inspire 3.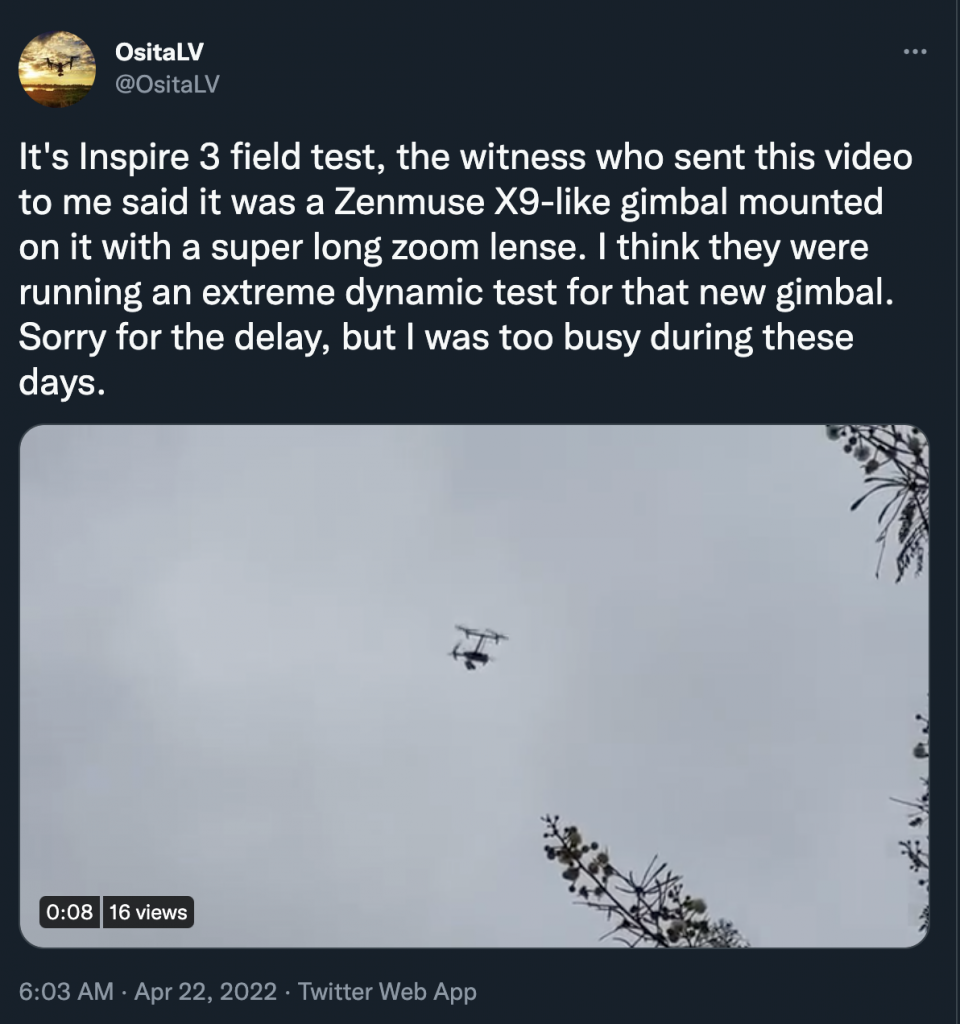 Here is the video I downloaded from OsitaLV (special thanks to OsitaLV for being the best)
In the blog section below, I argued if DJI will be releasing a new drone in Inspire line or not. At the time of writing this article, I was only working with mere speculation but now, we can say for sure that DJI INSPIRE 3 IS COMING.
To Inspire or not Inspire?
Some drone enthusiasts I have discussed this with argue that there is no need for DJI to upgrade the Inspire line at all. The drone community seems divided over the topic because lately, the consumer drones, and especially the Mavic line, is getting better and better to cater to the prosumer market as well.
The recently released Mavic 3 has a great Hassleblade camera capable of 5.1K ProRes @ 50fps – something previous consumer drones were not capable of doing.
This makes you wonder if you can get a great camera with a budget consumer drone, why would you go for a much more expensive professional drone?
Also, since the Inspire 2 is a bulky drone that comes under the A3 weight tier and has certain restrictions during operations, the much compact and lightweight Mavic line does not have these limitations and are more portable and easy to operate.
However, despite being a 6 years old drone, the Inspire 2 has still some advantages over the most recent Mavic 3 and other high-end consumer drones by other manufacturers.
You have great flexibility to switch camera modules as you need.
The wings up design let professional cinematographers capture 360-degree scenes without interference from the wings and landing gear.
It has a dual remote controller mode needed for accurate cinematography
Support Apple ProRes & RAW output which most consumer drones lack (except for the new Mavic 3)
These distinct features make the much older Inspire 2 still relevant in 2022. Now imagine a much improved Inspire 3 with an upgraded camera, design, flight time, and other features that were developed after Inspire 2 release in 2016?
No doubt the new Mavic 3 is a very high-end drone with certain camera specs that make it equivalent to the Inspire 2; it's not a real professional category drone. It can be labeled as a 'prosumer drone' at best, but DJI doesn't market it to professionals.
I personally think DJI will not risk alienating the Professional cinematography niche market to other manufacturers in the industry, and a new Inspire 3 is definitely in development. If the rumors are believed, 2022 seems like the perfect year for the much-awaited upgrade.
DJI says '4 more drones' are coming in 2022
Back in January 2022, while speaking at PiXL Drone Show, the DJI communication manager Curran Daly confirmed that DJI would launch four more drones in 2022 along with the camera and gimble equipment. You can see that specific section of the interview I have posted below.
Since DJI has already released a new Mavic at the end of 2021, the new drones could be in the Mini line (new DJI Mini 3 rumored to be in April 2022), a new FPV drone, and of course a new Inspire 3.
DJI Inspire 2 is discontinuing
While some people might question the authenticity of these rumors and term it speculative at best, there is another recent development from DJI last month.
In January 2022, DJI sent a notification to its Chinese retailers informing them about DJI's plans of discontinuing the Inspire 2 line in February 2022 once the running stock is sold.
The notification (originally in Chinese but I have translated the image below) further says that "switching plans will be notified after confirmation". By this, one can assume that after discontinuing the Inspire 2, there are plans for replacing it with something else. An upgraded Inspire 3 is a reasonable assumption.
We will have more information around March 2022 once the Inspire 2 stock runs out and DJI will clarify if they are going to replace or discontinue the Inspire line.
DJI Inspired 3 rumored specs
Now that we know a little background about the Inspire 2 discontinuation and a possible replacement in the form of Inspire 3, let's have a brief look at what specifications it will have. Remember that there is no official document or statement that can confirm these specs but look at what we already have in the market in the consumer category, we can have some solid speculations.
CAMERA: The camera system on the 6-year-old Inspire 2 is obviously aged and we might see an improved camera system on the new Inspire 3. Since the new camera on Mavic 3 is already a 5.1K 50fps, it's safe to assume that on a professional category drone released in 2022, we will see an 8K 60 fps camera.
BATTERY & FLIGHT TIME: The Inspire 2 was really big with a take-off weight reaching 4KG with a camera attached. To support this, the Inspire 2 gets power from 2 Li-ion batteries but has a less than average 23 minutes of flight time (with an X7 camera).
While this might be great in 2016, it's not so much in 2022.
The new Mavic 3 has an impressive 41 minutes run in the air. Even with the heavyweight of Inspire 3, we can expect some great flying time hopefully above 35 minutes with the heaviest camera module attached.
DESIGN: The icon landing gear + arms design is what gives the Inspire 2 its unique filming capability. After taking off, the arms move upwards along with the fixed landing gear to give the camera a clear unobstructed view.
We can expect the same design philosophy with the new Inspire 3. If the development of the consumer drones after 2016 has to be considered, the landing gear and arms on the new Inspire 3 will be retractable & foldable for better portability – something that is missing from the Inspire 2.
TRANSMISSION SYSTEM & RANGE: The Inspire 2 uses a Lightbridge transmission system that has a transmission range of 7 kilometers (4.3 miles) and can transmit 1080p live feed. This was again great in 2016 but from 2022 standards, it's old tech.
The new Ocysync 3+ deployed in Mavic 3 line is a top-of-the-line cutting edge transmission protocol with a 1080p 60fps transmission range of 15 kilometers (10 miles). That's already twice the range of old Inspire 2.
With the Inspire 3, we can expect either OS3+ or a dedicated transmission system with an even better range and transmission bandwidth.
DJI Inspire 3 release date & specs – Summary
Here is the summary of the article:
A leaked product roadmap places the DJI Inspire 3 release in September 2022.
In a recent interview, DJI communication manager Curran Daly confirms 4 new drones in 2022.
DJI recently notified its Chinese retailer about the discontinuation of Inspire 2 which can lead to an upgraded Inspire 3.
I will be updating this article with new information, leaks, and rumors as they surface. Till then, safe flying!