The much-loved DJI Inspire 2 was released almost six years ago in 2016. Since then, a lot has changed in the field of consumer & professional drones.
It seems like 2022 is the perfect year for an upgraded professional cinematography drone – the much-rumored DJI Inspire 3.
Today, we are talking about the DJI Inspire 3 release date and rumored specifications.
According to a leaked product timeline from within DJI, the new DJI Inspire 3 will be released in September 2022. DJI is also discontinuing the current Inspire 2 line so it further fuels the speculation of an upgraded Inspire 3.
On this page, I will keep track of the latest news, leaks, and rumors regarding the upcoming DJI Inspire 3.
So, if you are a professional cinematographer awaiting the new drone, bookmark this page [Last updated: June 6, 2022]
DJI Inspire 3 release date
Back in December 2021, DJI insider @DroneDeals posted a leaked product timeline on Twitter that lists the possible release date of new DJI products in 2022.
The leaked list was confirmed to be genuine as it predicted the DJI Mini 3 Pro release date quite closely.
According to the leaked timeline, the upgraded DJI Inspire 3 is to be released in September 2022 along with a new DJI Pocket 3 to be released in fall 2022.
DJI Inspire 3 Leaked Video & Images
So here we are in June 2022 and we already have some leaked images and flight test videos that confirm the existence of DJI Inspire 3 albeit unofficially.
DJI insider @OsitaLV tweeted a leaked video of someone (probably the DJI QA team) flying a new drone that seems to fit the description of the upcoming DJI Inspire 3.
Here is the video I downloaded from OsitaLV (special thanks to OsitaLV for being the best)
More recently, @ositaLV and other DJI insiders posted a number of crashed Inspire 3 images that confirm a few speculated features.
The below image shows Zenmuse P1 payload compatibility.
Here is another image showing a partial frame of the Inspire 3 with retractable landing gears.
Here is a video showing the full frame (posted by @DealsDrone)
DJI says '4 more drones' are coming in 2022
Back in January 2022, while speaking at PiXL Drone Show, the DJI communication manager Curran Daly confirmed that DJI would launch four more drones in 2022 along with the camera and gimble equipment.
You can see that specific section of the interview I have posted below.
We already received DJI Mini 3 in May, a new FPV drone codename Avata is in the pipeline, and of course, a new Inspire 3 that is now confirmed via leaked videos and photos.
DJI Inspire 2 is discontinuing
In January 2022, DJI sent a notification to its Chinese retailers informing them about DJI's plans of discontinuing the Inspire 2 line in February 2022 once the running stock is sold.
The notification (originally in Chinese but I have translated the image below) further says that "switching plans will be notified after confirmation".
After discontinuing the Inspire 2, there are plans for replacing it with a new professional drone i-e the Inspire 3.
DJI Inspired 3 rumored specs
Now that we know a little background about the Inspire 2 discontinuation and a possible replacement in the form of Inspire 3, let's have a brief look at what specifications it will have.
Remember that there is no official document or statement that can confirm these specs but look at what we already have in the market in the prosumer category, we can have some solid speculations.
Camera
The camera system on the 6-year-old Inspire 2 is obviously aged and we might see an improved camera system on the new Inspire 3.
Some of the leaked photos show a Zenmuse P1 full-frame payload which fueled some speculations.
Other leaks suggest it will support Zenmus X7 or even X9 systems for cinematography. More information will be revealed with upcoming leaks as we approach the release date.
Battery & Flight time
The Inspire 2 was really big with a take-off weight reaching 4KG with a camera attached.
To support this, the Inspire 2 gets power from 2 Li-ion batteries but has a less than average 23 minutes of flight time (with an X7 camera).
While this might be great in 2016, it's not so much in 2022.
The new Mavic 3 has an impressive 41 minutes run in the air. Even with the heavyweight of Inspire 3, we can expect some great flying time hopefully above 35 minutes with the heaviest camera module attached.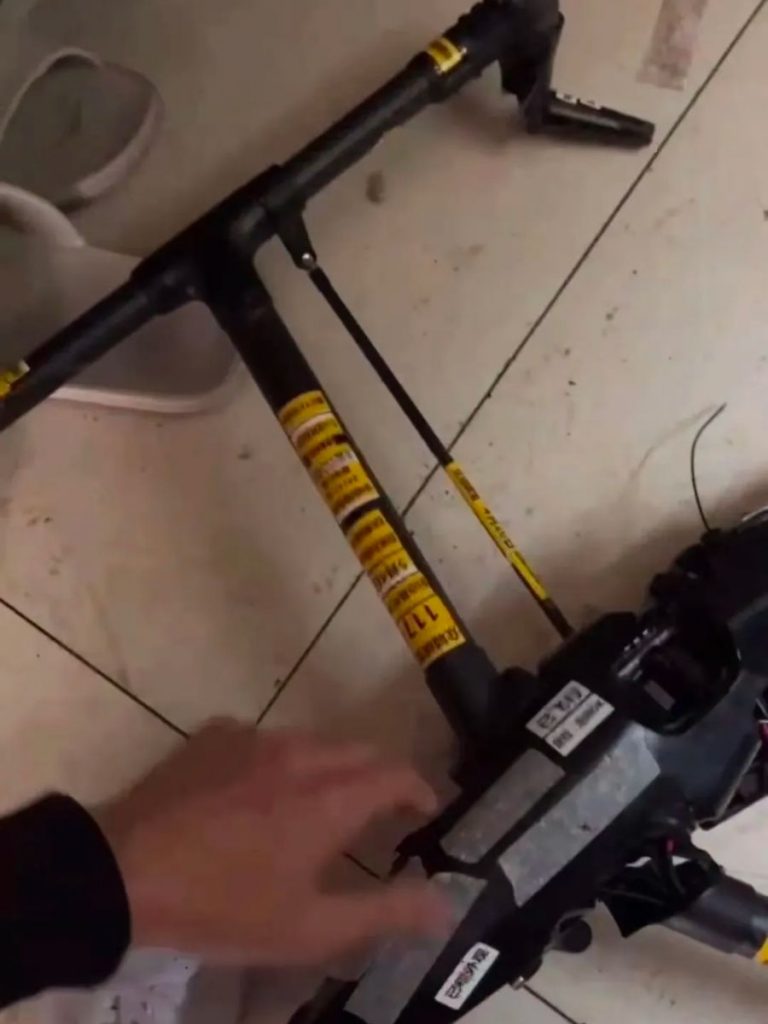 The above leaked image suggests it will only take a single battery. The exact specifications of the battery are yet to be known.
Design
The icon landing gear + arms design is what gives the Inspire 2 its unique filming capability.
After taking off, the arms move upwards along with the fixed landing gear to give the camera a clear unobstructed view.
From the leaked images, we are seeing similar design philosophy with retractable landing gears.
Transmission System
The Inspire 2 uses a Lightbridge transmission system that has a transmission range of 7 kilometers (4.3 miles) and can transmit 1080p live feed.
This was again great in 2016 but from 2022 standards, it's old tech.
The new Ocysync 3+ deployed in Mavic 3 line is a top-of-the-line cutting-edge transmission protocol with a 1080p 60fps transmission range of 15 kilometres (10 miles).
That's already twice the range of the old Inspire 2.
With the Inspire 3, we can expect either OS3+ or a dedicated transmission system with an even better range and transmission bandwidth.
New Remote Controller
We first saw the new DJI RC Plus with the Matrice 30 series drone released this year. The below DJI filing shows that the Inspire 3 will come with the same DJI RC Plus.
Do note that DJI has historically used the "WM" as a codeword for the Inspire series so the underlined WM630 is the upcoming DJI Inspire 3.
The new DJI RC Plus has a stunning 7-inch widescreen that provides dual control for enterprise use.
The remote controller is specifically designed for harsh operating conditions with IP154 dust & waterproof.
It has a temperature operation range between -20°C to 50°C ideal for rescue operations in tough environments.
DJI Inspire 3 release date & specs – Summary
Here is the summary of the article:
A leaked product roadmap places the DJI Inspire 3 release in September 2022.
Recent leaked images and videos suggest DJI is testing the new product in the field (and crashing a lot)
DJI recently notified its Chinese retailer about the discontinuation of Inspire 2 which can lead to an upgraded Inspire 3.
I will be updating this article with new information, leaks, and rumors as they surface. Till then, safe flying!