The DJI Osmo Mobile, aka DJI OM series, is becoming a favorite tool for social media creators and travelers alike.
A small hand-held mobile-phone stabilization device is great for social media creators, travelers, and other users who love to create short videos on the go.
The last product in the line was DJI OM 5, which was released last year with some great improvements.
It's been almost a year, and people are looking for a new version i-e OM6
The DJI OM 6 release date is quite speculative at this point, but we have some rumors doing rounds in the industry. The latest is a tweet from longtime DJI insider @dealsdrone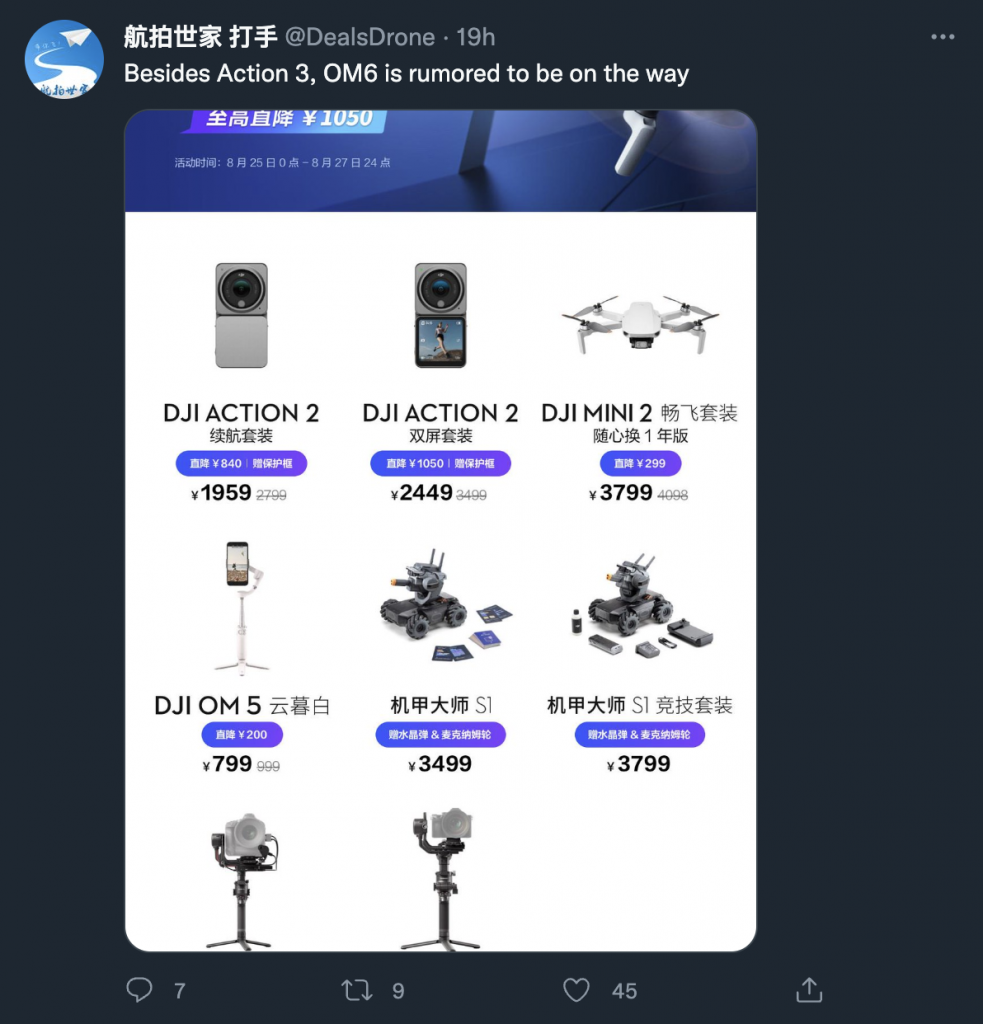 Dealsdrone tweeted a photo taken from a local Chinese retailer, indicating that the older DJI OM 5 is going on sale in anticipation of the new version i-e DJI OM6.
DJI OM 6 Release Date
For the past 4 years, DJI has been releasing a new OM every year. Below is the timeline for the past releases
| OM Version | Release Date |
| --- | --- |
| DJI OM 1 | August 2016 |
| DJI OM 2 | January 2018 |
| DJI OM 3 | August 2019 |
| DJI OM 4 | August 2020 |
| DJI OM 5 | September 2021 |
Release dates for previous OM models
Based on DJI's previous product release schedule and leaks from industry insiders, we can say that the new DJI OM 6 will be coming in September 2022.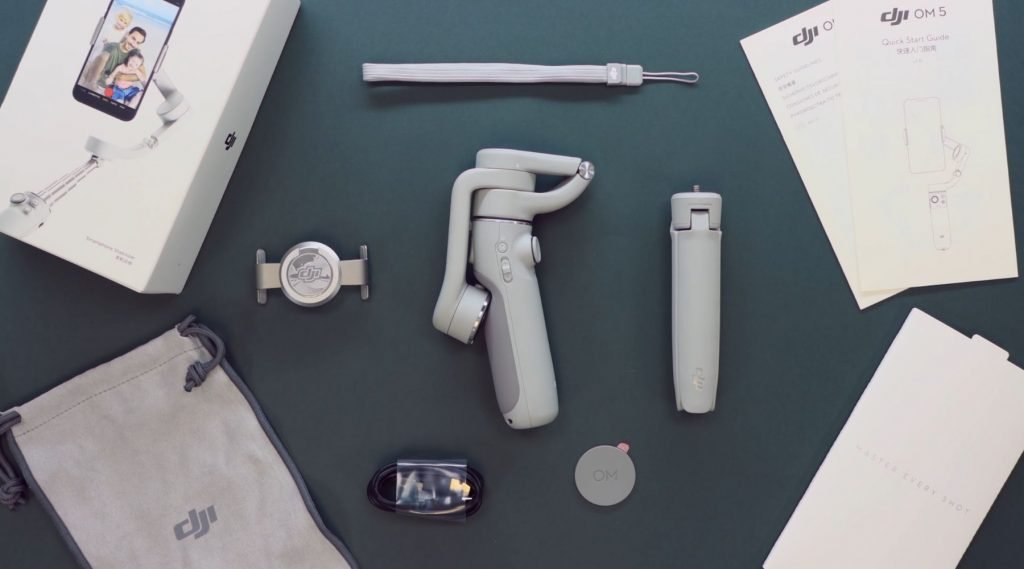 Specs improvement in OM 6
As of now, we do not have any official word about the specifications and features of the upcoming OM6 but based on DJI's track record we can speculate what we might see in the OM6.
Design & Weight
DJI reduced the size and weight of the OM 5 considerably compared to the previous OM 4 version.
The OM 5 weighed 320 grams compared to 400 grams of the OM 4, which was felt very clearly when you simultaneously held both devices in your hand.
With the upcoming DJI OM 6, I would expect a further reduction in weight and a more compact design.
The antenna-type extension rod built into the OM 5 was great for taking shots at more angles, but the built quality was not that good. I would expect a better material design for it in OM 6.
A recent leak by @Dealsdrones suggests a similar design to OM 5 but with a small and basic display on the front. See the sketch below.
Apart from that, the overall shape and size might not change that much as OM 5 was already a near-perfect handheld gimble.
Payload capacity
The maximum payload capacity for the last two OM versions was 290 grams max which was just enough for the smartphones released in 2021 and before.
But phones are getting heavier every passing year. For example, iPhone 13 Pro Max weighs 240 grams compared to 226 grams of its predecessor.
Previous OM models are struggling to support newer phones. For example, you cannot use the Pixel 6 and 6 Pro with the OM 4 as it gets too heavy for the motors to calibrate correctly.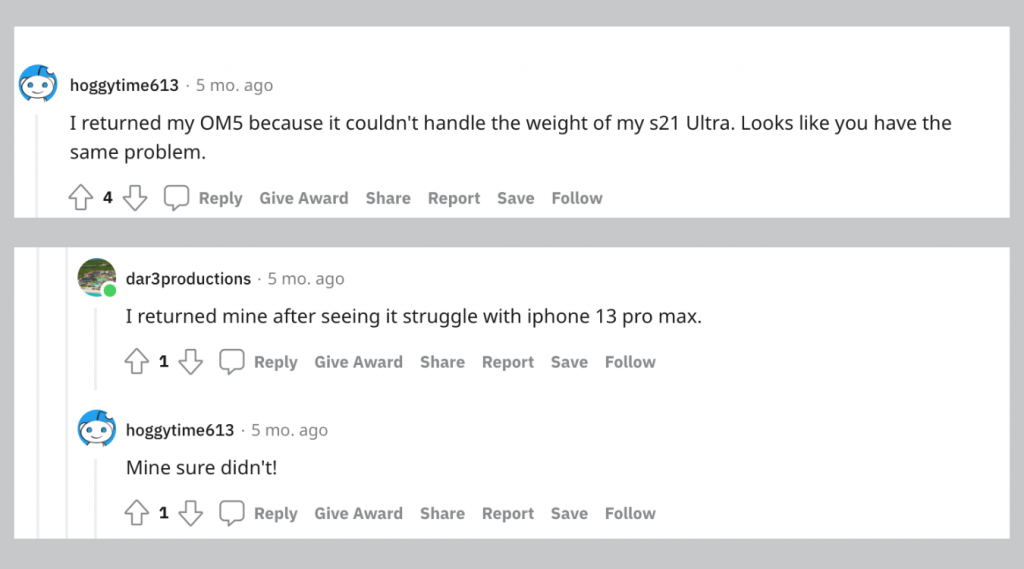 iPhone 14 Pro Max and other flagship phones coming out in late 2023 and early 2024 might demand a bit more strength from the DJI OM 6.
Therefore, I would expect a bit higher payload capacity to cater for heavier phones coming in the next 2-3 years.
Most users don't upgrade their gimble every year but might buy a new phone and the older gimble model should work for the next few years.
Stability
Stability-wise, OM 5 was pretty good with a few users complaining of jitters. But I would attribute that to the user's naivety rather than the gimble's stability.
With OM 6, we will certainly see even better stability and smoothness. Also, we will see the new version of ActiveTrack 5.0 for smoother object tracking.
Integration with native camera apps
This one is a bit of my personal wishlist.
The Mimo app is good enough but I feel like it reduces the quality of the image and videos a bit compared to my iPhone's native camera app.
However, if the gimble supports your native camera app, wouldn't that be great? I know it's hard to do for every single phone but how about trying it out with the top-of-the-line flagships?
Just a thought.
Secondly, the Mimo App is not constantly updated and on some android phones, you have to sideload it directly from the DJI website (removed from the play store due to some privacy concerns)
Wireless remote shutter
A Bluetooth-enabled wireless remote shutter would be a great add-on for the OM 6 this year.
It's not hard to do and can add a lot of value for the users.
Support for newer phone sizes
DJI is not very good at keeping its Apps updated with the newer phones. The same is the case with Mimo app.
When the OM 5 was released, the Mimo app was struggling with newer phones like Pixel 6 and 6 Pro which later updates resolved.
Similarly, the magnetic clamp should be able to support the new phone sizes. The OM 5 barely handles the iPhone 13 Pro Max and if you through in a phone cover or case, it fails.
A better more universal magnetic clamp that is backward compatible with the older OM models is a good idea if DJI picks it up.
DJI OM 6 Price (expected)
DJI has put the OM 5 on sale on its website and it is currently going for 129 USD (down from 159 USD)
For the new OM 6, I would expect a price point of around 160 USD to keep it at par with the previous model when it came out.
For someone who is buying his first gimble, the price difference between the new and one-year-old gimble would be just 30 USD.
Is it worth the upgrade? We can decide once we have our hands on the new OM 6 specs sheet.
Final Words
The new DJI OM 6 is certainly coming in September and I for one am very excited about the new improved hand gimble.
For now, we don't know the actual specs and features but I would expect good enough improvements over the previous model to upgrade.
I will update this article with the latest news, leaks, photos, and other information as they surface.
For now, keep rocking your DJI OM 5!