It's always fun to fly your drone in the air with a remote controller. It's even more fun if you have a drone with screen on controller through which you can view real-time video from the drone camera.
It's like having an extra eye in the air.
But not all drones come with a built-in screen on remote controller. While most drones can stream video to your smartphone, some drones don't even do that.
If you are going to buy a drone with built-in screen on the controller, this article is for you.
Top 5 Drones with screen on controller
The below list is updated in November 2022, so you can be sure to get the most up-to-date information on available drones with built-in screens on their controllers.
Here is a quick list before we go into the details of each:
DJI Smart Controller & RC Pro
DJI Smart Controller is the uncrowned king of built-in screen controllers. Consider it the iPhone or Samsung of the Drone industry.
The unapologetically gorgeous design, ultra-bright HD display, and compatibility with a wide range of DJI drones make it the perfect first choice for anyone looking for a smart controller with a screen.
You can use it with any DJI drone that supports the DJI new OcuSync 2.0 transmission system, including:
The DJI Smart Controller has a 5.5-inch 1080p display that is ultra-bright even in bright sunlight.
Most people prefer this bright display to smartphones because it provides outdoor visibility. It also has pre-installed SkyTalk (for live-streaming) and the DJI Go 4 fly app.
The Smart controller is equipped with the DJI latest OcuSync 2.0 transmission system that can live stream videos from as far as 10km.
No other drone in the industry has this much range when it comes to live feed transmission and with great reliability.
It has a customizable and familiar Android operating system that you can use just like your smartphone i-e install whatever android apps you want.
It has a built-in speaker and microphone to record sound during your flight.
It comes with a 5000 mAh battery that can run for 2.5 hours before recharging and provides ample time to enjoy a long flying session.
An important point to consider here is that the DJI Smart Controller is not compatible with the latest Mavic 3 which uses the newer OcuSync 3.0.
Many fans are disappointed because DJI promised the Smart Controller will be compatible with all future drones but according to DJI, the smart controller is missing the hardware that is required for the new transmission protocol.
The newer DJI Drones like Mavic 3, Mavic 3 Classic and Mini 3 Pro came with the updated DJI OcuSync 3.0 transmission system.
With the newer software DJI also released the DJI RC and DJI RC Pro. These are basically the upgraded versions of the smart controller with better processor and screen.
---
DJI Phantom 4 Pro Plus V2.0
The DJI Phantom 4 Pro Plus V2.0 is a high-end drone geared toward professional aerial videography and photography. It has a bigger 1″ CMOS 20MP sensor attached to a sensitive gimble for high stability during aerial missions.
It has a flight time of 30 minutes on a single charge and with OcuSync 2.0 transmissions system, it can feed live video to your remote controller from a 10KM distance reliably.
Although you can use the standard DJI Smart Controller with the Phantom 4 Pro V2.0, it also comes with its own controller with a built-in screen. To get the remote controller with the screen, you will have to get the Plus variant of the P4P.
The Phantom controller comes with a 5.5inch 1080p display which is twice as bright as your expensive smartphone.
This is ideal to use outdoors on a sunny day when you have to squint your eyes to see the live feed on a smartphone screen.
The controller power up in less than 30 seconds to get your Phantom 4 Pro+ ready to fly. With a 6000mAh battery, you can easily get 3 hours of continuous flying out of it. It doesn't have a cellular connection but you can connect it to your phone's hotspot via built-in Wifi.
---
Hubsan H501SS X4
Although compared to DJI or Autel, Hubsan is a relatively small name, its X4 series has garnered praise from hobby and beginner flyers.
The Hubsan X4 comes with a fixed camera without any gimble so expect the images and videos to be a little shaky without mechanical stabilization. The camera is 1080p so if the drone is flying still, it can catch some good live-feed videos and images.
It comes with a battery that can provide you with a flight time of 20 minutes. Since it is a beginner drone meant for hobby flying and learning, this is the best you can get at this price range.
It is loaded with standard features like headless mode, follow me mode, altitude mode and Return to Home, GPS positioning, and fail-safe mode.
One of the differentiating features of the Hubsan X4 is its remote controller which has a built-in screen for a live video feed. Whatever it lacks in the camera and gimble area, it makes up for it with a beautiful and fully integrated remote controller.
The controller has a 4.3-inch LCD screen. Compared to high-end drones, this is not very bright or HD, but makes the flying experience more fun.
Since this is a drone designed more for beginners and kids, you don't need to connect your smartphone and can use the integrated remote controller screen instead.
For better sun viewing, I highly recommend using a sun hood.
---
DJI Mavic 3 Cine Premium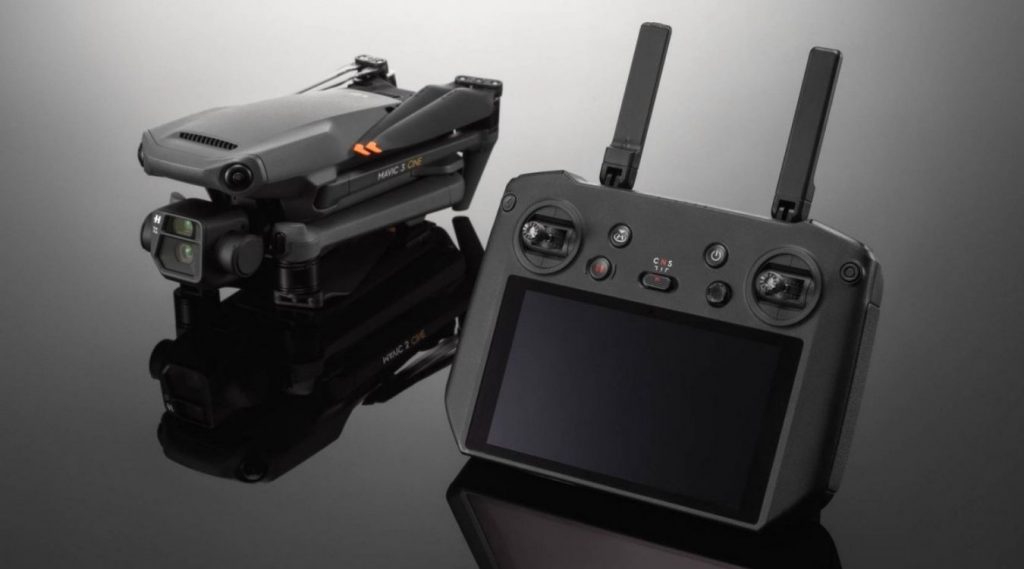 The DJI Mavic 3 is the newest crown jewel in DJI's line of consumer drones. The DJI Mavic 3 was released on Nov 3, 2021, with the highest specs in any consumer drone yet.
With 20MP 4/3 CMOS Hasselblad camera, it's one of the most anticipated drones of this year, and it did not disappoint. To be fair, DJI has set a new bar for aerial photography with the Mavic 3.
With 5.1K ProRes video, Omnidirectional obstacle sensing and avoiding, 46-min flight time, and 15KM max transmission rate, the Mavic 3 is truly a beast.
You can read the full specifications, features, and reviews on Amazon or DJI official site but here I am going to talk more about the remote controller.
The Mavic 3 comes in 3 different combos. The Simple Mavic 3 and Mavic 3 FlyCombo comes with the standard DJI Controller (without the screen).
But the Mavic 3 Cine Premium comes with the new DJI RC Pro. The RC Pro is basically an upgraded version of the previous smart controller but instead of OcuSync 2.0, it works with the new transmission system DJI is calling O3+.
The new transmission system O3+ is not compatible with the previous Smart Controller so if you already have a smart controller, you won't be able to use it with the Mavic 3.
As discussed above, there was quite an uproar among the DJI diehard fans; some even termed it a "betrayal" from DJI.
Hopefully, DJI will listen and push a firmware update to make the O3+ backward compatible with the previous Smart Controllers.
---
Autel Evo 2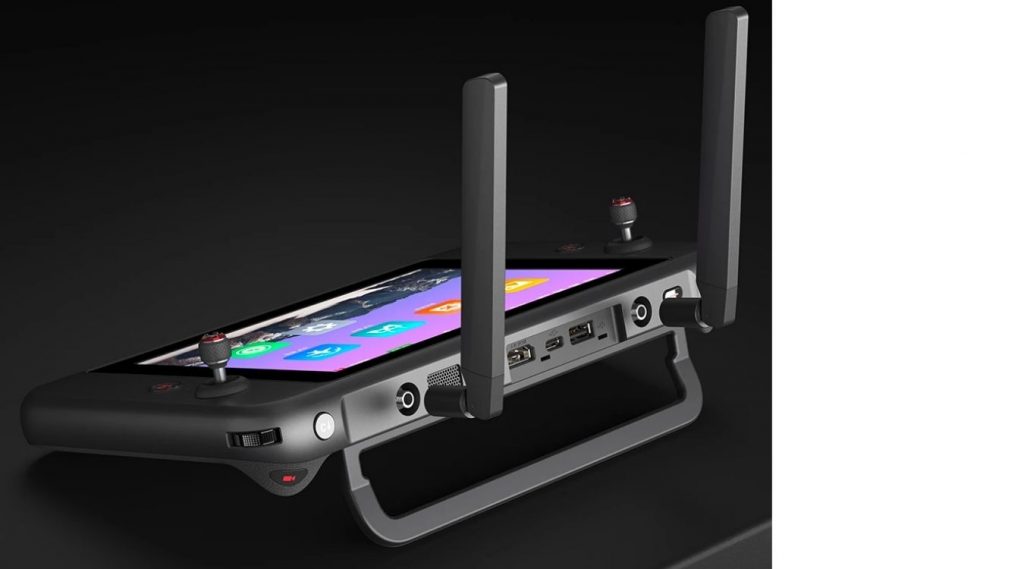 Consider Autel Robotics as the American counterpart of the Chinese
DJI. Although compared to DJI, Autel is relatively young and just starting out, it has come up with impressive products within a span of a few years. Their Evo series has captured a good share of the high-end drone market.
The Autel Evo 2 packs an impressive 6K camera with a 1″ 20MP CMOS sensor for superb aerial videography. The 3-axis gimble ensures all the videos are stable and without any sign of blur.
The drone is quite powerful, with a maximum take-off weight of 1125 grams, and can fly as fast as 40 mph for 40 straight minutes.
It comes with 360-degree obstacle avoidance, Hyperlapse Recording, Low-Noise, and Orbit, and Waypoints Points features.
But the most impressive of all is the Autel Robotics Smart Controller. It packs a 3.3 inch OLED Display with a maximum brightness of 2000 nits (the DJI Smart Controller is only 1000 nits bright in comparison) and can run for 180 minutes on a single charge.
It comes with the Autel Explorer App that can live stream camera feed straight to your device. With an 8-core processor and customized OS, the smart controller works like fluid.
---
Why built-in screen on controller better?
The majority of the drone controllers come with handles to hold and connect your smartphone.
This approach is very versatile and economical as everyone already owns a device with a high-quality screen and can easily connect to the remote. But having a dedicated on-remote screen has its perk.
Better screen contrast
Your smartphone screen is a multipurpose device designed to work in various conditions. It is not designed to work solely in bright daylight.
On the other hand, a drone controller with a screen comes typically with higher contrast ratios that offer better and brighter images even in sunny daylight.
For example, DJI Smart Controller has maximum screen brightness of 1000 nits (cad/m) while the Apple iPhone 12 Pro max has max screen brightness of 800 nits (for non-HDR content).
This shows that the DJI controller screen is brighter than one of the most expensive smartphones right now.
Fly without phone
The best part, at least for me, is the freedom drone with screen on remote offers. You can go out and fly without your phone piggybacking your remote controller.
Also, no more annoying notifications while you are in the middle of an immersed flight session.
For me, the whole putting your phone on the remote controller is not a very neat solution. It is a compromise at best because most people don't want to spend extra money on buying a 2nd screen.
Better flying experience
Having a drone with built-in screen on remote controller gives you a better flying experience.
Imagine putting a 274g iPhone Pro Max on the top end of your lightweight remote. You will be balancing your hand more than enjoying your flight.
Instead, a dedicated built-in screen takes away the mess and gives and nicely integrated remote controller that is well-balanced in your hand. Totally worth the extra bucks.
Better app compatibility
As your manufacturer owns and maintains your remote controller's operating system, it ensures you always have the most compatible software running on it.
Also, your remote will come installed with all the necessary software that is required to fly your drone and record breathtaking aerial videos and images.
Conclusion
A remote controller with a dedicated built-in screen is not an economical option but it definitely is better.
If you have a DJI OS2.0 supported drone, you can buy the DJI smart controller with built-in screen. Other manufacturers like Hubsan and Autel have their own remote controls that come with a built in screen.
Overall, a drone with built-in screen on controller provides better contrast, better balance in hand, and a superior flying experience.