You are here because you are waiting for your new drone to arrive, or you have already received it and are now wondering if you can fly it right away. The answer is…. maybe not.
If your drone is above 0.55 lb and you are flying inside the United States, you will have to register your drone with the FAA before you can fly it.
In this article, I am going to lay out the step-by-step process on how to register a drone with the FAA, what are the things you will need during the process and how much will it cost.
Why do you have to register your drone?
This is an interesting question. Why should the FAA care about your toy drone that you fly around for fun? The unmanned aerial systems (UAS) existed as early as the 1990s but the FAA started regulating and registering commercial drones in December 2015. The following challenges prompted the FAA to regulate the civilian commercial use of drones as explained in the FAA Modernization and Reforms Act 2012.
Before the technology to mass-produce civilian drones, they were only used by the military and border agents under strict aviation regulations. When civilians started using drones for recreational and commercial purposes, the FAA lacked any supervision and control over their operation in national air space.
Since the technology was rapidly evolving, many manufacturers were producing drones that can go beyond the line of sight, fly as high as 10,000 feet and make the airspace unsafe for manned flights.
Live feed cameras on drones made headlines for serious privacy and safety violations, which was another reason for the FAA to regulate civilian drones.
With the FAA mission to "provide the safest, most efficient aviation system in the world," unregulated drones flying around in the national airspace were just a loose end that needed to be fixed.
The 2012 FAA Modernization and Reform act gave a deadline of December 2015 to come up with a comprehensive plan to regularise civilian use of drones inside the US airspace. Thus comes the registration of drones that we are going to discuss in this article.
Drone weight limit for registration
You don't need to register every drone with the FAA. So, what is the weight limit on drones for mandatory registration? All drones that weigh more than 0.55 lb (250 grams) and less than 55 lb (25 kg) should be registered with the FAA under either Part 107 (for commercial flying) or under 'Exception for Recreational Flyers' (non-commercial flying). Both registration processes are quite similar with a few small differences.
If your drone take-off weight is above 0.55lb (250 grams), you will have to register it with the FAA under the following two categories, whichever applies.
Commercial drone flying: If you are flying your drone to earn money in any way, it falls under the commercial flying category. During the registration process, you will select the commercial category and will register your drone under the FAA rule part-107 that governs commercial drones. For commercial flying, if you have multiple drones, you will have to register each drone separately.
Non-commercial flying: If you are flying your drone for pure fun and recreational purposes and are not going to earn any money from it, you can register under the 'Exception for Recreational Flying' category. Under this category, you don't have to register each drone (if you own more than one).
An important thing to remember for those who register their drone under the recreational category is that if you ever sell any of your drone photos or videos online, you come under the commercial category. Although the FAA has not enforced this very strictly, it's good to remember you are on the right side of the law.
An interesting development comes last year from DJI where they announced their latest drone the DJI Mavic Mini which has an HD camera and all the bells and whistles of a high-end drone yet it just weighs 1 gram less than what qualifies a drone for mandatory registration with the FAA.
It became so popular with the folks that the DJI upgraded it with more features in their next version – the DJI Mavic Mini 2 – which they launched in October 2020.
Seeing the popularity of high-end drones with a weight of less than 250 grams, other manufacturers also released drones in less than 250-gram category like Autel Nano and Hubsan Zino Mini Pro. Another advantage of having a sub 250g drone is that you don't have to have remote ID compliance as per the FAA April 2021 rule update.
How much does it cost to register a drone?
For both the Commercial category and the Recreational category, the registration cost is $5. However, for the recreational category, you can fly all your drones under a single registration number by paying $5 but for the commercial category, you have to register each of your drones separately – each costing $5.
How to register your drone? – step by step process
Now comes the important part – the registration process. The FAA has a dedicated website for the registration process called FAADroneZone. This is the ONLY place for drone registration in the USA. You might come across several websites that will charge you a fee to provide 'registration service,' but all they will do is get the required information from you, go to the above FAA website, and register it for you. You can do the same yourself, and I am going to break it down below to make it super simple.
Just follow me.
FAA drone registration requirements
To register your drone with the FAA, you should meet the following requirements or have them with you at the time of registration.
You have to be 13 years or older (legal guardians can register for younger flyers)
You should be a US citizen or permanent resident.
Valid e-mail address (your registration certificate will be e-mailed to you here)
Physical mailing address
Make & model of your drone (can be seen at the bottom of most drones)
Credit or debit card for payment
If you have all the above requirements, head over to the FAADroneZone website[https://faadronezone.faa.gov/]
Step 1: Chose your registration category
Once you open the FAADroneZone website, you will have two category options to choose from. If you are going to earn any kind of money from your drones, you should select the first option that says, " I fly under part 107…". If you are just going to fly for fun, select the 2nd option "I fly under the exception for recreational flyers"
Remember that the registration numbers are not transferable between the two categories. That' means, if you register your drone for recreational purposes and later on decide to make money from it, you cannot use the same registration number. You will have to re-register under the Part-107
For this article, I will be focusing on the Recreational category registration but the Part-107 registration is not very different from this one.
Step 2: Make an account
Once you select your preferred registration category, you will be redirected to a page where you can make your account by providing your e-mail address and your password.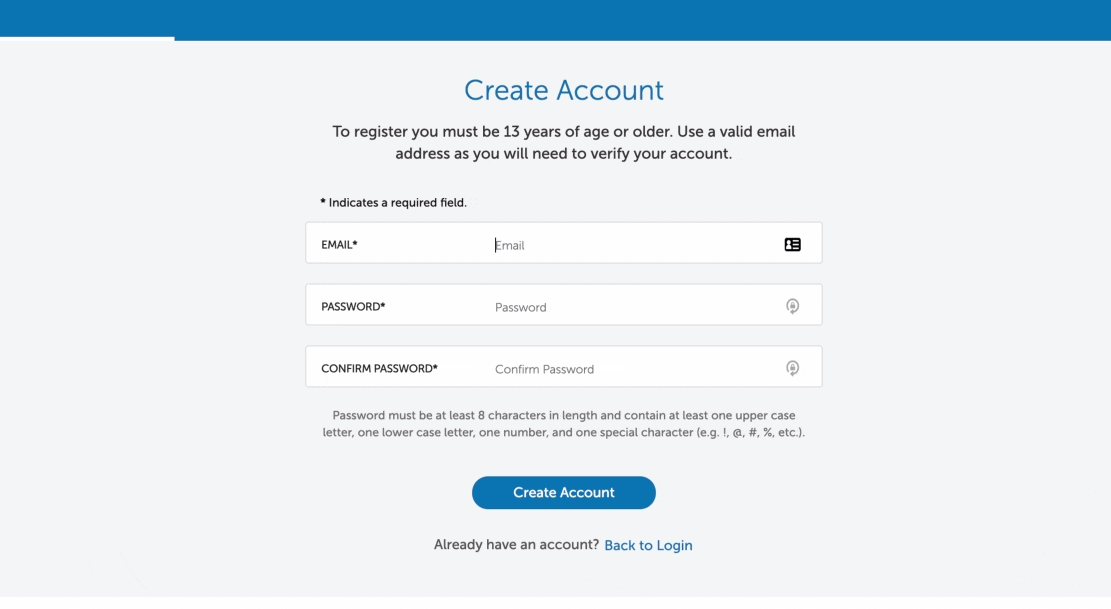 Remember that the e-mail you use should be the primary e-mail that you use for important stuff and not the one that you once used to make a free account on Twitter and never used again. All your registration certificates will be e-mailed here, and if you lose your documents, you can use this e-mail to log into your account and print again.
Once you input your credentials and click "Create Account" you will receive a confirmation email to confirm if your e-mail is valid. Click on the link received in the e-mail, and you will be directed back to the DroneZone website, where you will see the confirmation message. Now login to your account.
Step 3: Fill out registration form
Once you log in, you will see a pretty self-explanatory registration form. Fill out the required information, including your physical address. If your credit card mailing address is different than your home address, you can uncheck the small box at the end and provide your separate mailing address as well.
After you complete the form and click "Proceed to Checkout", you will be taken to a safety guidance page where you will acknowledge the basic safety standards mandated by the FAA like always flying under 400ft and others.
Step 4: Payment of registration fee
Once you acknowledge all the safety guidelines and click "Next" you will be directed to the final page where you will input your credit card number & billing address.
The last step is confirming your credentials and clicking the "Pay" button. Once you are done, you will be directed to the next section where you will see the registration number that you have to put on your drone.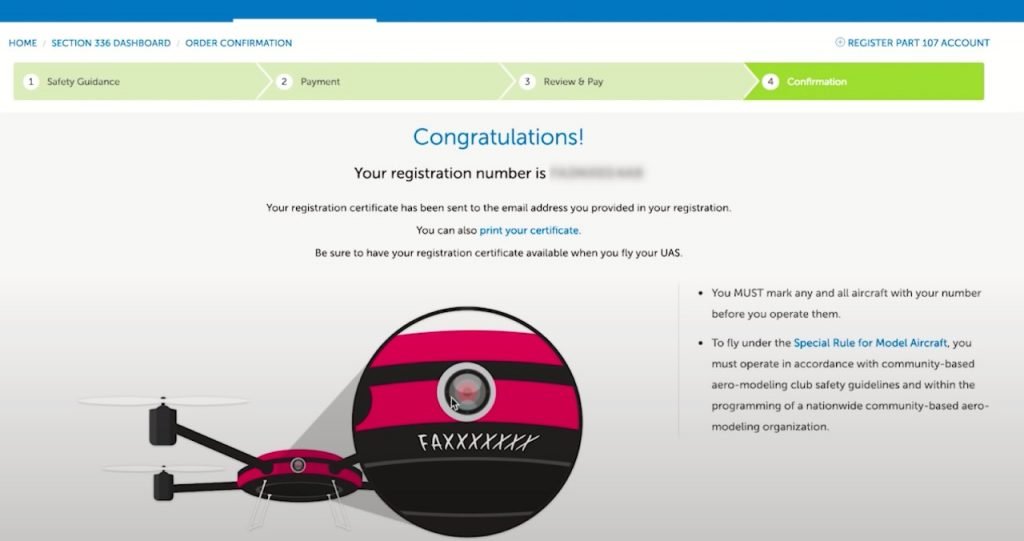 Displaying your registration number on drone
Now that you have successfully registered your drone with the FAA, the last thing you have to do is display your registration number on the outside of your drone where it is clearly visible if ever inspected by any FAA agent.
You can display your registration number in a number of ways. Some people just write it on the bottom with a permanent marker (a messy way to do it, to be honest). Others just write it on a piece of paper and tape it to the body. There is no hard and fast rule on how to do it.
My favorite way is to get those cheap customized labels where your registration number is printed and past that on the drone. If you have access to a label printer, you can print it yourself. If not, you can get the printed labels off Amazon (Click Here). They are a pretty handy and clean way to do this last part.
Also, the FAA also mandates that you have to carry your registration certificate (sent to you in e-mail) with you at all times while flying your drone. You can carry a printed copy of it, but even a soft copy on your phone will suffice. Remember that you only have to show your registration paper to law enforcement or the FAA agent. Any private person cannot demand to see your registration paper.
Expiration and Renewal of drone registration
Your FAA drone registration number is valid for only 3 years from the day of registration. After three years, you will have to register your drone again by paying the $5 registration fee.
What happens if you don't register your drone?
If you fail to register your drone you can have the following civil and criminal penalties.
| Penalty Type | Fines | Imprisonment |
| --- | --- | --- |
| Civil | $27,500 | N/A |
| Criminal | $250,000 | 3 Years |
The FAA has not been very active in penalizing hobbyist drone pilots with their registration rules and there have not been any such reported incidents. Documents obtained by MarketWatch reveals that since FAA started registering drones for both commercial and recreational category, only one person has been punished till 2018 and that too was just a warning letter.
Now, this doesn't mean you can go around flying your unregistered drone without any accountability. Following the rules makes the hobby safe for everyone. In case you ever got involved in an unfortunate incident resulting in financial or human loss, your unregistered drone could get you into a lot of trouble.
How to register a drone with the FAA? – Conclusion
The FAA drone registration process is quite simple and straightforward. You don't have to visit any government office. You can complete the entire process from your laptop and pay the small registration fee ($5) via credit card. The below Infographics summarise the whole process.
Remember to put your registration number on the outside of your drone and carry your registration certificate with you at all times during your flying session. If you need any further information, you can always contact the FAA HERE
FAQs