The DJI Mavic Mini 2 is a quite popular drone. Its small size and less than 250-gram weight make it ideal for beginners. To keep the weight less than 250g, some essential features have been stripped off including an internal memory chip.
The Mavic Mini 2 has no internal storage space and therefore it requires an external SD card to store high-definition 4K recording.
Though you can fly it without an SD card, you won't be able to record HD videos in 4K. It can only stream 720p videos to your phone via Ocusync 2.0. So, an SD card is essential if you want HD recording.
If you are in a hurry, below is my personal selection of 4 MicroSD cards that you can buy with an absolute surety that they will work with your Mini 2.
All DJI Mini 2 SD cards recommended here are officially approved by DJI.
Not every SD card is going to work with your Mini 2. There are minimum requirements for speed and capacity that you have to consider while buying the best SD card for DJI Mini 2. For more details, keep reading this article till the end.
Minimum requirement for DJI Mini 2 SD Card
Before you buy your MicroSD card, it is important to consider the minimum requirement of your drone. Mini 2 is a high-end drone that records videos in 4K resolution. The camera records an enormous amount of data per second and it needs a fast card to be able to write such a huge amount of data.
As per DJI, the minimum requirement for a MicroSD card that is going to work with your DJI Mini 2 drone are:
The card should be UHS-I U3 (Speed Class 3) that has a minimum write speed of 30MB/s or above.
The capacity should be up to 256 GB. Bigger capacity cards are not supported on Mini 2.
First of all, I would highly recommend buying a MicroSD card from the DJI recommended list in this article. All the cards mentioned in the list are guaranteed to work with your DJI Mini 2 drone. However, if you don't find any of the cards in your locality or online, you have to make sure the one you are ordering has a write speed of 30 MB/s and is UHS-1 U3.
How to read the speed class of MicroSD card?
When you look at any SD or MicroSD card, you will see a bunch of symbols and numbers on the top. Each one of them signifies a certain aspect of the card to handle and store data.
To select the best sd cards for DJI mini 2 or any other electronic device, it is important to know what each of them means. Below, I am shortly defining each one of the symbols so that the next time you pick a card, you have a better idea of what you are getting.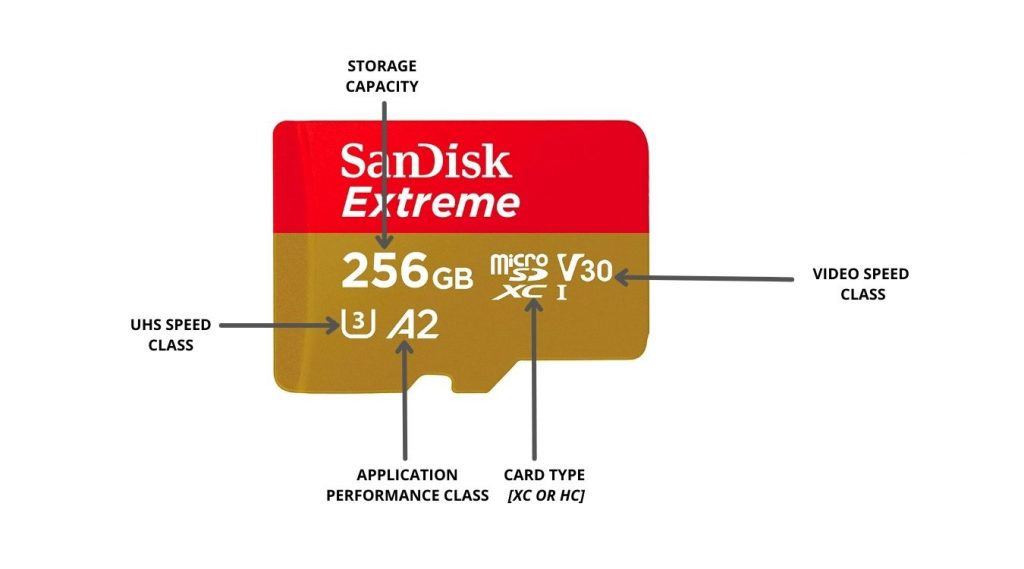 STORAGE CAPACITY: This is perhaps the most obvious indicator on any card. It is the total storage capacity of the card. It is usually marked in GBs but if you have a very old card lying around, you might find MB notations on it as well.
Always select a card with a capacity that is enough for everyday use. Also, some devices have an upper limit on how much storage capacity they can read. For example, the DJI Mavic Mini 2 can't read any card larger than 256GB.
CARD TYPE: On most modern cards, you will find either HC or XC. HC means High Capacity and they come between 4GB to 32GB. XC stands for Extra Capacity and they have a storage capacity above 32GB up to 2TB.
There is a third class of cards marked SD only and they have capacities less than 4GB. They are older generations and are going obsolete as the memory is getting cheaper each day.
Cards are backward compatible. That means, if your device can read XC, it can also read HC and SD. But they are not forward compatible. That's why your Mini 2 can't read a 512GB card.
UHS SPEED CLASSES: This is perhaps the most important notation on any card. The UHS speed class indicates the minimum write speed of the card. There are two classes UHS 1 & UHS 3. They are indicated with 1 or 3 inside the letter U.
UHS Class 1 can write data up to 10MB/s. UHS Class 3 has a write speed of up to 30MB/s. The UHS speed classes are only found on XC or HC-type cards.
VIDEO SPEED CLASS: The Video speed class indicates the minimum sustained write speed of the video to the card. This is used for cards designed specifically for video cameras. Currently, there are five video speed classes i-e V6, V10, V30, V60, and V90.
V6 can have a minimum write speed of 6MB/s. V10 has a minimum write speed of 10MB/s, V30 has 30MB/s, and so on.
V6, V10, and V30 cards are used for 1080p / FullHD recordings, V30 and V60 are the best SD card for 4K video, and V60 and V90 are recommended for recording 8K video.
If you buy a V90 card, it will cover all your devices but if your device only records 1080p, it would be overkill and you can have a much cheaper V30 instead.
APPLICATION PERFORMANCE CLASS: This one is a relatively less known indicator. The Application Performance class can either be A1 or A2 and indicates how quickly can the card read and write random inputs. A2 class cards give higher performance and higher write speed than the older A1 class cards.
The SanDisk Extreme MicroSD card is an example of the newer A2 performance class with a write speed of 160MB/s. SanDisk claims it's the world fastest card even outpacing integrated storage on older devices.
DJI Recommended MicroSD Cards for Mavic Mini 2
DJI Approved List of MicroSD. Cards for Mavic Mini 2
Tips for DJI Mini 2 memory card selection
Now that we listed all the compatible cards that you can buy for your Mavic Mini 2, the question is which one you should get. Here are a few practical points/tips that can help you choose a better card for your drone.
As they say, never put all your eggs in a single basket. The same is the case with your SD card. If you store all your data in one big SD card, the chances of losing it all are high. Your drone can crash or your card can get corrupted. That's why it is better to buy two 64GB cards than one 128GB card.
Since your Mavic Mini 2 will be recording 4K videos, you should at least buy a 32GB card or above. 16GB card will work with your drone but it is too small for any practical use.
Avoid getting a card from cheap Chinese manufacturers. Always go for a well-reputed brand. Samsung, Lexar, SanDisk, and Toshiba are some of the good names in the market. With cheap brands, you always risk losing your data.
If your pocket allows, go for a card that has a higher read/write speed, higher video speed rating, and higher application performance speed. You will save time transferring huge files from your drone to your PC. If you use the same card with other higher-spec devices, it will give you better read/write performance.
If you have a card and are not sure if it will work with your drone, leave a comment below and I will evaluate it for you and give you accurate recommendations and suggestions. Happy flying 🙂