Key Features
720p HD Camera
8 – 10 minutes flight time
6 Axis gyro stabilisation
Pressure Sensor
300 ft. Range
3-Speed flight mood
Foldable compact design
Propel Snap 2.0 Drone Review – Detailed
Propel is a Houston based RC drone manufacturing company founded in 2006. Since then, they have been making good quality drones mostly targeted towards beginners and kids markets. Most of their famous drone models are based on movie themes like the Star Wars universe.
Today we are going to look at their latest model that was made available back in summer 2019. You might not find details of their products on their own official website but all their models are available with big retailers and on Amazon.
Propel Snap 2.0 Design
The Propel Snap 2.0 drone has a well designed and compact body made from good quality plastic like most drones in this category. Although the finish is not par with the more advanced and expensive units, hey, it's a very basic model meant for kids and starter flyers, so you can't complain much.
It comes in a well-packed box with a clear window through which you can see the content inside. The propel snap 2.0 has foldable arms that means you can carry it in your backpack without it taking up too much space. The Propel Snap 2.0 only weighs around 2 pounds, so you don't have to register it with the FAA.
Battery & Flight Time
The Propel Snap 2.0 Drone comes with a LiPo battery that gives you a flight time of 8 – 10 minutes on a single charge. The charge is included inside the packaging, and you have to take your battery off the drone to put it on a charge. It takes around 2 hours to charge fully.
Camera Quality
The Propel Snap 2.0 camera has a 720p resolution, so we can call it an HD camera. In actuality, the image or footage output is not very impressive, but since this isn't designed for high-quality aerial photography, we cannot expect it to give us that. You can take normal pictures with it from mid-air or even take selfies at home parties.
The 6 axis gyro helps it maintain good stability and the built-in altimeter acts as an altitude control sensor both of which are helpful in taking good quality photos and videos.
The drone camera can transmit the FPV transmission directly to your smartphone that you can connect to your transmitter via the Propel App. It's quite easy to take pictures and record videos from the App screen.
Transmitter & Flight Range
The Propel Snap 2.0 comes with its own transmitter, which is pretty decent and binds instantly with the drone using standard wi-fi signals. Propel advertise a flight range of 300 ft, but I would be a bit cautious flying it too far. Since it doesn't have the Return-To-Home (RTH) feature, you can easily lose your drone if you are not careful.
The drone is quite responsive to the transmitter input, so it's fun to fly it around. The transmitter has an auto fly & land button, making it easy or novice flyers to get started without crashing the drone.
The transmitter is powered by 4 AAA batteries on the bottom side. You can use a single set of batteries for a few flight sessions without needing a replacement.
Flight Speed Modes
The Propel Snap 2.0 drone comes with 3 built-in flight speed modes. i-e SLOW, MEDIUM & FAST. The default is SLOW, but you can change that from the controller speed selection switch by toggling it. You will hear one beep for SLOW, two beeps for MEDIUM and three consecutive beeps for FAST.
Propel App
You can connect the Snap 2.0 drone with your smartphone by using the Propel App. The App is available for both iOS and Android devices. If you are on an iPhone like me, you can search "Propel 1890" on the App Store and find the app (see image below)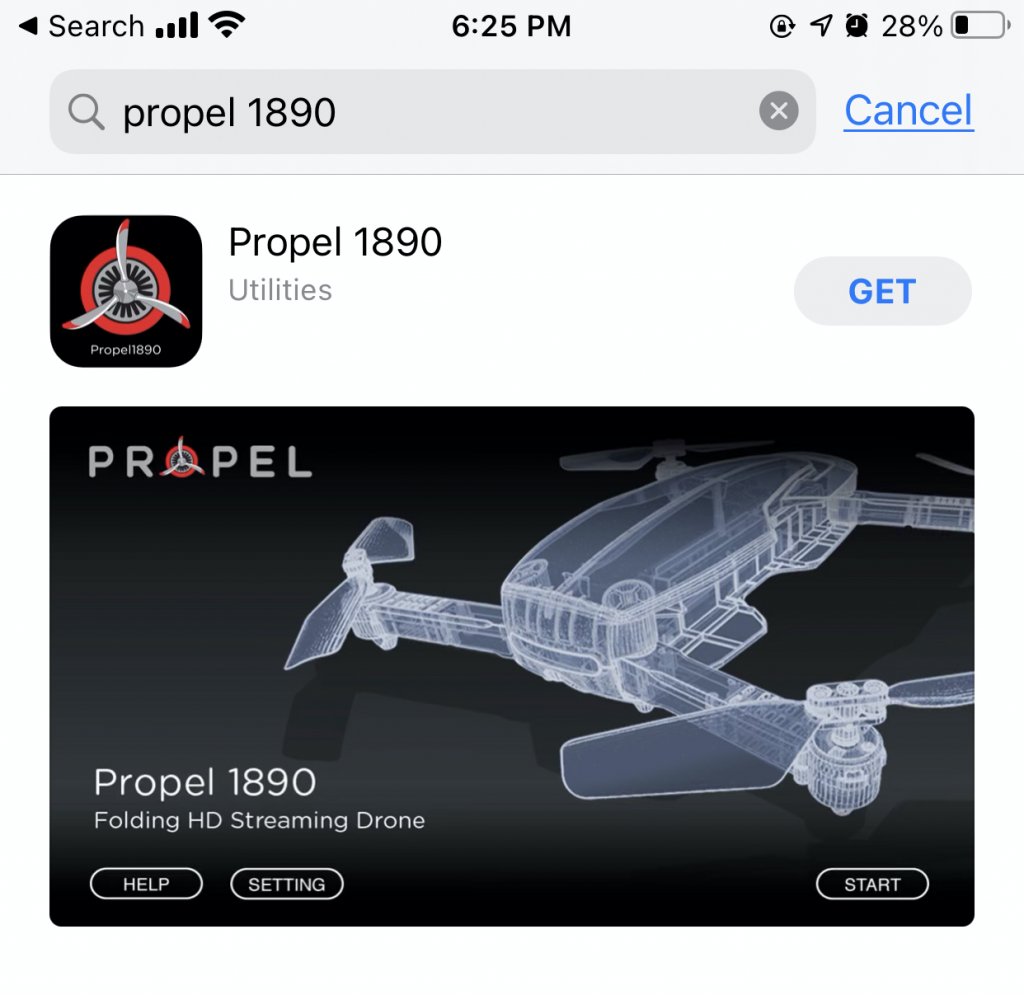 The App is well built and quite intuitive even for new users. There are a number of shortcut controls on top through which you can control different settings and flight aspects of the Snap drone. This includes video recording start/stop, taking photos, doing a 360-degree flip maneuver, speed control, and many more.
Propel Snap 2.0 Drone – Final Thoughts
If you are looking for a starter drone and are not in a mood to spend a lot of cash to find out if you like the hobby, the Propel Snap 2.0 drone is for you. For its price tag, it's well built, sleek, stable, and fun to fly. Even if you end up crashing it (which happens a lot with first-time flyers), you will not be heartbroken because you can easily get the replacement parts from the company and be in the air again.
This is ready to fly drone, which means you will not need any additional third-party gears to fly it. It comes with its own transmitter and battery charger. All you need is 2 pairs of AAA battery, and you are good to go.
Propel Snap 2.0 Drone Manual Download
Since the manufacturer website is not very active or user-friendly, I had to search for the user manual online. Although the drone comes with a printed copy of the user manual in the box, still, if you need a soft PDF form, you can download it from the link below.