After months of hype and speculations about a renewed design, the DJI Osmo Action 3 was finally released on September 14, 2022.
With Action 3, DJI returned to its original action camera design we first saw in the first Osmo Action. DJI abandoned the modular design of Action 2 to go more robust.
Compared to the industry-leading GoPro Hero series, it is affordable yet has some features that will make you think it's a better option than GoPro.
In this article, we are going to look at the specifications, features, and price of the all-new DJI Osmo Action 3.
Let's go.
DJI Osmo Action 3 Specifications
DJI is not particularly known for its Action cameras yet this is its third iteration to challenge the Action camera king aka GoPro.
However, compared to GoPro, DJI is a much bigger company with vast experience in the design and manufacturing of cameras primarily meant for their consumer and commercial drones.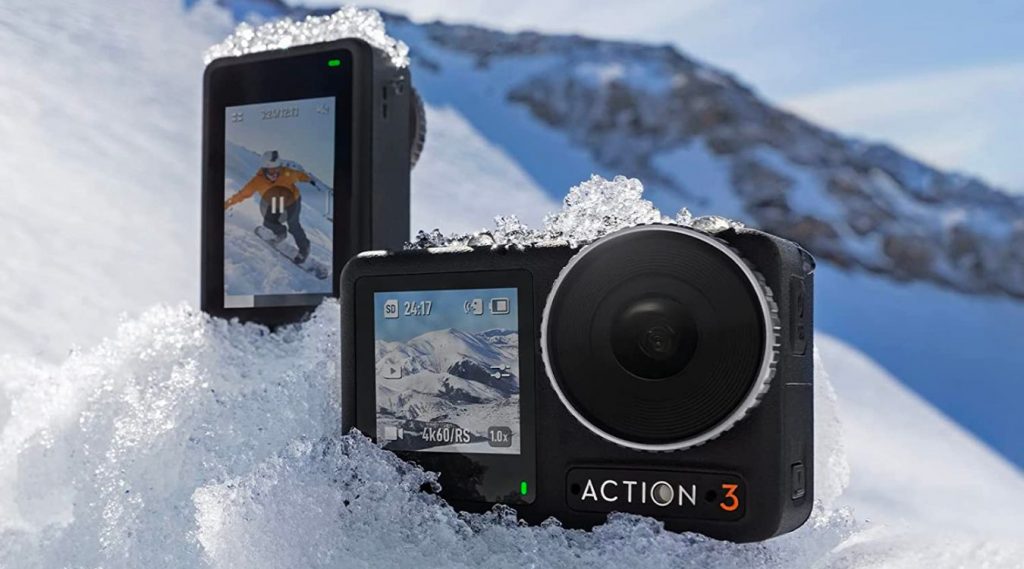 By channeling this vast experience into Action cameras, they can easily rival their American competitor.
Let's look at the on-paper features of the new Osmo Action 3.
Camera System
– 1/1.7-inch CMOS sensor
– f/2.8 Aperture
– 100-12800 ISO range
– 155° Super-Wide FOV
Image Quality
– 12 MP
– 4x Zoom
Video Recording
– Up to 4K @ 120 fps
– Slowmo 4K @ 120 fps
– Hyperlapse
– Timelapse
– 2x Zoom
Stabilization
– RockSteady 3.0
– HorizonBalancing
– HorizonSteady
Battery
– 160 minutes of recording
– Fast charging (80% in 18 min)
Connectivity
– Wifi
– Bluetooth
– native Livestream
Waterproofing
– up to 16 meters of depth
Screen
– front : 1.4 in 320×320 LCD
– back: 2.25 in 360×640 LCD
DJI Osmo Action 3 Specs
New Released
Shoots at up to 4K 120fps
Horizon leveling up to 45º at 4K
360º horizon leveling at up to 2.7K
Super wide angle 155° FOV
160-min max battery life with -20° C (-4° F) low-temperature tolerance.
Quick-release vertical and horizontal mounting
Waterproof up to 16 meters.
Dual touch screen for easy operation.
Now that we have an overview of the Action 3 specs, let's dive deep into each aspect of the new camera and see what's under the rugged hood.
Design
The main change in DJI Action 3 compared to its predecessor is the body design.
Compared to the modular design of Action 2, the new Action 3 went back to the rugged design of the original Osmo Action.
In first glance, you will see a pretty familiar design theme we have been seeing with the GoPro Hero line.
There is large circular camera lens on the front with removable lens design.
It has dual touch screen design with high brightness LCDs on front & back.
On top, you will find a round shutter button.
On the left and right sides, there are covered doors for USB connector, SD card and battery.
At the bottom, you will see magnetic connector to attache various accessories.
Pretty much standard stuff you can expect in an action camera. However, the magic is in the rugged construction.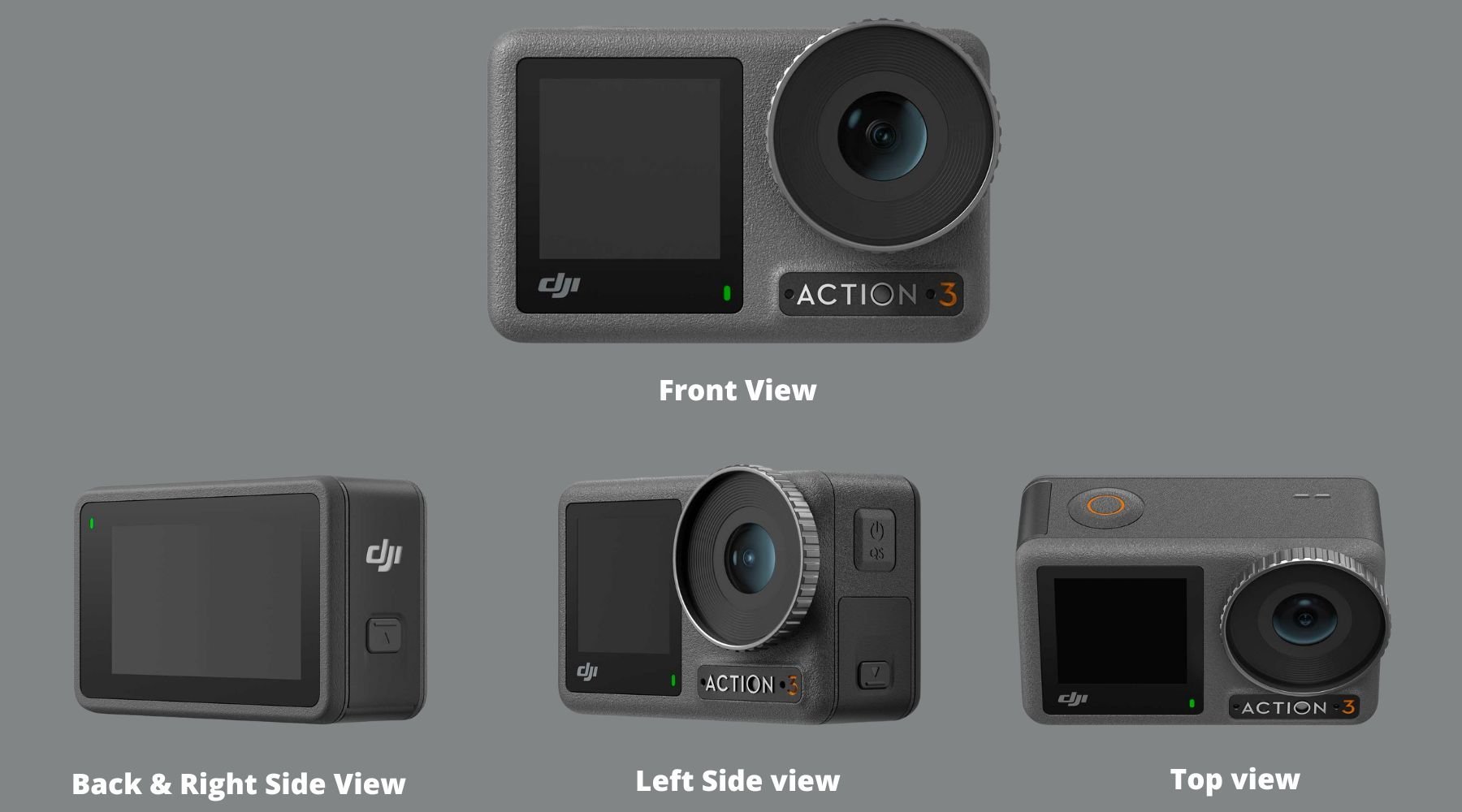 Unlike the Action 2, the new camera has a very tough design suited for high velocity sports.
The entire module is enclosed in a rugged body that is designed to sustain drops and shocks.
The only vulnerable area is the slightly protruding lense that might be damaged from a direct impact but apart from that, everythign is super action-ready.
The magnetic connector at the bottom is design for quick connect and release. You will also get a protective wrap-around frame through which you can mount the camera both vertically & horizontally.
The lens is designed to be removable so it can easily be replace with a new one if you somehow drop and damage it – a design feature missing in the previous Action 2.
The front facing screen is pretty convenient for many purposes. Specially during vlogging, you can setup the camera without getting up or turning it around.
Both the front & back screens are bright enough to use in the sun. The OLED display from Action 2 is replaced with LCD with 326 ppi resolution on both screens.
DJI Action 3 Features
The software on the DJI Action 3 is pretty much unchanged from what we have seen on the previous model.
It's intuitive and simple enough for everyone to use the camera. The icons are large enough and the interface is smooth and quite stable.
Overheating is no longer a problem. One of the major issues in the Action 2 was the overheating problem. Due to its smaller size and compact design, the heat dissipation was bad.
DJI solved the issue with the new Action 3 design. The Action 3 can shoot for 16 minutes straight at 4K60fps without overheating.
There are certain shortcomings when it comes to photography modes. Compared to its main rival the GoPro Hero 11, the Action 3 lacks many features that enables capturing photos in variety of environment.
The most obvious one is the absense of a night mode. Although the hardware is there, the lack of computational element on software side makes it a less ideal choice for low light capturing.
However, that doesn't mean you don't get the essential features. You can shoot in both JPEG and RAW, have full control over ISO settings and shutter speed and white balance.
You can also chose between stanard and wide angle FOV.
The same features are available for video shooting with additional D-Cinelike color profile that we have seen in DJI consumer drones. It gives you more control over colors in post edit.
DJI App however is very stable and connects to your camera pretty neatly. It offers camera controls inside the app which is nice and the live preview makes shooting easy.
Overall, the DJI Action 3 has a pretty neat software features that makes it an ideal but budget friendly solution for action camera starters.
Camera Quality
As we discussed above, the DJI Action 3 camera isn't new. The sensor and lense is the same we have previously seen in the DJI Action 2.
However, the sensor size is 1/1.7″ which is slightly bigger than what we have on the GoPro Hero 11 (1/1.9″).
In theory, this should result in better quality photos and videos but what it gains in hardware, it loses on the computational side of the photography.
But that doesn't mean it is bad. It's just not the best in its category. However, when you take into consideration its price point, it is a great value for money.
You can shoot cristal clear videos upto 4K 60 fps when shooting in 4:3 and can push the frame rate to 120 when you switch to 16:9.
The 155º FOV wide angle provides great opportunity to capture your surroundings and is a must for recording high speed action but if you are mainly a vlogger, you don't need the super wide angle.
One of the drawbacks of using the wide angle mode is that it can't accurately pick facial details and focus on foreground. Well, it does but not as good as the more expensive GoPro Hero cameras.
While its a good camera for recording live action, it might not be your best choice for a vlogging camera if that's your primary purpose.
However, you get better results when you shot in standard FOV mode.
One of the best features in the new Action 3 is the horizon leveling that we saw in previous Action 2.
Horizon levelling keeps the horizon locked while the camera tilts 45 degrees on either sides. This is idea for recording high-velocity actions where locking the horizon makes the footage very stable.
With Horizon locked, you can mount the camera on you and go beserk with your live action.
No matter how much you move around, the camera will keep the footage locked horizontally and you will get a super smooth and stable recording.
Apart from Horizon levelling, the Action 3 software also comes with another stabilisaation feature called RockSteady 3.0 that makes the recorded video even more stable.
Other camera features include recoding Hyperlapse at 4K 30x and Timelapse at 4K30fps. You can also record intervals and durations.
The Action 3 comes with 3 super sensitive mics that makes live recording and vlogging much easier. It automatically tunes out the noise and produce super clear audio.
All in all, the camera on Action 3 is a continuation of the last model but is still one of the best in its category. Considering the affordable price point compared to its main rival – the GoPro Hero 11 – I would say its a better value for your money.
Waterproofing
The Action 2 was not entirely waterproof design due to its modular nature but with the new Osmo Action 3, you get a 16 meter waterproofing that makes underwater shooting a breeze.
The lens and both front and back screens are coated with hydrophobic coating so that the water don't stick around to mess with them. This couldn't get any better.
Compared to this, the GoPro Hero 11 can only bear water pressure up to 10 meters and if you want to go further down, you have to use a case.
If you use an additional waterproofing case with the Action 3, you can dive deep up to 60 meters. This makes it perfect for deep divers.
Quik Mounts & Accessories
Forget the old screw in mounts we have been seeing with action cameras. DJI has built on the Action 2 magnetic mount and continued the same in Action 3.
You can connect your Action 3 camera to your tripod, helmet, bonnets or grips through a magnetic grip mount that is quick to release.
You can find a lot of adaptor for different scenarios including;
Chest strap mount
Handlebar mount
Floating handle
Helmet chin mount
Suction cup mount
Battery life
The Action 3 comes with a 1770 mAh LiPo battery that provides you up to 160 minutes of shooting time.
The best part probably is the fast charging functionality we have been seeing a lot in modern smart phones.
With this feature, you can charge the battery fully in 49 minutes but the battery reaches 80% charge level in just 18 minutes. That's 2 hours of shooting time in just 18 minute.
Another design improvement in the battery is its tolerance to low temperature. Previous model refused to turn on in extreme temperatures but the new Ation 3 has a much better temperature range.
You can use your Action 3 camera at -20° (-4° F) with no problems at all. That's very handy for winter sports at high altitude. In summers, it can operate up to 45° C (113° F).
DJI Osmo Action 3 Price
The price is why you should care about the Action 3.
Feature and specs wise, it might not overshadow the industry leading GoPro Hero 11 but it certainly is a more affordable option and a better value for money.
The Osmo Action 3 comes at 329 USD while you can buy the Adventure combo at 439 USD with a few extra gears.
Compared to the much pricy GoPro Hero 11 that comes at 499 USD, the Action 3 sweet price point is certainly a winning feature.
You can buy the Action 3 either on official DJI site or buy it on Amazon.
New Released
Shoots at up to 4K 120fps
Horizon leveling up to 45º at 4K
360º horizon leveling at up to 2.7K
Super wide angle 155° FOV
160-min max battery life with -20° C (-4° F) low-temperature tolerance.
Quick-release vertical and horizontal mounting
Waterproof up to 16 meters.
Dual touch screen for easy operation.
DJI Osmo Action 3 – Final Verdict
Overall, DJI has lived up to the expectaions of the Osmo Action 3 and released a product that people actually wanted.
Its an action camera through and through unlike the previous modular designs. The rugged body, waterproof design and long lasting, temperature resistant battery makes it a perfect choice.
The sweet spot is its price though. Compared to its rival GoPro Hero 11, it costs 170 USD but provides more or less the same quality of shooting and experience.
In my opinion, its a solid investment for someone who is looking to buy his or her first action camera and getting into the hobby of high velocity action shooting.