In this article, we are going to look at the upcoming GoPro Hero 11 Black release date, leaked specs, price & other information. Last Updated: June 28, 2022
The action camera king GoPro is famous for religiously adhering to its new product release schedule. For years, we have seen a new GoPro in the fall of every year ready to be shipped ahead of Black Friday.
The last flagship in the HERO line was the GoPro Hero 10 Black released in September 2021. So, when can we expect the new GoPro Hero 11?
If rumors and GoPro's track record are to be considered, the new GoPro Hero 11 will be released in September 2022.
The below table shows the release dates of the last few models and if GoPro remains consistent, we will see the new GoPro in a few months.
| GoPro Products | Release Date |
| --- | --- |
| GoPro Hero 7 | September 2018 |
| GoPro Hero 8 / GoPro Max 360 | October 2019 |
| GoPro Hero 9 | September 2020 |
| GoPro Hero 10 | September 2021 |
| GoPro Hero 11 | September 2022 (expected) |
GoPro product release historical timeline
GoPro CEO Nick Woodman said a few months back that in the fall of 2022, they are going to increase their product line to 4.
"At the end of 2022, we plan to increase our hardware offerings from two product types we have today, HERO and MAX, to four distinct camera products"

Nick Woodman, CEO GoPro (during annual stock meeting)
That means we are not only going to get a new GoPro HERO 11 this year but two brand new product types.
What these product types be? Your guess is as good as mine but I believe one of them will be a DJI Pocket 2 type camera with a miniature gimbal. That would be pretty cool.
GoPro Hero 11 Specs
Although we currently do not have any official or unofficial word on what the spec sheet would look like. But unlike many companies, GoPro has been very predictable over the years.
Their subsequent products have been evolutionary rather than revolutionary. Each new model saw an improvement over the predecessor and I think that's quite brave.
When you make something that is so perfect, you don't redesign or reimagine it every single year (think iPhone's consistent design & software features year over year)
Speaking of improvements, here are what we can expect to see in the new GoPro Hero 11.
Body Design
Design-wise, GoPro has been pretty consistent over the years. If you look at the body design of Hero 5, 6, 7 & 8 you won't see much change apart from the logo colors and location. It remained pretty similar for 4 years.
With Hero 9, GoPro introduced the font color screen that remained the same on the next iteration i-e Hero 10.
Keeping this design consistency in mind, one can expect that the GoPro Hero 11 body design and shape would be pretty much the same as its predecessor the Hero 10.
However, on the backside, we might see a full edge-to-edge LCD display like the one we have on DJI Action 2 camera. The brand logo on the left side of the screen on the current GoPro 10 doesn't serve a purpose and might get replaced with a full edge-to-edge screen.
We might also see a little bigger bulkier body IF they decided to listen to users and included a heat sink to tackle overheating (more on this below).
But overall, don't expect a complete design overhaul. The Hero 11 will probably look the same.
Camera Improvement
The current GoPro Hero 10 can shoot 5.3K @ 60fps and 4K @ 120fps. It's pretty much top of the line as of now. But we might see an even better resolution on the Hero 11.
GoPro Hero 11 might go for a 5.7K 30 fps or maybe 6K 30fps to snap even sharper images.
It might also be able to shoot 4K slow-mo videos at 240fps.
If they are keeping the design and most other things the same, they must provide some incentives for the current users to upgrade.
Another area they can improve in is low-light photography or nighttime photography. GoPro (or any other mini camera) hasn't been very good in low-light conditions. Smaller sensor sizes and lens constraints are some of the reasons.
If they are serious about improving the nighttime photography, the Hero 11 might come with a larger aperture and a wider focal length lens to capture more light.
I personally think it would be better if they focus on the lowlight photography instead of increasing the resolution. I mean 5.3K is good enough why overkill it? Focus on other things that need more attention.
Better thermal management
It's a technical challenge to completely solve the overheating issue. It's you against the laws of physics. If you put a billion transistors inside a small black box, it is going to overheat no matter what.
The overheating problem has been a major complaint from users over the years and the problem persisted throughout the GoPro line till today.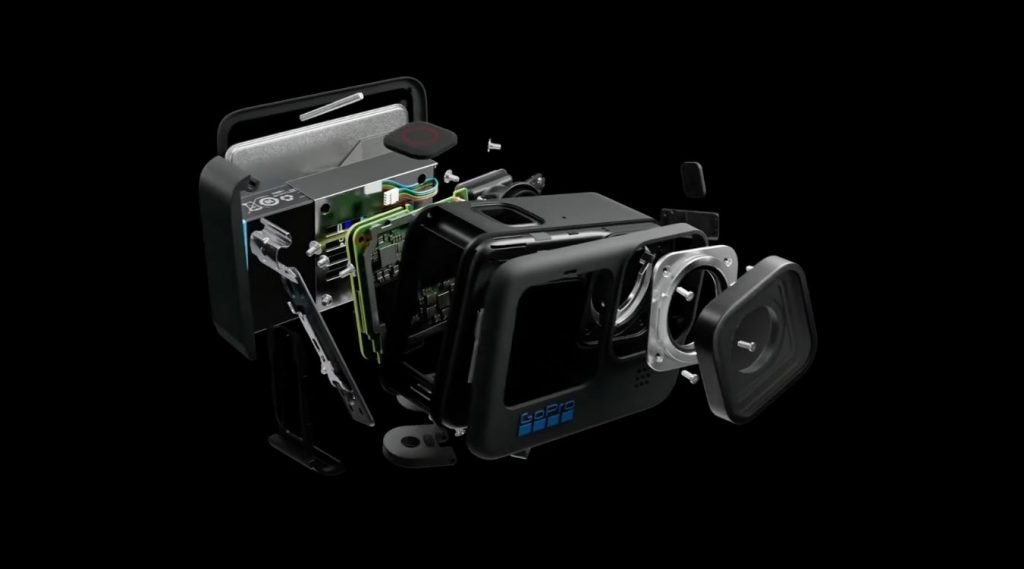 The Hero 10 is no better than the previous models when it comes to overheating.
In GoPro Hero 11, it is possible (read: I wish) for the design team to incorporate some kind of external heatsink coated with macro-particles to dissipate heat to some extent so that the camera won't at least shut off during recording.
The heatsink can be built at the bottom or any location where there is minimal finger placing.
I am something of an Engineer myself but not as good as the ones at GoPro so I am sure they can figure out a much better way. So, fingers crossed.
Apart from these, I don't think we might see any revolutionary changes in an already cutting-edge camera system.
Efficient software with the new GP3 processor
GoPro Hero 10 is powered by an all-new GP2 processor that made possible the stunning 5.3K shots. In Hero 11, we might see the next version of the processor GP3.
For one, I am very hopeful this processor will have more streamlined software to tackle the overheating issue.
If you clock any processor at the highest frequencies for a long time, it is bound to overheat and the current Hero 10 firmware does that to the GP2. Hopefully, Hero 11 will have more efficient software to get things done at lower clock cycles.
Speaking of powerful processors, the new GP3 should be able to give you better nighttime photos.
Many people believe that a larger 1″ sensor will enhance lowlight shooting but efficient nighttime photography largely depends on your software and how powerful your processor is to carry out real-time optimization.
More Read: Is DJI Pocket 2 waterproof?
For example, look at iPhone 13 Pro main 1/1.9″ sensor. It captures better nighttime photos than GoPro 10 even though the GoPro has a bigger sensor (1/1.17″). The real magic is not in the sensor size or lens but in the software.
Improved stabilization with HyperSmooth 5.0
HyberSmooth is a game-changer for GoPro cameras that don't have mechanical stabilization like the ones you see on DJI Pocket 2.
On GoPro Hero 11, we might see an improved version i-e HyperSmooth 5.0 that will take things to next level and give you better shake-free shots even in a very heavy action environment.
Wireless charging
Everything is going wireless these days so why not speculate a GoPro with wireless charging?
GoPro Hero 11 price (expected)
Looking at GoPro's pricing history, I believe that the new GoPro Hero 11 will be launched at the same price point as its predecessor i-e 499 USD.
Unless they surprise everyone by making some revolutionary changes in the design or performance, we can expect the same price point.
In the meantime, if you are in a hurry and can't wait to get an action camera till September, below are a few great options.