UPDATED: GoPro Hero 12 has been released. Check Here
Get ready to experience the next level of action camera excitement as the rumors of GoPro HERO 12 release date continue to heat up!
Known for its strict product launch schedule, GoPro has been delivering top-notch action cameras year after year, with each new release hitting the shelves just in time for Black Friday.
The previous HERO line flagship, the GoPro HERO 10 Black, was released in September 2021, and the HERO 11 followed suit with a September 2022 release.
As the anticipation for the HERO 12 grows, it's time to gear up for the thrill ride that will come with the latest addition to the HERO line.
GoPro Hero 12 Release Date
GoPro is consistent with its annual product releases, leaving little space for any guesswork. For the past 5 years, we got a new GoPro every September, and this year will be no different.
The new GoPro HERO 12 Black will be released on 15th September 2023.
Below is a table that shows the release date of every GoPro for the past five years.
GoPro Products
Release Date
GoPro Hero 7
September 2018
GoPro Hero 8 / GoPro Max 360
October 2019
GoPro Hero 9
September 2020
GoPro Hero 10
September 2021
GoPro Hero 11
14th September 2022
GoPro Hero 12
15th September 2023
(speculative)
GoPro product release historical timeline
The year 2022 brought excitement and adventure with the release of the new GoPro HERO 11 Black and its smaller counterpart, the GoPro HERO 11 Black Mini.
At the launch event, GoPro wowed us with a sleek, almost identical design to the highly acclaimed HERO 10 Black. On the other hand, the stripped-back HERO 11 Black Mini was a follow-up to the famous HERO 10 Black Bones, specifically designed for drone users.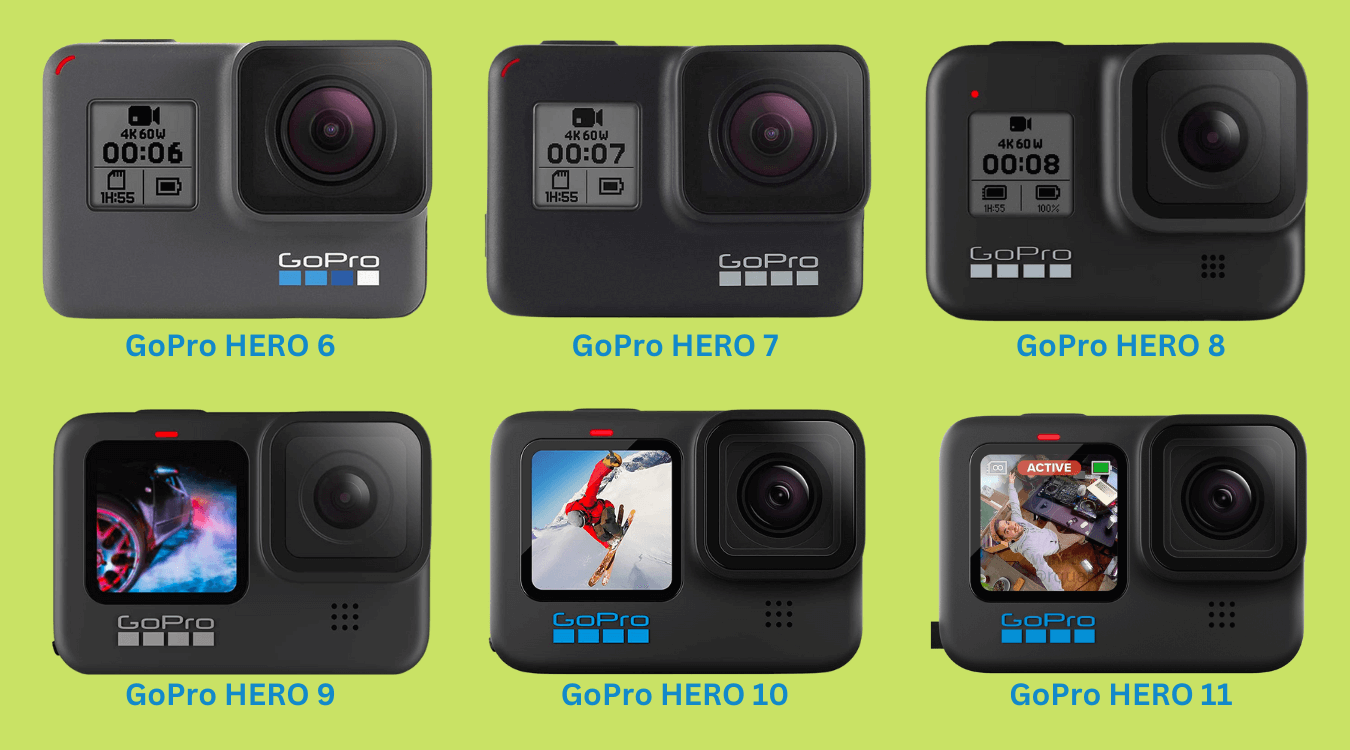 Both cameras were equipped with GoPro's cutting-edge Enduro battery technology, ensuring non-stop action and a simplified software experience made capturing life's adventures easier than ever.
GoPro Hero 12 New Renders
GoPro Hero 12 new renders emerged on techrandm.com, giving us a look into what the new shape and form factor of the GoPro Hero 12 could be.
These renders are not official but are based on leaks and community suggestions. The new leaks suggest a full edge-to-edge screen on the back, sharp edges, and a rounded shutter button on top.
These renders will further fuel the speculations about the possible design changes that users are anticipating.
After all, it's been three years since we have been getting the same design. Below are the new renders.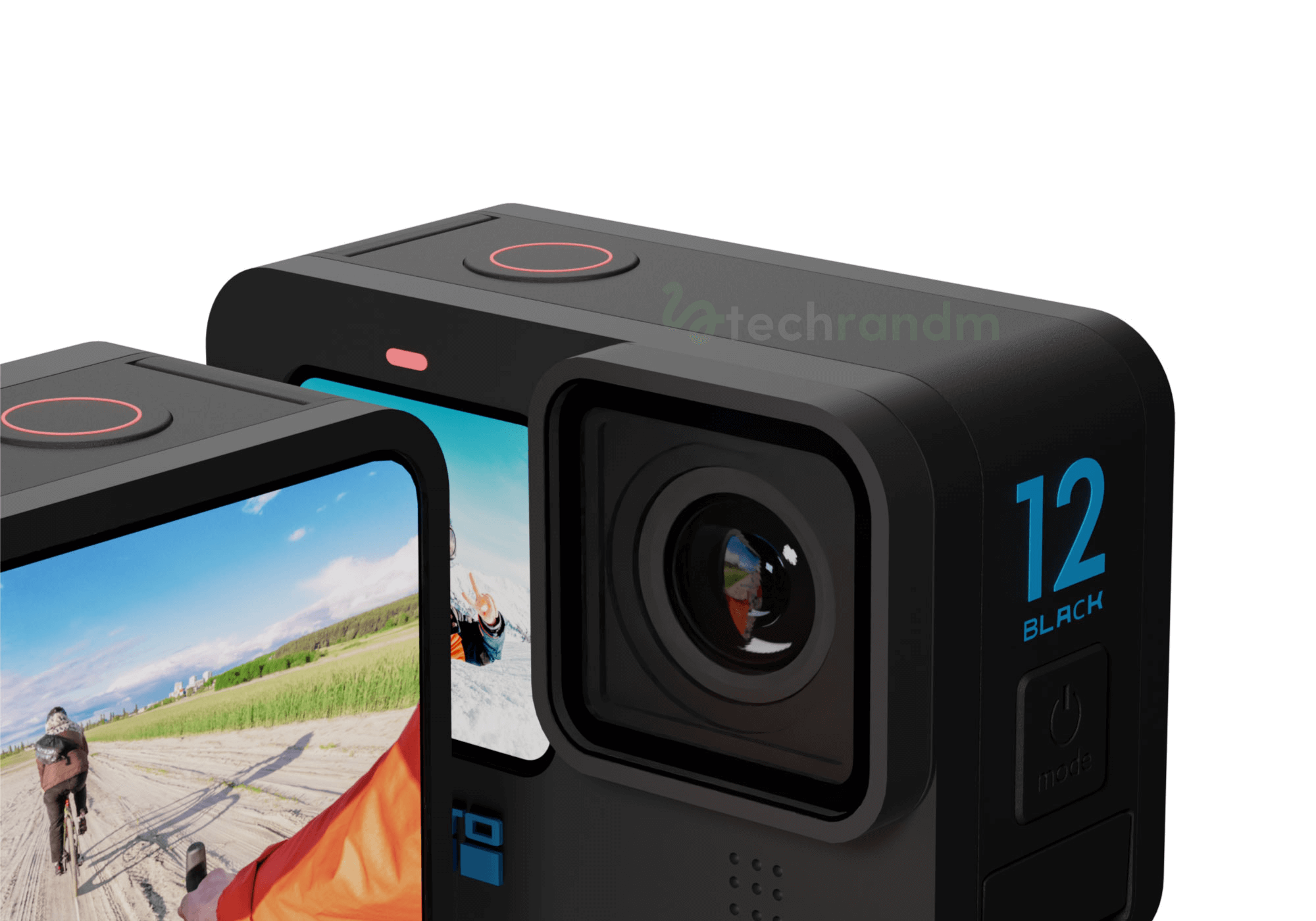 Here are some more views showing the beautiful edge-to-edge display, sharp edges, and round shutter button.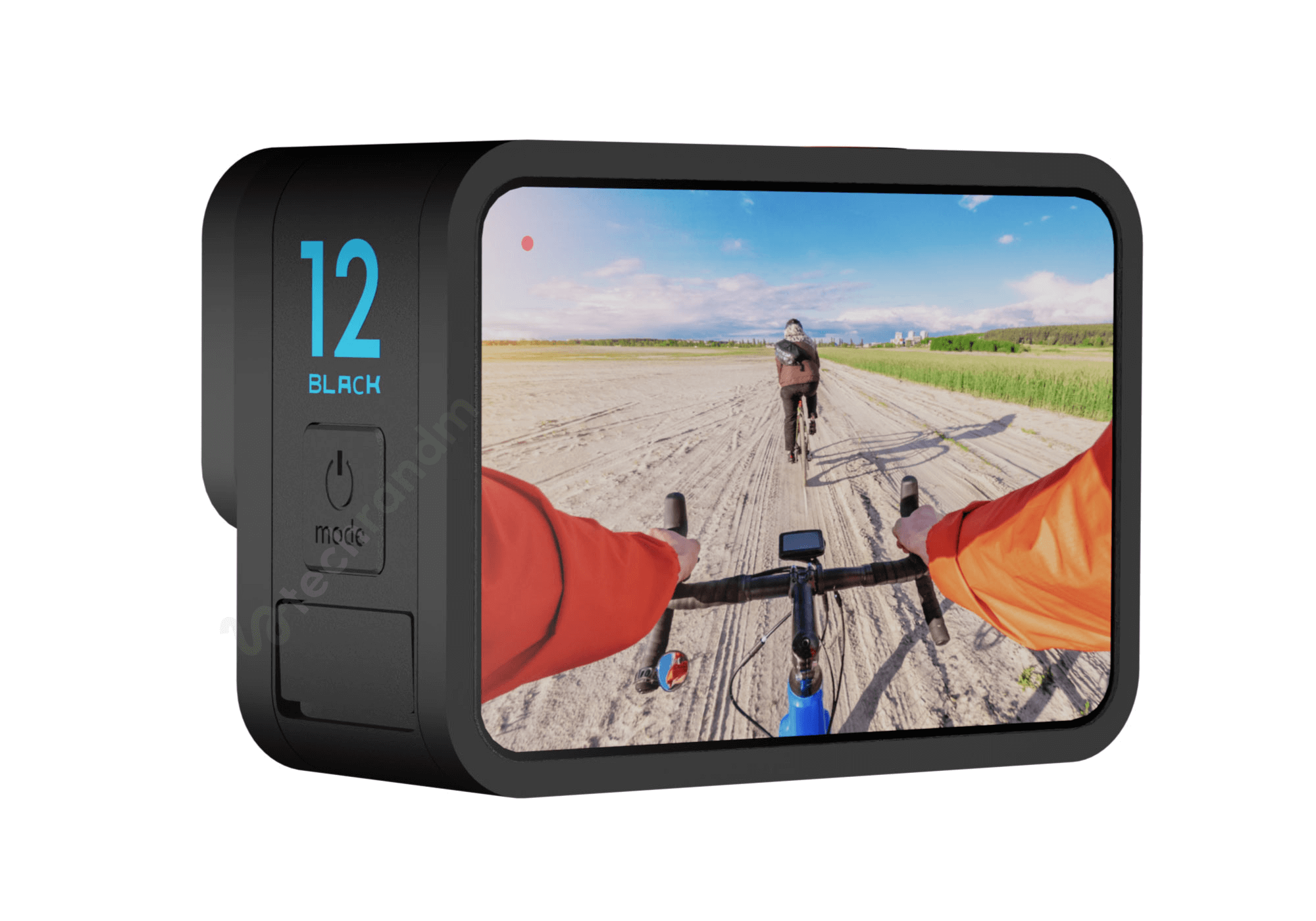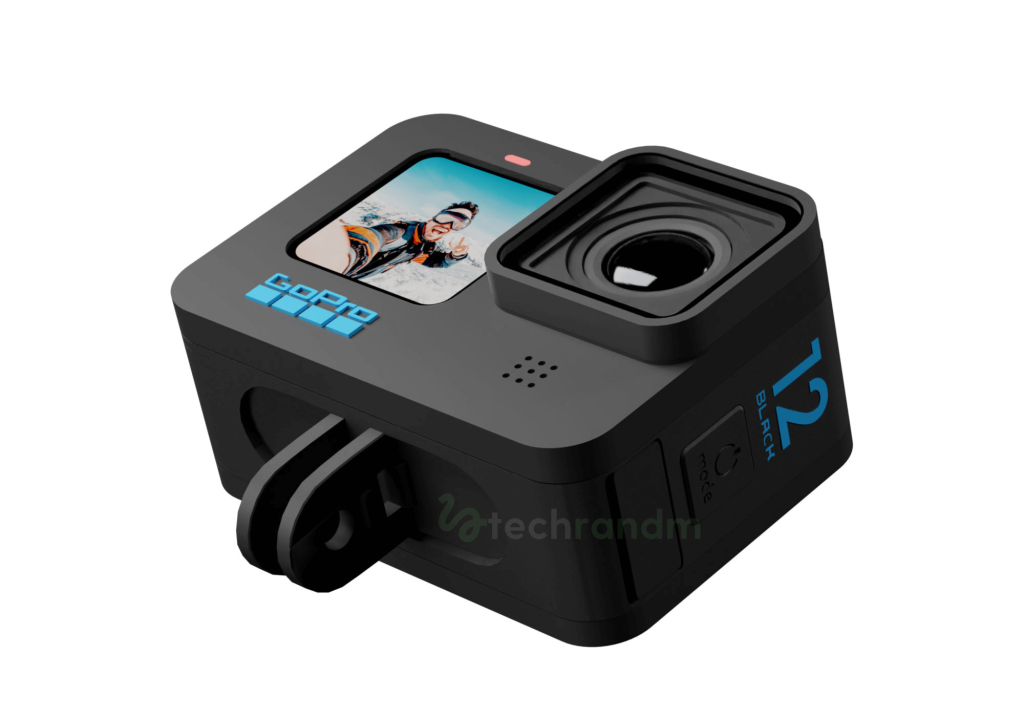 GoPro HERO 12 Rumored Specs
Now, action camera enthusiasts are getting ready to take their adventure photography to the next level with the highly anticipated GoPro HERO 12!
This action camera will be released on September 15, 2023, and will be packed with cutting-edge features that will leave you stunned.
Camera upgrade
The HERO 12 is poised to redefine GoPro's camera offerings. Leaked details suggest the following advancements.
The HERO 12 is said to embrace a powerful 1-inch sensor, a leap from its predecessors, allowing users to delve into higher resolutions.
Now, videos can be captured at a brilliant 8K at 60fps, while 4K content can be shot at an astounding 240fps.
For those passionate about slow-motion sequences, the HERO 12 doesn't disappoint, offering Full HD shooting at 480fps.
Shifting the focus to stills, the HERO 12 is rumored to raise the bar with a 30MP resolution, ensuring each image mirrors reality with pristine clarity.
Beyond basic photography, the camera aims to inspire creativity. New modes like star trails and time warps are speculated to join the feature list, paving the way for inventive captures.
Stability, a cornerstone of GoPro's reputation, receives an upgrade too, with an even more refined Hypersmooth feature.
And for those ventures into the twilight or other low-light scenarios, the HERO 12 promises to outshine with vastly improved lowlight performance.
Maintaining its tradition of pushing boundaries, the HERO 12 seems all set to captivate novices and pros alike with its new camera upgrades.
Full edge-to-edge display
The current GoPro Hero has branding on the left side of the screen that takes up considerable real estate and shrinks the screen to a smaller size.
With the GoPro Hero 12, we are going to see a full edge-to-edge display, as recently leaked renders have suggested, making it easier for people to frame their shots.
A recent posting by Twitter user @Quadro_News suggests the same edge-to-edge screen with a total size of 2.27″ with touch zoom.
It will also give the GoPro a long overdue design upgrade that users have been expecting now.
Connectivity
With 802.11b/g, GPS, and Bluetooth 4.1 LE built-in, mobile internet access will be seamless, allowing you to share your adventures with the world in real-time.
Improved stabilization
The HyperSmooth 6.0 technology, the latest in GoPro's line of image stabilization, will keep your shots smooth and steady, even in the most challenging of environments.
Other features
Webcam Mode: This feature will allow you to use your HERO 12 as a high-quality webcam, perfect for video conferencing and live streaming.
Face, Smiling, and Blink Detection: The HERO 12 will have advanced face detection technology, allowing it to recognize and capture your best moments, whether you're smiling, blinking, or just having a good time.
Scene Recognition: This feature will help the HERO 12 to automatically adjust its settings to the best settings for your environment, so you can focus on capturing the moment and not adjusting the settings.
Slow-mo: Slow-motion video is a classic way to add a dramatic effect to your footage. The HERO 12 will allow you to capture slow-motion footage at an impressive frame rate.
Voice Recognition: With voice recognition, you'll be able to control your HERO 12 hands-free, making it easier to capture those moments when you need both hands-frees.
Built-in Attachment with Folding Fingers: The HERO 12 will have a built-in attachment, making it easier to attach to various mounts and accessories. The folding fingers make it easier to store and transport.
TimeWarp 3.0 Clip: TimeWarp 3.0 will allow you to capture time-lapse video smoothly and seamlessly, capturing the essence of an experience in a short and captivating clip.
Live Broadcasting in 1080p: The HERO 12 will allow you to live broadcast in 1080p, so you can share your experiences with the world in real-time.
Whether you're an action sports enthusiast, a filmmaker, or just looking to capture memories, the GoPro HERO 12 will have everything you need to take your photography to the next level.
GoPro Hero 12 Pricing
Looking at GoPro's pricing history, it is expected that the upcoming GoPro Hero 12 will carry a similar price tag to its predecessor, the Hero 11, which was launched at a price point of 549 USD.
However, there is always a chance that GoPro could surprise the market by introducing groundbreaking changes in design or performance, which could impact the pricing.
But as of now, we can only speculate that the Hero 12 will be priced similarly to its predecessor.
If you can't wait until September for the release of the Hero 12, there are several excellent action camera options currently available in the market that you could consider.