Factory resetting your DJI Spark can restore it to its original state and remove bugs and glitches if any. It also removes connected accounts and any customization.
DJI Spark can be reset using a PC software called DJI Assistant. It will install a fresh version of the latest firmware and remove the old one.
Refreshing your firmware or factory resetting your Spark drone is easy. In this article, I will explain the step-by-step process of resetting DJI spark drone and controller.
What does factory reset do?
All electronic devices are prone to occasional malfunction due to glitches in the software. A factory reset will take the device back to its original state and remove bugs, if any.
Factory reset will wipe all your custom settings, changes, stored data, and the device cache and the device goes back to its factory default settings like when it was brand new.
You might need to factory reset your Spark drone for a few reasons.
To restore an older and stable version of the firmware after a faulty update wrecks your drone.
To remove any software glitches or bugs that are causing your drone to malfunction.
To remove incompatible settings or apps that crashed your drone.
Wiping your drone clean before you sell it.
A factory reset will be your last line of defense against any software malfunction.
How to reset DJI Spark drone?
Some electronics (like your smart TV) have a dedicated reset button or pinhole that you can use. Others have a built-in combination of buttons that you can press to initiate a reset.
But DJI has not built any dedicated reset button or pinhole on your Spark drone. The reason is that resetting a drone is seldom required. However, the reset process is built into companion software you can install on your computer.
Let's go step-by-step and see how to do this.
DJI Spark factory reset using DJI Assistant
DJI Assistant is a computer program you can install on your PC or Mac. It is used to install new firmware updates, downgrade to the previous version and restore factory defaults.
To do this, follow the below step-by-step process.
STEP 1 – Download DJI Assistant
The DJI Assistant software is free to download, and you can get it from the DJI official website. Here is a direct download link. Remember that every drone has its own compatible version of the DJI Assistant.
After the download, install the file on your computer. During installation, it will ask for a few permission that you should grant and it will install.
STEP 2 – Connect your drone
After the installation, open the program on your PC. Now, turn on your DJI Spark drone and connect it to the PC using your USB cable.
Once the drone is detected by the software, you will see its name (Spark) show up on the screen. Click open it.
STEP 3 – Refresh your firmware
Go to "Firmware Update" on the left-hand panel, and you will see all the firmware available for the Spark.
You will see a button at the bottom of the software versions list, "Restore Factory Default." The current version of firmware installed on your drone will be reinstalled by clicking this.
But if you want to reset using the latest available firmware, you can do so by clicking the "Refresh" button in front of the latest version of the firmware.
If you want to roll back to a previous firmware version, click DOWNGRADE, and the older firmware will be installed on your Spark.
Once the process is done, your drone will restart, and you can disconnect the drone from the computer.
Refreshing or downgrading your drone firmware will erase all the data, user profiles, and accounts. You must re-register your drone and connect it to the controller and phone.
Below is a video demonstration of the whole process.
How to reset DJI Spark Controller?
Resetting the DJI Spark controller is very similar to the above process.
Again, just like the drone, the controller has no key combination factory reset process. You must use the DJI Assistant 2 software to refresh the remote controller firmware.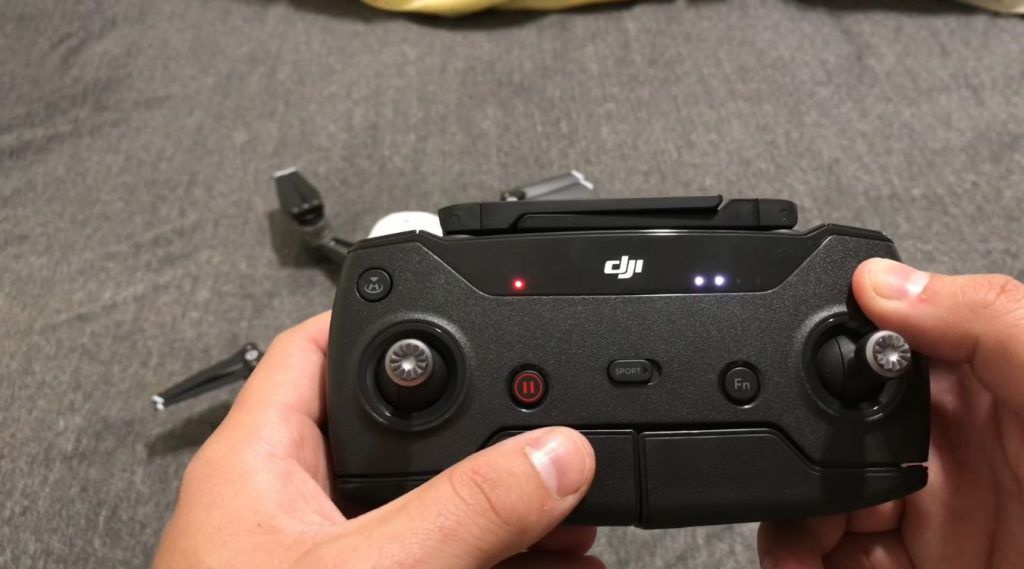 The process of reinitializing or refreshing the controller firmware is the same as for the drone.
Download DJI Assistant for the Spark from the official DJI website.
Install the software and open it on your PC.
Turn ON your Spark remote controller, plug in the USB cable, and wait for the program to recognize it.
Click on the Firmware Update on the left-hand panel and "Refresh" the firmware.
Once done, your controller will be restarted and will be just like new. You will have to reconfigure and connect it to your drone.
Do you need to reset your drone before selling it?
It's a common practice to factory reset your phone before selling it. But do you need to do the same with your drone as well?
The answer is No. You don't need to factory reset your DJI drone or reinstall the firmware before you sell it.
But there are some steps you should go through before you can safely sell your DJI drone to the new owner.
Remove all third-party accessories like a strobe light, stickers, and registration numbers (or, in my case, my phone number) from the drone body.
Remove your microSD card from your drone. That will remove your recorded videos and images.
Next, go to your DJI Fly App > Profile > Device Management. Click on your device and then click "Remove device from Account"
Follow through the steps on the App, and once you are through, you will get a confirmation that the drone has been unbound from your account.
Once the sd card is removed, and the device is unlinked from your DJI account, you are ready to hand over your DJI Spark to the new owner.
How to Factory Reset DJI Spark – Final words
Factory resetting your DJI Spark is a very straightforward process, and you will need to reset your drone from time to time to remove any bugs and glitches.
I recommend keeping the DJI Assistant program installed on your computer or laptop, as you will also need it in the future. It's pretty handy to install new firmware and factory reset any DJI drone.
I hope this short guide will help you factory reset DJI Spark and controller to resolve issues or revert to an older firmware version.
You can use the same instructions to reset DJI Mini 3 and for resetting DJI Mini 2 as well.
If you have any questions or specific issues, you can post them in the comments section below, and someone from our community will be able to help you out.
Happy flying!