when we normally talk about drones, we picture the ones with a nice HD camera to record aerial videos or take breathtaking shots. But another class of drones has a completely different purpose – yes, I am talking about FPV racing drones. Today, we will discuss what an FPV racing drone is, how it is different from the normal camera drones, and then we will be looking at the top 10 FPV racing drone kit with goggles.
Racing drones are specially designed drones where the entire design philosophy revolves around two points – high speed and maneuverability. These are used by FPV drone racing enthusiasts to fly at enormous speeds that normal commercial camera drones cannot possibly reach.
FPV drone racing is becoming popular sports worldwide. People from all around the world compete in local as well as international competitions to show off their flying skills and win cash prizes. This competitive sport is popularised by organizations like World Drone Racing Championship, Drone Racing League(DRL), US Drone Racing Association, British Drone Racing Association, and many others. To check the popularity yourself, just google "drone racing near me" and see how many events come up.
How is FPV racing drone different?
Consumer and prosumer camera drones are made for aerial photography and videography. Therefore, the focus is on stability, long range, video transmission and most importantly on quality of camera.
The racing drones are an entirely different breed. They are made for one and one thing only – to win a race. That's why the entire design focus is on raw speed, maneuverability, and agility. They normally have average quality cameras that are good enough for first-person-view (FPV) through the pilot goggles but not exactly made for recording HD videos.
The body is stripped down to bare essentials to save on dead weight. You won't even find battery coverings in most DIY racing drones and the batteries are attached to the frame of the drone using hook & loop strips.
, Unlike commercial drones, most FPV drone propellers have three blades to reduce the propeller's overall length and lower the rotational inertia for increased maneuverability. A higher number of blades give more thrust, but at the same time, they are inefficient. But when it comes to racing, we often overlook efficiency for thrust and speed.
Best FPV Racing Drone Kit With Goggles
Circling back to our main topic of today, let's explore the best FPV racing drone kit with goggles, what they offer, and what price tags they carry.
We will be looking at the following best racing drones available in 2020:
List of Top 10 FPV Racing Drones [2020]
Walkera Rodeo 110
Walkera Rodeo 110 is a small beginner's racing drone with a base size of 110mm and weighs only 100g without the battery. It comes with an 850mAh battery that can give you a flight time of 6 minutes. The motors used are high-performance mini brushless motors, which can accelerate the Walkera Rodeo to 44 miles per hour (70 kph). Lightweight 3-blade propellers produce the thrust atop each motor.
Walkera Rodeo 110 is a BNF drone. BNF stands for "Bind N Fly" which basically means the drone comes with everything you need to fly except for the transmitter. To fly the Walkera Rodeo 110, you will have to get a separate PPM or SBUS compatible receiver. The flight controller has an output port to connect the radio receiver. Some resellers might also provide you with a Ready To Fly (RTF) kit with an already bound controller.
The Camera is a 600TVL HD camera which can be adjusted from 0 – 45 degrees. There is a bright LED light in front of the camera for better viewing in darker places during flight.
Overall, this is a beginner racing drone and might not get you to position # 1 in any competition but, it's fun to fly nonetheless.
Price: Walkera Rodeo 110 is available for $175.99 on Amazon at the time of writing this article. Check Amazon for the latest price.
Fat Shark 101
Fat Shark 101 is an excellent trainer drone if you are just getting started with drone racing. It's a smaller elongated drone with 13 inches in length and 9 inches in width and weighs around 2 pounds only.
The motors used in Fat Shark 101 are brushed coupled with 2 blade props and a LiPo battery that can give you a flight time of around 5-8 minutes depending on your flying style.
The elongated shape resembles a shark (hence the name) and makes the drone very agile, maneuverable, and suitable for performing acrobatics through the obstacles. The FPV camera is mounted on the front. Unlike many other racing drones, this camera is not adjustable. But since this is a starter drone, it doesn't matter that much.
It comes with a DRL simulator license key which is awesome for starters.
Fat Shark 101 is an RTF drone that means you don't have to get any additional accessories like remote control or goggles to make it work. You will get everything you need to get out and start flying.
Price: Fat Shark 101 is available on Amazon for $246.39 at the time of writing this article. Prices vary often so do check out Amazon for the latest price by clicking the below button.
Walkera F210 3D Edition
Okay, let's get a bit serious and look at some professional racing drones. The Walkera F210 3D Edition is a pro racer that comes with powerful motors and robust carbon fiber frame.
It's a ready-to-fly unit that comes with all the necessary accessories right off the box except for the goggles. The onboard flight controller is state of the art F3D, giving the F210 some great flight capabilities due to its advanced sensors. You can also plug it into your computer and program your own settings for advance flying.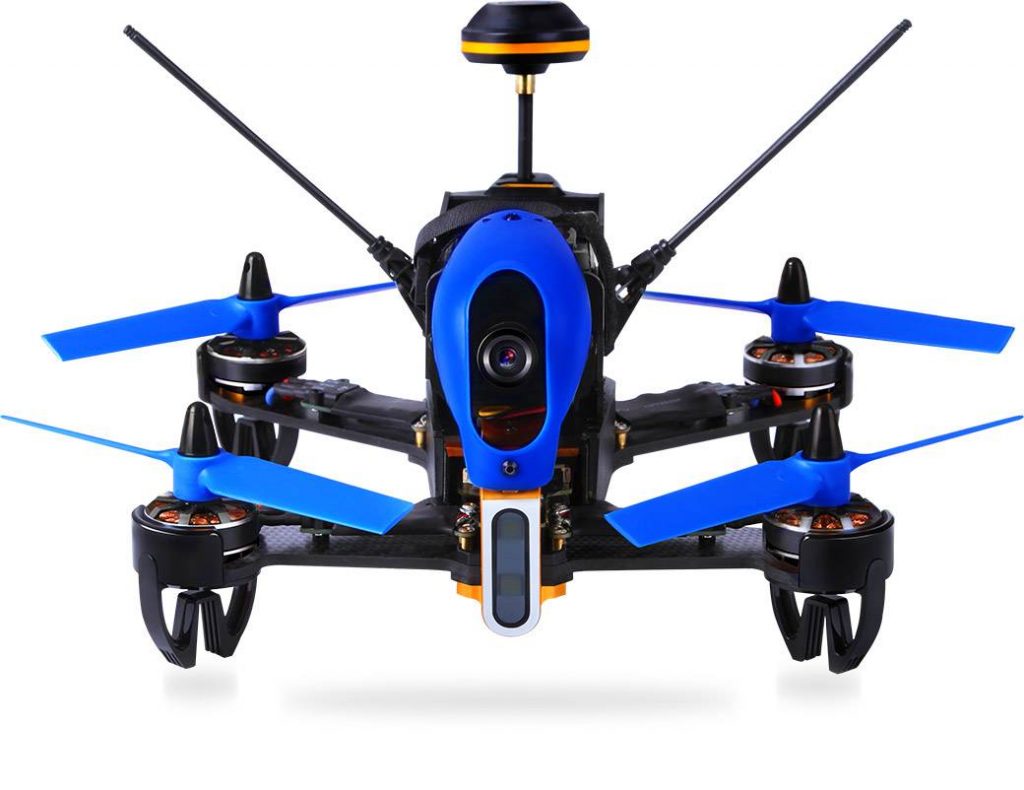 The camera on Walkera F210 is an HD 700 TVL with a 120-degree field of view (FOV) which is pretty cool for high-speed racing. It also has infrared night vision which is pretty handy in closed circuit races or during night flying.
It deploys high-performance brushless motors which, coupled with specially designed ESC, gives immense acceleration. The interesting thing about the ESC is that it can reverse the motors' polarity so you can instantly reverse course during the flight. The battery used is a 1300 mAh LiPo in 4S configuration that gives you around 6 – 9 minutes of flight.
The transmitter / remote controller is standard Devo-7 with an OSD (on-screen display) which is useful for telemetry data during flight.
Price: The Walkera F210 3D Edition is available for $419.99 on Amazon but the prices change frequently so click the below button to check the latest price and availability.
Emax Hawk Sport 5
The Emax Hawk Sport 5 is a serious flying machine. It has a perfect weight to power ratio for a speed flying with a compact but strong build. Its smaller frontal area offers lesser wind resistance, which is ideal for a drone designed primarily for racing.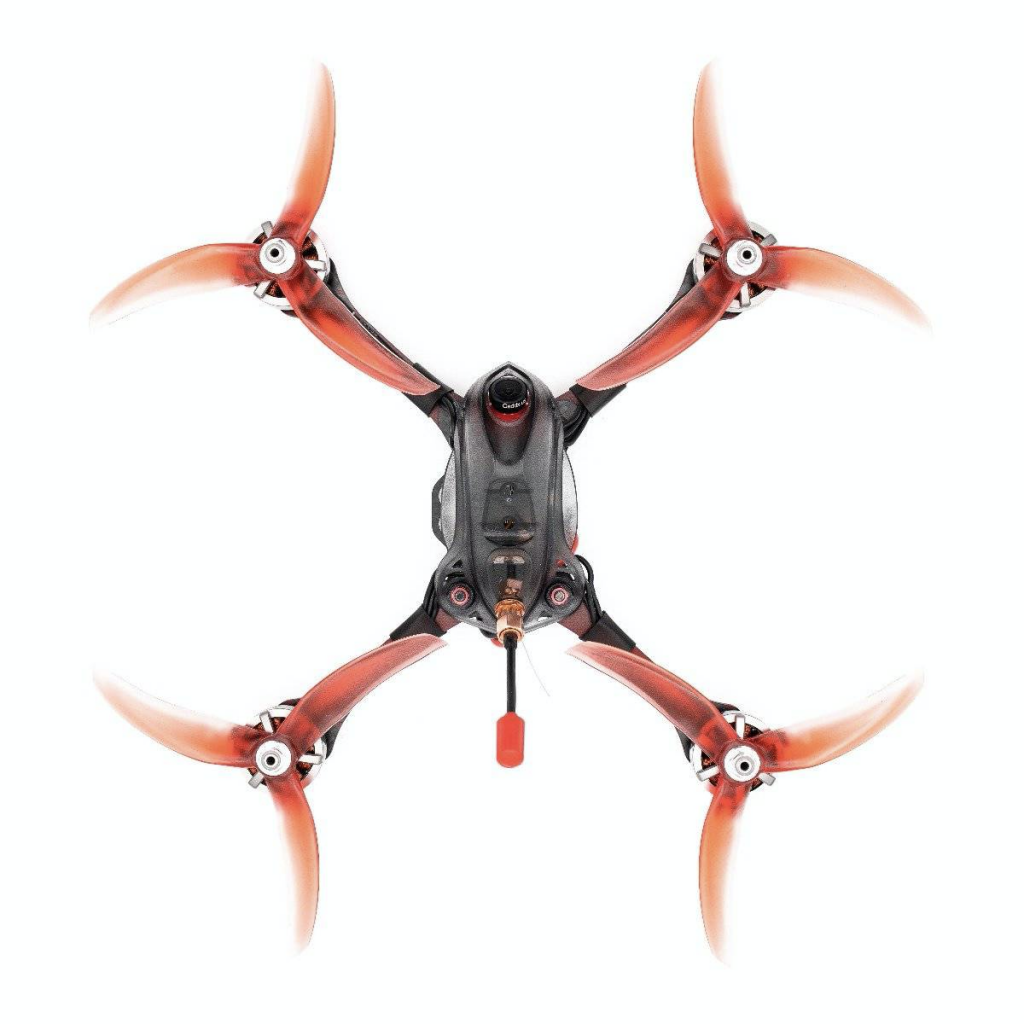 The Hawk is powered by ECO 2207 1700KV high-performance brushless motors coupled with 5-inch 3-blade AVAN Scimitar propellers. The LiPo battery can be used in 4S & 6S configuration depending on the engines and the ESC type used. The max speed for the Emax Hawk Sport 5 is 105mph with a flight time of around 12 minutes.
The FPV camera is a 1200TVL compatible with a 5.8 GHz transmitter compatible with 37 channels and the power can be adjusted from 25mW to 200mW.
Overall, this is a high-speed drone that is only meant for skilled flyers and high-end competitions.
Arris X220 V2
Arris X220 V2 is another Chinese ready-to-fly (RTF) drone that has a wheelbase of only 220mm. It has a light but sturdy carbon fiber body that has mounts for all necessary electronics and 4 motors on the arm.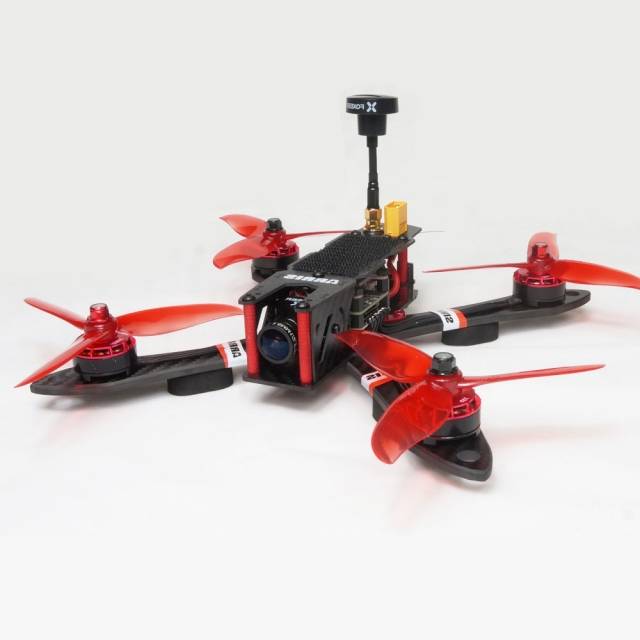 It comes preassembled and ready to fly out of the box with its own controller. The flight controller (FC) used in the drone is standard F4. The motors are powerful and efficient 2450KV Arris branded which are coupled with DALPROP cyclones T5045C series 3-blade propeller.
The Arris X220 is quite lightweight due to its carbon fiber construction and smaller wheelbase. The BNF weight is only 329 grams.
For FPV transmission, it uses a FOXEER Razer MINI FPV camera with 1200TVL that can transmit real-time FPV via a 5.8GHz channel. The transmission range can be 0.5KM @25mW, 1KM @200mW, 2KM @600mW with the stock antenna that comes with the drone. Some countries have limits on max transmitter power, so you can adjust the power and hence the range of the transmission range.
With a 1500mAh, 5C LiPo battery, it can give you a good flight time of 10 – 12 minutes.
Price: The Arris X220 V2 is available for $279 dollars at the time of writing this article. Check Amazon for the latest price.
Hubsan X4 H122D Storm
The Hubsan X4 Storm is a relatively cheaper drone that comes as a ready-to-fly unit that means you don't have to buy a separate transmitter to fly the drone. You will have to buy separate FPV goggles, though, but the transmitter that comes with the X4 is compatible with Fatshark FPV goggles.
The most prominent feature of the X4 is its 720p HD camera which is surprising because many other more expensive racing drones come with non-HD TVL cameras. The TVL (stands for TV Lines, a unit of measure) cameras are older analog technology that cannot compare with the newer digital cameras that are measured in Megapixels. The X4 camera can not only transmit HD FPV stream, but it can also record great quality videos and take aerial pictures.
It's a small drone with a wheelbase of only 3.7 inches and a sturdy carbon fiber build which is lightweight and in most cases crashproof. The total weight of the drone is only 116.5 grams.
The drone is powered by a 710mA LiPo battery with max flight time of 6 minutes. Overall, its a great product for beginners at a great price point.
Price: The Hubsan X4 H122D Storm is available for just $80 at the time of writing this article. To check the latest price, please click the below button to see it on Amazon.
HGLRC Batman220
The HGLRC Batman220 is a pro racing drone which isn't quite cheap. It comes as a BNF unit that means you have to get your own compatible transmitter. The F7 flight controller supports a variety of radio controllers.
It has a 220mm carbon fiber frame which is lightweight and crash-resistant. The electronic components are protected between two CF plates and bolted securely. The total weight is around 143 grams.
The motors used are powerful HGLRC HF2306 2450KV brushless motors which are very efficient and can rapidly accelerate the drone through obstacles during the race. It is powered by a 4S LiPo battery coupled with a DinoShot 60A BLHeli_32 ESC.
It comes with a 600 TVL camera mounted on the front of the drone that can transmit live FPV over a 5.8 GHz channel. The sensor is 1/3″ SONY Super HAD II with a 2.3mm lens. You can also mount an additional DVR camera like a GoPro atop the top plate. The telemetry can be switched between 25mW, 100mW, 200mW, or 350mW power depending upon the desired range and allowed power limits in your locale.
Overall, its one of the best BNF units that you can currently buy. Its quite crash proof and even if you managed to break any part, you can easily replace it with off the shelf. The individual parts (engines, props, ESCs etc.) are easily available on both Amazon and from the HGLRC Official website.
Price: HGLRC Batman220 is available for $299.99 on Amazon when I was writing this article. To check the latest price, click on the link below.
Bolt Drone
This one is a little different. The company – Bolt Drones – only manufacturers this one model; therefore, you won't see any model number or name alongside it. It's just one product company that focuses on making the one perfect racing drone they call 'the bolt drone.'
The Bold Drone has a modular design so that any damaged part can be replaced quickly and easily. The body is made from lightweight and durable carbon fiber, so it's very unlikely to break the body during a crash.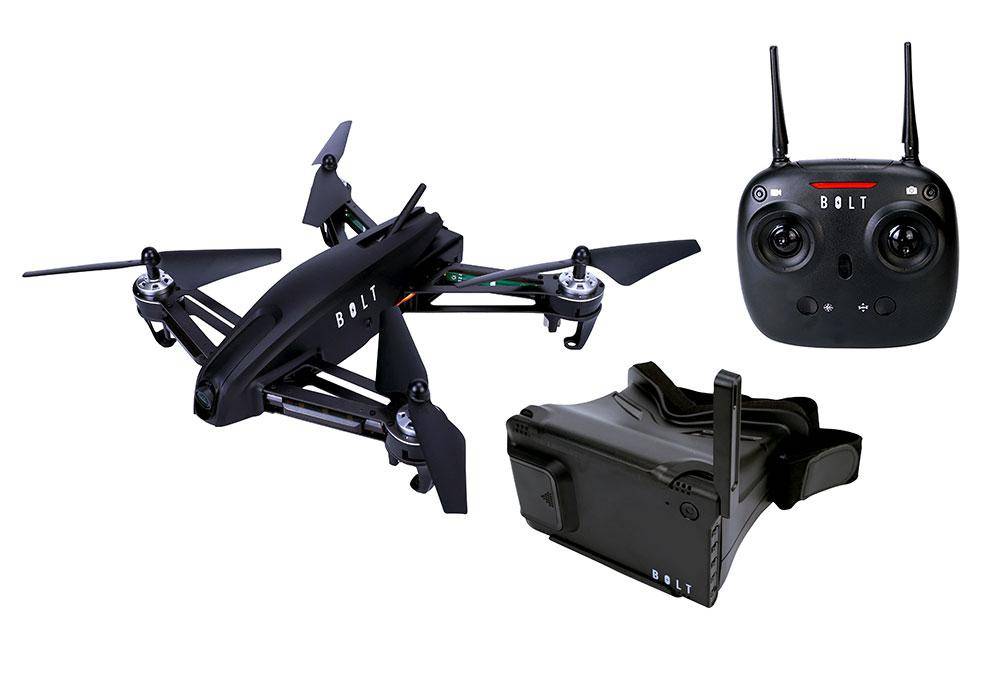 The Bolt Drone is a complete RTF (ready-to-fly) package. It comes with its own transmitter & FPV goggles, and you can fly it right out of the packaging. You don't even need to connect your smartphone with the drone as it comes with a detachable HD LCD screen, which you can attach with the FPV goggles or put on top of the transmitter. The LCD screen view changes automatically when you put it on the transmitter or into the FPV goggles. I think this alone makes the Bolt a unique choice for the FPV racing community.
It has an HD camera which is another plus point for the Bolt. The flight control software comes with pretty good standard features like headless mode, altitude hold and stabilisation, out of range & low battery alarms.
It comes with a single 1000mAh battery pack but you can order spare batteries as well. The total flight time on a single charge is around 15 minutes.
Overall, this is a pretty great deal at a very reasonable price.
Price: Bolt Drone is currently available for $149.99 on Amazon. The price fluctuates from time to time so click on the button below to check the latest price directly on Amazon.
EMAX Tinyhawk
This is another great RTF (ready-to-fly) drone from EMAX that comes with its own FPV goggles and remote controller. As the name suggests, the Tinyhawk is really tiny. It's almost equal to the size of your palm. Unlike many other racing drones, this one is a bit beginner's friendly as well.
The design is quite unique compared to most FPV drone kits in the racing world. It is built from the ground up and not using off-shelf components. Even in that smaller size, they have used powerful brushless motors, which is very efficient. The motors are installed in an inverted position, and the props have non-removable prop guards
The handling and stability are great when it comes to flying both indoors and outdoors. Due to its robust design and permanently attached prop guards, you can hardly crash it.
The camera has a 600 TVL resolution which isn't great compared to some of the HD racing drones we talked about above (like the Bolt Drone) but since it's a beginner drone, we can overlook the non-HD camera. The transmitter is 25mW with a range of around 60 meters. It has an F-4 flight controller abroad and runs on the latest controller-ESC communication protocol D-Shot. D-shot is much better, safer, and faster than its analog predecessors like Oneshot or Multishot.
It comes with prebuilt flight modes as well; beginner, intermediate, and advance mode which makes the racer drone quite easy to fly even for beginners.
Another great thing is that the EMAX Tinyhawk comes with its own carrying case which is quite portable for traveling. You can also purchase the casing separately if you need here
The Tinyhawk is powered by a small 45mAh 1S battery, giving you a flight time of around 4 minutes. The flight time isn't that great, but you can get additional batteries from EMAX as well to enjoy a longer time in the air.
Price: At the time of writing this post, the EMAX Tinyhawk is available for $223 but the prices are subjected to change so do check out the current price by clicking the button below.
Walkera Furious 215
I am ending this list with a pro racer drone from Walkera – The Furious 215 also known as F215.
The Walkera Furious 215 is a 215mm drone with a strong carbon fiber build. It comes both as BNF (Build & Fly) and RTF (ready-to-fly). In the RFT version, you will get the standard Devo 10 transmitter as well.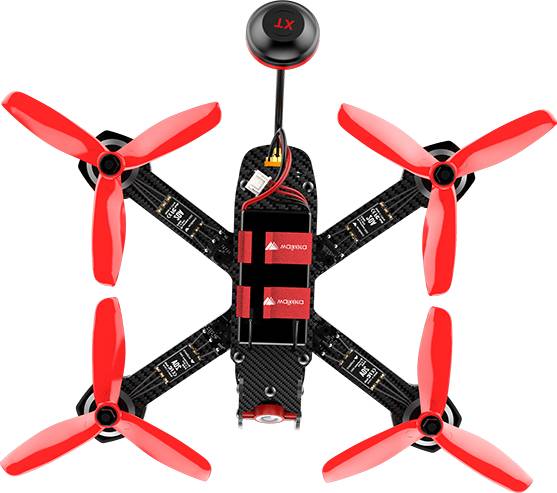 It is powered by the mainstream F3 flight controller which makes it easy for auto-tuning. The drone comes with 2500KV highly efficient brushless motors. The propellers are 5040 5″ 3-blade version which produces ample thrust to accelerate the drone. It runs on a 1300mAh, 4S battery, giving it a flight time of 8 – 10 minutes.
The FPV camera is great with 600TVL analog resolution and has night vision capabilities. It has a wide-angle FOV of 130 degrees, which makes it ideal for drone racing. The FPV transmission can be broadcast to a distance of 1.5 KM, which is quite awesome. The camera installation is protected with carbon fiber covering to make it crash proof.
Overall, the Walkera Furious 215 is a great racing machine. It has good control response, a great balanced design, strong engines, and a powerful 4S battery.
Price: The Walkera Furious 215 RTF version is available for $650 on Amazon at the time of writing this article but do check the latest pricing by clicking the button below.
Frequently Asked Questions – FAQs