In this article, we will discuss the new FAA requirement about remote ID and see if the DJI Mini 3 Pro has remote ID capability and if you even need one.
As commercial drones are becoming popular around the world, they are posing a risk to manned flights as well as to people below them.
For now, most drones fly in the sky without much accountability.
Due to this, governments worldwide are introducing regulations to make the drone hobby safe for everyone.
One of these regulations recently introduced in April 2020 was the remote ID requirement. The remote ID is a digital license plate that associates a flying drone with its registered owner for identification and accountability purposes.
So, does the DJI Mini 3 Pro has a remote ID, and whether it needs one?
The DJI Mini 3 Pro has no remote ID capability for now, but it can be implemented via a firmware update in the future.
But, in most use cases, you will not need a remote ID because it weighs less than 250g.
However, some use cases exist where even the Mini 3 Pro will have to transmit a remote ID. Let's discuss things in more detail.
What is Remote ID?
A remote ID is like a license plate for your drone.
Instead of a physical license plate, it's a digital one that helps the authorities identify the drone's owner flying in the air if needed.
Technically speaking, a Remote ID is a small radio chip inside your drone that stores and transmits the drone's real-time position, altitude, and FAA registration number.
The transmission can be received via any smartphone near the drone.
However, it is still unclear if the transmission will be publically broadcasted or if only law enforcement can receive it.
FAA started working on implementing a digital remote ID on commercial drones back in 2016 when it was deemed necessary for security by US Intelligence agencies.
Several previous incidents pushed for this necessary regulation, including an unknown drone crashing into the White House in 2015.
After discussing and deliberating with all stakeholders for the next 3 years, the FAA came up with the first draft of the proposed new regulation in 2019.
More than 53,000 comments were collected, and the rules were updated and finally released in April 2021.
DJI Mini 3 Pro Remote ID
The Mini 3 Pro was released in May 2022, so by law, it doesn't have to have a remote ID enabled at the time of release.
When the FAA released the new regulations in April 2021, the agency gave drone manufacturers adequate time to ensure their new products comply with the just-released regulations.
The timeline is as follows:
All new drones that will be manufactured AFTER September 2022 will have remote ID capabilities (hardware + software)
All the drones will begin transmitting Remote ID AFTER September 2023.
The rules don't apply to drones that:
have a take-off weight of less than 250 g (0.55 lbs)
are not used for any commercial activity.
are only flown in special areas called FAA-recognized identification areas (FRIA)
The FAA rule states that the drone remote ID requirement is for those drones only that require registration with the FAA.
Only those drones require registration with the FAA that weighs more than 0.55lb or 250 grams.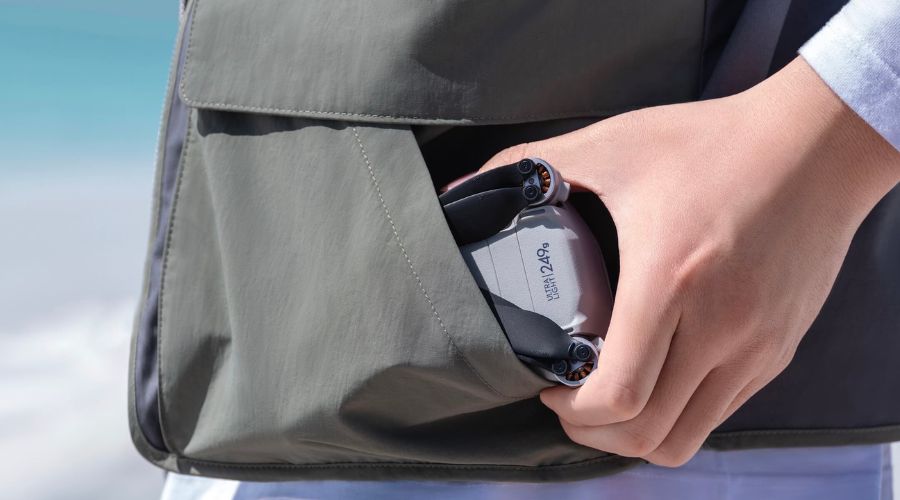 The DJI Mini 3 Pro weighs less than 0.55lb (250g) when flown with the standard Intelligent Flight battery.
DJI anticipated Products in 2022: DJI Pocket 3
However, there are a few scenarios where your DJI Mini 3 Pro might need a remote ID to comply with the law.
If you ever fly your drone for other than pure recreational purposes. That includes any flight for a roof inspection, commercial photography/videography, etc.
If you use the DJI Intelligent Flight battery PLUS, which is heavier than the normal battery and puts the drone over the 0.55lb weight limit.
DJI Mini 3 Pro is a rarely advanced drone, and compared to its predecessors in the Mini line; it is a good option for commercial activities at a budget price.
So, if you intend to use your drone for non-recreational activity, you will have to register it with the FAA and make sure it transmits a remote ID.
Secondly, DJI released the Mini 3 Pro with two versions of the Intelligent Flight Battery. The Plus version is heavier with more flight time and puts the drone over the take-off limit of 250g (0.55lb)
So, if you use the Plus battery, you will have to register with the FAA and transmit the remote ID.
Will DJI enable Remote ID in Mini 3 Pro?
Although the FAA does not mandate the Mini 3 Pro users to have remote ID in the US under normal circumstances, other countries might come up with slightly different regulations.
The EU is famous for more stringent regulations when it comes to safety, and they are currently in the process of updating its commercial drone rules.
In such a scenario, if any specific major country mandated the DJI to put remote ID hardware in all their drones, the Mini 3 Pro would have to be updated. This can be done in two ways:
DJI can release a new version of Mini 3 Pro with remote ID included.
DJI can enable remote ID via a firmware update if the necessary hardware is already embedded.
DJI can release a small separate remote ID module that you can attach to your existing drone.
In either case, we have at least a year or so to be worried about remote ID on our Mini 3 Pro.
It is also unclear how DJI will implement the remote ID in more advanced drones released after Sep 2022.
I will keep this article updated to reflect the latest rules.
Mini 3 Pro Remote ID – Summary
To summarise the discussion, here are the main points.
DJI Mini 3 Pro does not have Remote ID capabilities for now.
The remote ID requirement was introduced in April 2021 and will go into final effect in September 2023.
Since the Mini 3 Pro weighs less than 0.55lb, it does not require a mandatory remote ID in the USA under normal circumstances.
However, it might need a remote ID if used for commercial purposes or with a Plus battery.
It might also need a remote ID in other countries, and DJI will come up with a suitable solution if any such regulation happens.
You can also use a remote ID module to enable remote ID capability.