The DJI Mini series has been a hot selling since the first version – Mavic Mini, hit the market a few years ago. The latest version – Mini 3 Pro, was released in May 2022 after much hype, and it received a warm welcome from the drone community.
But it's been a year, and people have already started speculating about the DJI Mini 4 Pro release date, which is the next model in the mini series of drones.
In this article, we are going to discuss the potential launch date for DJI Mini 4 Pro, rumored specifications, and any news and leaks we might have from industry insiders.
If you are waiting for the Mini 4, bookmark this page and keep checking in from time to time for updated information.
DJI Mini 4 Pro Release Date
As of now, we don't have any official word for the DJI Mini 4 Pro launch date, but it shouldn't stop us from looking at the DJI product release history and speculating when we can see the new Mini 4 drone.
Unlike American consumer companies like GoPro and Apple, DJI is not known for its annual release schedule.
Their product release dates have been anything but regular, but they do release something every spring & fall.
Let's look at the release dates of the previous DJI Mini models:
Previous mini series drones release dates
These release dates show that DJI usually takes between one and two years to launch a new drone in the Mini series.
The gap between the Mavic Mini and the Mini 2 was about a year, while there was a slightly longer gap of around 18 months between the Mini 2 and Mini 3 Pro (COVID-19 disrupted the chip market and delayed many products).
This pattern suggests that DJI doesn't stick to a strict annual release schedule but tends to refresh its lineup within one to two years.
It's important to remember that release schedules can be influenced by various factors like market demand, technological advancements, and even global events like a pandemic.
The Mavic Mini sold very well despite having quite a few limitations, which encouraged DJI to come up with the next version only a year after its release.
However, the Mini 2 was a near-perfect drone and wasn't threatened by any competition in the market, so DJI took its time to come up with the Mini 3 Pro.
Taking this into consideration, we can expect the DJI Mini 4 Pro to be launched anywhere from 18 to 24 months after the DJI Mini 3 Pro's release, placing the potential release date between Nov 2023 and May 2024.
In August, we got another insider leak that showed that DJI Mini 4 Pro has just acquired IMDA certification, which is like getting FCC approval in the US.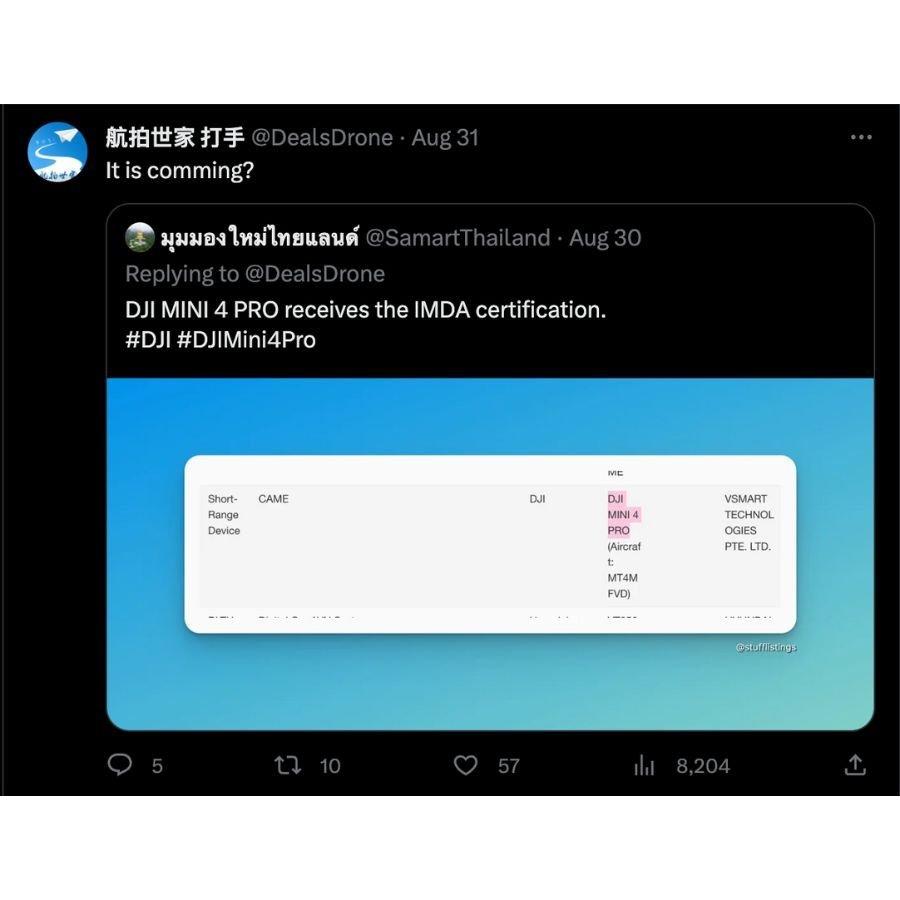 That means the DJI Mini 4 Pro is in the final stages and will be in the market sooner rather than later.
These are our best guesses, but at FlyThatDrone, we have accurately guessed DJI product releases before, so we are quite confident about this estimate.
DJI Product Roadmap for 2023
DJI started 2023 with the release of the long-awaited DJI Inspire 3. Earlier this year, we had a leaked product roadmap showing several product lines up for 2023 (see below)
The Inspire 3 was listed in the leaked product roadmap to be released in March, but it came a month late in mid-April.
Similarly, DJI Pocket 3 gimble camera was scheduled in April, but it didn't happen, and we might see it in summer or later this year.
Two main drones that are scheduled for release in 2023 are the long-rumored DJI Air 3 and the DJI Mavic 3s, but I think the 3S was later replaced with the recently released Mavic 3 Pro.
In the fall, we might see hand gimble DJI OM 7, but we don't have a drone release in the fall this year in the November slot. So, we can expect a possible release window for DJI Mini 4 Pro in November 2023.
However, if DJI released the Air 3 in late Q3 or early Q4, it might not risk cannibalizing the sales of Air 3 with the Mini 4, so in that case, spring 2024 is the next best slot for the Mini 4 launch.
Here is a fun video and some cool renders of how DJI Mini 4 might look like
DJI Mini 4 Pro Specifications
Although we do not have any official leak or insight into the development of DJI Mini 4, the specifications below are based on speculations and educated guesses.
While most of them are quite reasonable predictions, some might feel far-fetched. Anyway, let's look at what we can expect in the new Mini 4 Pro drone.
Camera Upgrade
The DJI Mini 4 could sport a larger 1-inch sensor for better low-light performance and image quality.
This can make the Mini 4 a good choice for more professional aerial photography tasks and expand its market beyond just hobby flyers.
Although doing so might cannibalize sales of the Air series, DJI might have to add value to the Air series in some other way.
Battery & Flight Performance
We expect better flight performance with improved battery with every new DJI release. The Mini 3 already has 30+ minutes of flight time; it's a bit of a challenge to top that, given the weight restriction of sub 250g.
However, battery tech is improving each year, and we might see some more battery juice without increasing the weight.
Another way to increase flight time is by increasing motor and props efficiency.
I would expect a flight time of 37 – 40 minutes with the new Mini 4 Pro if it is released in 2024.
Improved Obstacle Avoidance
The Mini 3 added 3-directional obstacle avoidance, which made the drone quite safe for beginners to fly socially in tight spots like in a forest.
The Mini 4 could benefit from more advanced obstacle detection and avoidance systems, making it even safer and easier to fly, especially for beginners.
This would give the Mini 4 a competitive edge in the market. An omnidirectional system is a bit far-fetched but not totally impossible.
ActiveTrack
Follow Me and ActiveTrack are the two most important features missing from the Mini line.
Although third-party alternative fly apps have added these features via workarounds, it would be nice to see them in the official DJI Fly app.
The DJI Mini 4 could finally introduce ActiveTrack to the Mini series, allowing the drone to automatically follow a moving subject.
This would make capturing dynamic footage easier and more accessible, especially for novice pilots.
What other features and improvements would you like to see in the DJI Mini 4? Please let us know in the comments