Drones are getting more and more popular as the technology is improving and prices are reducing. People are not only flying drones for fun but the hobby has found its application in many commercial areas. To ensure that the activity is safe for the community, FAA has come up with certain rules & operating procedures you will have to follow if you are going to fly a drone inside the USA. This includes registering your drone with the FAA and commercial drone remote pilot certification. In this article, we are going to discuss how to get a drone pilot license in detail.
Important note: There was an important change to remote pilot license procedure in Jan-2020. This blog post covers the most latest procedure.
Do I need a license to fly a drone?
In US you can fly your drone under two distinct categories i-e recreational & commercial. Recreational flying is for fun only and most hobbyists fall under this category. If your flying activity doesn't earn you any money or save you any money and you are doing it just for enjoyment, its recreational. Any flying activity other than that falls under commercial category.
So do I need a license to fly a drone? If you are flying for recreational purposes and your flying activity has no monetary benefit, you don't need a drone license from the FAA. But if you are getting any kind of monetary benefits, either making money or saving money, you will need an FAA Part 107 Remote Pilot License.
Although the FAA regulation seems very clear to pinpoint which activity is recreational and which is not, there are some grey areas that are a constant focus of discussion in the hobbyist community. Look at a snapshot from a similar discussion on MavicPilots where people are debating if looking at your gutters to see if they need cleaning is a "commercial" activity or not. (Hint: It is as it saves you money from hiring someone else to do it for you)

Similarly, if you fly a drone for fun, record a video, put that video on youtube and it earns you ad revenue, is that a commercial flight or not? Some might argue that the answer lies in the intent of the pilot.
The most concise explanation I have found is this: if it is not for fun, it is commercial. I am taking this from an FAQ answered on the FAA site
Q: Are drone pilots required to have a Part 107 certification in order to sell photos that they took using a drone?
A: If the activity is not for recreational purposes (and flying for the purpose of selling photos would seem a commercial purpose, not recreational), then yes, a Part 107 certificate and compliance with Part 107 would seem appropriate in the scenario you describe.
Now that we have established if you need a remote pilot license or not, let's discuss the process of how to get a drone pilot license if you fall into the commercial category even occasionally.
Drone pilot license requirements
The requirements for getting a drone pilot license are simple.
You should be 16 years or older.
You should be fit to fly a drone both mentally and physically.
You should be able to read & understand English to clear a multiple-choice test.
You should go through the Transportation Security Administration (TSA) security clearance (standard background check, nothing to worry about)
Once you have these requirements, you are ready to apply for your pilot license. You don't need to show prior flying experience or appear in any practical exam to demonstrate your flying skills. The test is just to test your theoretical knowledge and understanding of subjects related to airspace regulations, weather, navigation, etc.
How to get a drone pilot license – step by step process
Once you are ready to apply for your drone pilot license, follow the below easy steps.
1. Register IACRA account and get FTN number
Integrated Airmen Certification & Rating Application (IACRRA) is FAA's dedicated web portal for issuing different types of certifications. Before you can take your written exam, you have to sign up and get your FAA Tracking Number (FTN). Visit the IACRA website to start. On the first page, select your role as "Applicant". The rest of the process is fairly self-explanatory. Once you fill in all the required information, you will get your FTN number on the last screen. This FTN number will be used in the next step.
2. Register with PSI Online
This might seem a little confusing but let me explain. FAA has outsourced the testing service to a company called PSI. They are the leading workforce testing programs in the USA. They will conduct the actual test and give you a score which the IACRA will accept to issue you the remote pilot certificate.
To register for the PSI testing service, make sure you have your FTN tracking number from Step 1 above. Visit PSI exams site and create your account by putting in your FTN number. Once you are logged in, you will see a list of different certification programs. Scroll all the way down to the bottom and select "Unmanned Aircraft General – Small(UAG)" from the list.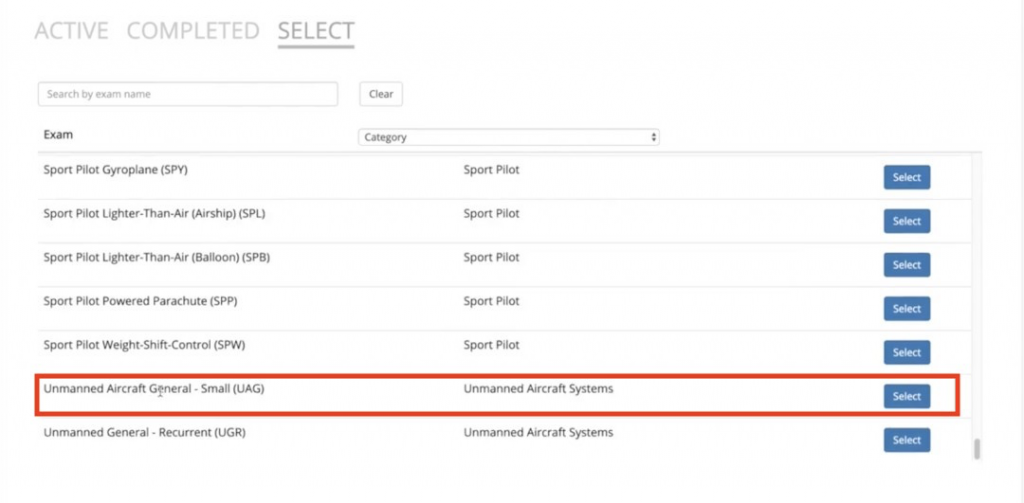 In the next step, you will select your test schedule and venue. Once you enter your zip code, the application will recommend testing sites nearby (for a complete list of test centers, read the below section). Scroll below and select the test slot that suits you and click "schedule". Once you confirm your schedule, the final step is to make payment for the testing service.
3. Take the PSI exam
Once you register with PSI online for your in-person exam, the next step is to appear on the scheduled date and take the 60 questions multiple-choice test. It is a 2 hours long exam and you have to score at least 70% to pass. I am going to discuss more about the test and how to prepare for it in the later sections of this article.
The test score will be published within 48 – 72 hours.
4. Submit your IACRA application
Once your test score is available, you can start your remote pilot certification application in IACRA system. To do that, log in to your IACRA account using your username password you created in step-1.
Start a new application for remote pilot certification and follow the instructions. It will ask for your 17 digit test exam ID you receive from PSI. This ID is used to fetch your test scores from PSI.
Once your application is complete, sign it electronically and submit for processing.
5. Receive your license
Once your application is submitted, TSA will carry out a routine background check. This can take up to a month depending on application backlog. Once the check is complete, you will receive a confirmation e-mail from FAA with your temporary license that you can download and print.
After a few weeks, you will receive your permanent license (similar looking card as your driver's license) via USPS.
FAA drone testing centers
There are more than 800 testing centers spread across the US in all states and major cities & towns. You can select any of the test centers that are nearest to you.
You can find a list on FAA official site or download a searchable file of all the centers along with their complete addresses below. Just put in your e-mail address and the file will be auto-sent to your inbox while you complete reading this article.
How much does it cost to get a drone pilot's license?
Now, let's discuss the cost of getting your Part-107 remote pilot license. There are two types of cost associated with the whole process:
Exam preparation cost: The cost of attending a training school or taking an online course to get the necessary knowledge to pass the PSI exam. Interestingly, this isn't a mandatory thing from FAA. You can well study on your own and appear in the test (more on this below)
Testing cost: This is the cost you pay for actually taking the in-person exam through PSI testing service. During registering for PSI, you will see a payment window at the end of your application. It will look something like below

To break down the PSI testing cost, They charge $96 for the testing fee which goes to the PSI and $64 convenience fee which goes to the testing center that hosts the test. Some testing centers are owned by PSI itself so it won't charge you the extra $64 dollar so its a good idea to check nearby testing centers on test scheduling page (step 2 above) and see if you can find a nearby testing center that won't charge extra.
So, to summarise how much does it cost to get a drone pilot's license, the test fee is $96 and test center fee is $64 which makes a total of $160. If you find a PSI owned testing center, the total fee will just be $96. Apart from this fee, there is no additional fee for getting your drone pilot license.
How long does it take to get a drone pilot license?
After you take the PSI test and submit your application on ICARAA portal, the TSA will carry out a standard background safety check. Depending upon how much backlog they have, it can take up to a month for your clearance.
Once you are cleared by the TSA, the FAA will issue you a temporary pilot license via e-mail while you wait for your final physical card to arrive via USPS at your registered address.
From application to receiving your final drone pilot license, the entire process will take from 8 – 15 weeks.
The below infographics summarize the entire process with estimated times.
Drone Pilot license validity, Expiration & Renewal
Your drone pilot license is valid for two years. You will have to retake the knowledge test every two years to keep your license active.
The recurrent exam is shorter and different than the first exam. You will need to get 70% or higher marks to pass it.
How to prepare for the test? – FAA Part 107 study guide
Here comes the important part – how to prepare for the test. It's true that the FAA remote pilot license test is very comprehensive and not quite easy but with a little preparation and guidance, you can nail it. It will test your knowledge across multiple dimensions related to aeronautics including:
UAV regulations related to flight limitations and operation
Airspace classification and operating requirements
Reading aviation weather data
UAV loading and performance
Emergency procedures
Resource management
Radio communication procedures
Physiological effects of drugs and alcohol
Aeronautical decision-making and judgment
Airport operations
Maintenance and preflight inspection procedures
There are two ways to prepare for the test.
Your first option is to self study by following FAA study guide or from various course books professional flyers have written. I have found this one very comprehensive and helpful. If you have previous experience in aviation or a fast learner, you can download the study guides and prepare yourself without any help. I have compiled the FAA recommended study guides in a single package you can download below.
If you are not confident about studying yourself or don't have the time to go through tons and tons of study guides, your best option is to sign up for a remote pilot course.
There are many companies offering online courses that you can sign up for but I have found the two courses to be the best in industry. One is from Pilot Institute and the other one is from Drone Pilot Ground School. Both of these companies are the absolute best in what they do and pretty much guarantee success.
FAA Part 107 Practice Test
The FAA Part 107 test consist of 60 multiple choice questions. These questions are prepared by instructors unique for each test so you can't really 'memories' anything. You will have to have a deep understanding of the aeronautical concepts to be able to pass the exam.
However, there are a number of course websites offering free online practice test that you can take and compare your knowledge level with that required to pass the actual exam. Here is one practice test from uavgroundschool that you can take.
Practice test is also available on PSI website and is actually recommended by the FAA in its preparation guide
How To Get A Drone Pilot License? – Conclusion
FAA remote pilot license is your door way to getting into professional remote flying. With the right preparation and with the right resources, you can easily pass the knowledge test.
For the registration process, you can follow the easy to follow guide in this blog post. For the preparation, I have recommended two of the best preparation courses above that will almost guarantee your success in the written exam.
If you still have any questions, you can drop me an e-mail at ahmed at flythatdrone dot com and I will be happy to help.