This DJI Ryze Tello Drone review will cover our favorite mini drone in detail but first, let's have a quick the best drone for kids and beginners alike.
The Tello is a mini drone in the toy category. Ryze Tech, the company behind the product, uses top-of-line drone technology borrowed from Intel & the DJI. This makes Tello, the smartest toy drone in its category that will cost less than a $100 buck but will give you advanced features.
Unlike many toy category drones, it offers digital image stabilization, advanced DJI flight control, and integration with all DJI software packs including the FPV goggles. Pretty good for something that cheap. Right?
Let's get to the detailed DJI Ryze Tello drone review.
Best drone for kids – the Tello
Whenever you buy a new drone, keep in mind the target market it is designed for. Most sophisticated designs are made keeping in mind a specific segment of the market, and that's true for the Ryze Tello drone as well.
While DJI was the king of high-end consumer and prosumer drones with its unique & sophisticated hardware and software combination, the lower-end drone market was largely open to other Chinese manufacturers.
These low-budget drones are normally stripped down to their bones feature-wise to keep the cost low, and getting a decent drone under $100 was quite difficult.
To fill that market, a Shenzen-based startup Tello Robotics partnered up with two industry giants DJI & Intel to introduce a low-cost drone that has some of the most essential flight features only available to high-end DJI models like the Mavic series.
Ryze Tello drone is primarily designed for kids and entry-level drone enthusiasts or hobbyists who want to learn and enjoy flying without taking out another mortgage on their houses. Later, they added a TelloEDU version that allows students to program the drone using multiple programming languages (more on this below).
So if you are a beginner drone hobbyist and want something cheaper but of higher quality, or you want something good but affordable for your kids, Tello is for you.
However, it is most certainly not an alternative to the Mavic or Phantom series. Read the detailed features below and decide for yourself if it suits you.
Design & Build Quality
Most under $100 drones come with many compromises, and inferior build quality is one of them. But in the case of Ryze Tello, this isn't the case. The body is built with high-quality Nylon, which makes the drone extremely lightweight compared to the much denser ABS normally used in other Chinese variants. Nylon is also very shock resistant, which helps a toy category drone that you can safely fly inside (a lot of wall-to-wall bumps with occasional knocking over of lamps).
The four arms have some degree of lateral flexibility which again helps with crashes.
The main body is two-tone with very minimalist branding on top which produces a great contrast. both light and dark backgrounds while flying.
Ryze Tello drone also comes in the Iron Man special edition with red/yellow combo inspired by Tony Stark's suit with the iconic arc reactor on top. However, if you have the simple version, you can buy a separate snap-on yellow cover to make it more distinctive.
The total weight of the drone along with the battery is only 87 grams (no FAA registration needed). The end-to-end dimensions are 98×92.5×41 mm and the prop size is 3 inches.
Overall, it's a small, lightweight drone with a high build quality for max endurance.
Motors & Props
Ryze Tello drone comes with 4 preinstalled 8520 coreless brushed DC motors. If you don't know already, the number 8520 indicates that the motor has an outer shell diameter of 8.5mm & a body length of 20mm (excluding shaft protrusion length).
So, in general, it's a pretty small motor. The good thing about the motor used in Tello is that it's easily available in the market if you needed a replacement. You can also order them off Amazon
The Propellers are type 3044p, made from high-quality lightweight material to maximize performance. The propeller diameter is 3 inches. The high build quality ensures crash resistance up to some extent, but if you are a beginner, you should install the prop guards before flying.
Battery Timing
The battery on Ryze Tello has a detachable pop in/out design. It is a 1.1Ah, 3.8V LiPo battery with some standard safety features like over-charge/over-discharge protection as well as short-circuit protection.
The battery can be charged while inside the drone via a standard USB charging cable, and it takes around 1 hour 30 minutes to fully charge. You can check the battery level inside the Tello mobile App while the drone is turned on.
the 1.1Ah battery promises 13 minutes of total flight time as per the manufacturer, but I could only get 10 minutes more or less. This is understandable as the manufacturer's flight time is calculated based on ideal lab conditions with no winds and sudden flight maneuvers.
The battery mount is firm but doesn't have any locking mechanism, so you can just pull the battery out easily. Initially, I thought this is some low-end design compromise, but after crashing my Tello, I realized that this might well be intentional. When I crashed my Tello in the bushes, the battery came out, which is quite good for the props because the motor will stop running on the first impact that pulls the battery out. Clever, in my opinion.
Key performance parameters:
Max Flight Distance: 100m
Max Flight Speed: 8m/s
Max Flight Time: 13min
Sensors
Since the Tello has no inbuilt GPS, the stability is introduced via two Infrared sensors and a downward-facing camera at the bottom (this is a secondary camera and used for altitude control and hovering only, not for imaging). The IR sensor works as Range Finders while the camera constantly scoops the ground for any change in positioning. The image is processed by a powerful Intel processor onboard(more on this below)
Tello also has a barometer that keeps track of the changes in air pressure and works as an altimeter and a temperature sensor to detect any thermal change.
When the stability sensors are engaged, the drone is in a Vision Positioning state where it can hover very precisely and can detect any sudden change in positioning. However, at times when it is flying very high, or the surface is not very optimal for the camera to accurately detect changes, the drone goes into Attitude Mode where the stability is compromised. It is recommended to land the drone safely.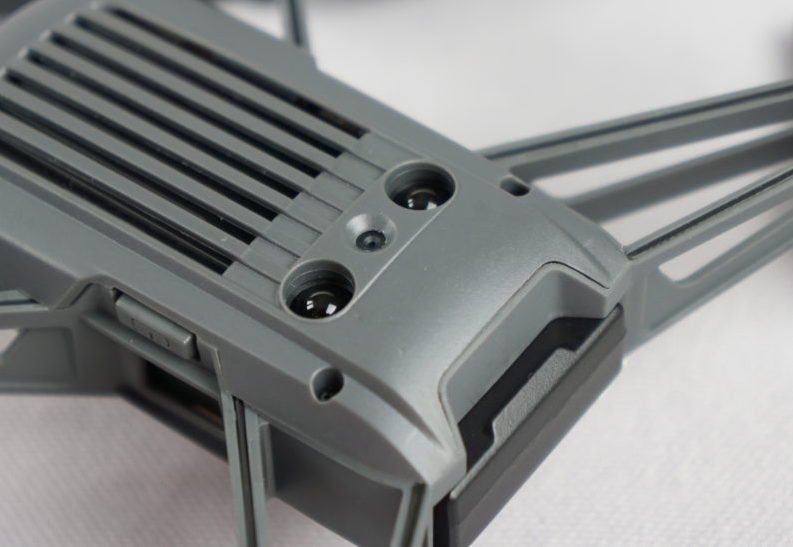 The LED indicator at the bottom easily indicates which state the drone is in. If the Vision Positioning System is engaged, the LED will blink Green twice periodically. When it is in Attitude Mode, it will blink slowly in Yellow color.
Flight Controller – Intel + DJI
Let's come to the juicy part of the Ryze Tello drone – its onboard flight controller (FC). The two things that put this little toy drone part from its category are;
DJI's sophisticated flight stabilization software
Intel Movidius Myriad 2 Vision Processing Unit (VPU)
The onboard Intel VPU is a 14-core high-performance processor which receives real-time inputs from all 5 sensors and maintains its balance in the air with the help of best-in-class DJ's flight control software.
"The Tello is an impressive drone with so much intelligence packed inside such a small package. The incredible vision processing capabilities of the Intel Movidius Myriad 2 enable Ryze to miniaturize the drone and eliminate the need for multiple processors dedicated to each flying function. This is just the beginning of a promising toy market featuring robotics, AI, and computer vision technologies."

Remi-El-Ouazzane, VP and Movidius General Manager, New Technologies Group, Intel.
The Intel hardware coupled with DJI's state of the art flight control system not only gives this budget drone its superpower, but it also allows for high-end flight customization and provides a learning experience with the help of a specially designed SDK (more on this below)
Camera
Any drone discussion is incomplete without having a close look at its camera. A drone camera is your third eye in the air capturing those breathtaking photos and awe-inspiring videos.
Ryze Tello drone comes with a 5MP camera with the capability to record and stream 720p HD videos straight to your smartphone. The technical specs of the imaging sensor are below;
Photo: 5MP (2592×1936)
Field Of View: 82.6°
Video: HD720p 30fps
Format: MP4(Video); JPG(Photo)
Electronic Image Stabilization: Yes
Gimble: No
Most drones in this price range don't have any kind of image stabilization, so you will get blurry and shaky videos, but with Ryze Tello, this isn't the case. Thanks to its powerful Intel VPU, the images are digitally stabilized in real-time. But do remember that the Tello camera is not mounted on any type of gimble, so the video is still not very perfect compared to high-end drones with mechanically stabilized gambles.
Although you cannot expect a low-budget drone to capture the same quality images as Mavic or Phantom, the Ryze Tello drone camera is still pretty good for everyday selfies at birthday parties or great aerial shots while traveling. Its short range of 100m does limit its aerial photography capabilities but to be honest, this drone is not built primarily for photography either. It can certainly give kids and beginners an idea of how the drone camera works, but that's it.
Related: Holy Stone HS100 Review
Flight Features
Up till now, we have mostly discussed what the Ryze Tello 'has'. Now, let's have a look at what it can 'do' with all this fancy hardware & software combination.
Range
Ryze Tello drone uses wifi from your phone and can be controlled up to 100 meters from your phone. Since this isn't a drone designed primarily for aerial photography, you cannot shoot photos from too much height like high-end drones, but the 100m range provides a good enough room for flying around the house and take selfies.
You can increase the range a bit by using a wifi extender but that is more of a "hack" than an actual official solution so uses it at your own risk.
EZ Shots & Flips
The "EZ Shots" (read as easy shots) are basically pre-programmed flight paths or patterns that the drone can follow while recording a video of the subject (you & your party friends). EZ shots make it simple to record pro-level videos with a touch of a button on your smartphone app – more posing and less controlling the camera & drone. There are three pre-programmed EZ shots;
360 Rotate: When activated, this EZ shot mode rotates the camera through 360 degrees while hovering perfectly in one place.
Circle: Circle mode record a point approximately 7 ft in front of the camera nose while going around the point in a circle.
Up & Away: This mode flies the drone upward and away from you recording a beautiful video that will zoom out when played back.
The Ryze Tello drone can also flip in 8 different directions (8D flips) following commands from your App. While not very useful for any video capturing, it is still pretty fun to watch the drone quickly flip and stabilize itself mid-air.
Auto Takeoff & Landing
One of the good things about Ryze Tello is that you don't have to be an expert pilot to fly it. Its a perfect beginner drone with easy-to-use auto take-off and landing.
To take off, all you have to do is turn the drone on, place it on any surface and tap the 'take-off' button on the screen's left top corner, and the drone will take off and hover in front of you. Similarly, if you want to land, you can do it with one touch of the 'auto land' button on the App. Easy, right?
It also has a headless mode which will help you fly the drone more intuitively.
Ryze Tello Collision Detection
This feature is not very well discussed either by Ryze or anyone else. This isn't a true obstacle avoidance feature like we have in high-end drones but it is still pretty useful to ensure safety.
Here is how it works.
If during flight, one side of the drone/propeller hits a hard obstacle and comes to a sudden halt, the IMU detects the motor overload/resistance and instantly cut power to all other motors to avoid further damage. You can call it a basic safety feature to provide additional protection while flying indoors or in tight spaces.
Tello Controller & FPV App
The Tello app serves two purposes. It acts as a virtual remote control by enabling soft joysticks/gears on the app screen and act as an FPV video feed screen. Although the virtual remote control is not as much fun as a real one, hey, it's a budget drone, so you can't complain.
Apart from the virtual control sticks, you can find other control buttons on the app screen like the auto take-off/land on the top left corner and the video record button on the right top corner.
You can also control the drone via a supported Bluetooth enabled gaming remote controller and stream the FPV to any DJI VR headset taking full advantage of the DJI flight tech.
Ryze Tello Drone Programming
Ryze Tello also comes in a programmable edition called the TelloEDU. It allows you to program the drone flight paths using programming languages like Python, Swift, and Scratch. It also has its own SDK (software development kit), which allows for more advanced commands and data interfaces.
The TelloEDU is marketed toward students and young engineers to teach programming in a more innovative and fun way. Depending on your programming skills, you can code your own flight patterns, program multiple Tellos to fly in swarms, or perform other intelligent functions.
"The idea of making play an essential part of learning and putting this concept into a drone makes the Tello more than just a toy. It's an opportunity for kids and young engineers to discover the ingenuity and science behind aerial technology. Once they learn how it works, they will be able to do great things with it. We're excited to see the Tello come to life and congratulate Ryze for their accomplishment,"

DJI VP Paul Xu.
The easiest tool to program your Tello is the Scratch programming tool developed by MIT. Here is a short video guide on how to do that on your Mac device.
Final Verdict
I absolutely love this little drone. It has more features than it costs and is a perfect beginner's drone.
It is for you if:
You are looking for a drone to learn flying
Need a third camera to take cool selfies at parties or while traveling solo.
Want to learn to program and experiment with your own flight patterns (or build a swarm of AI drones like the ones in Spider-Man: Far From Home)
It is not for you if:
Want a high-range, high-endurance drone.
Your primary use is aerial photography and you need HD images/videos.
Ryze Tello Drone Manual Downloads